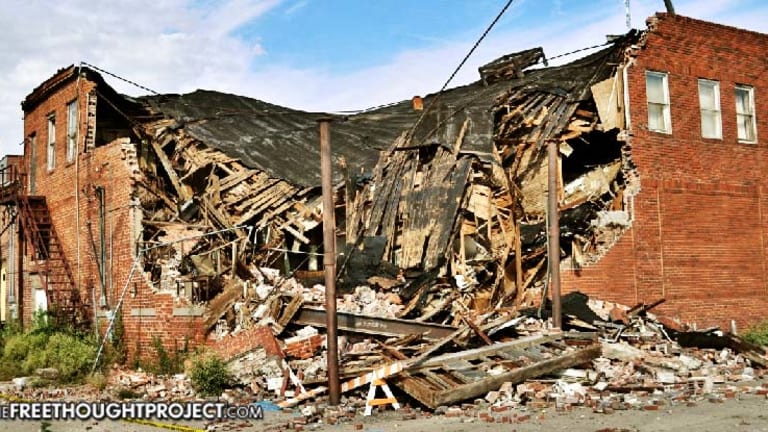 Native Americans Take a Stand, Sue Oil Companies for Causing Destructive Earthquakes
The Pawnee Nation of Oklahoma has filed a lawsuit accusing multiple oil companies of triggering earthquakes that caused widespread damage.
Oklahoma — (RT) The Pawnee Nation of Oklahoma has filed a lawsuit in a tribal court accusing multiple oil companies of triggering earthquakes that caused damage to several properties in town.
On Friday, the Pawnee Nation filed the suit against the oil companies alleging that they were the cause of the sharp increase in earthquakes over the past few years. One of which - the largest earthquake in the state's history, a magnitude 5.8, which caused extensive damage to several historic buildings and residential homes in Pawnee in September.
"For more than 90 years, these buildings have been a key part of Pawnee Nation, first as our schools and now as the home to our government," Andrew Knife Chief, executive director of the Pawnee Nation, said, according to his attorneys.
"These energy companies must recognize the direct impact of their actions on the livelihood of our tribe and must put an end to their dangerous activities," he added.
The case will be heard in the tribe's district court with a jury comprised of Pawnee Nation members. If an appeal was filed, the case would be heard by a five-member trial Supreme Court, and their decision would be final.
Once the tribal court rules, it can be taken to a state district court for enforcement.
"We are a sovereign nation and we have the rule of law here," said Knife Chief, according to the Associated Press. "We're using our tribal laws, our tribal processes to hold these guys accountable. The damage was done to the Pawnee Nation and the folks that live on trust land."
Weitz & Luxenberg, who are representing the 3,200-member tribe in court, say that this is the first time that an earthquake case has been filed in tribal court.
As a part of the ongoing case, renowned environmental activist Erin Brockovich will also be consulting with Weitz & Luxenberg. Brockovich has already made several trips to the area to talk with locals about how to legally fight the energy giants.
The Pawnee Nation is alleging the energy companies caused the earthquakes by injecting wastewater deep into underground wells, where fluids can cause pressure changes and weaken fault lines.
"These firms know what they are doing when they dispose of their wastewater in deep wells, especially in Oklahoma. These companies should be held accountable for the damage they have done and continue to do to people's lives and businesses," Robin Greenwald, an attorney at Weitz & Luxenberg said.
According to the US Geological Survey (USGS), Oklahoma averaged about two earthquakes over magnitude 2.7 per year. In 2014, that number jumped to about 2,500, and in 2015, there were 4,000. Scientists at the USGS say the increase is directly related to an increase in wastewater disposal sites. They call these man-made earthquakes, "induced earthquakes."
In 2016, new regulations required energy companies in Oklahoma to reduce their wastewater disposal rates, resulting in a decline in earthquakes from 4,000 to 2,500.
At least four separate class action lawsuits have been filed in Oklahoma by the same attorneys, accusing energy companies of causing earthquakes.