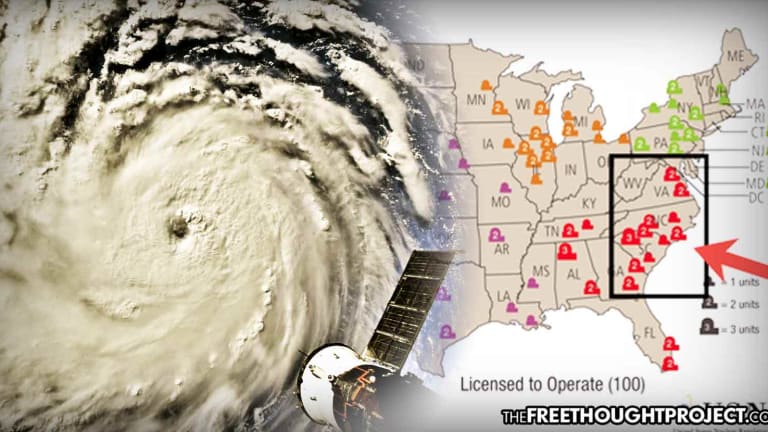 "This Really Scares Me": Hurricane Florence Barreling Toward Slew of Nuclear Power Plants
Florence is expected to be one of the strongest hurricanes on the eastern seaboard in decades and is headed directly toward a half dozen nuclear power plants.
(ZH) — Hurricane Florence is closing in on the Southeast as officials warned more than 1 million people in its projected path to leave now or face disaster. Florence is a category four hurricane with sustained winds of 130 mph, and computer models on Wednesday morning show it will make landfall around Wilmington, North Carolina on Friday as a major hurricane, said National Hurricane Center (NHC).
Florence is expected to be one of the strongest hurricanes on the eastern seaboard in decades and could unleash dangerous storm surges, flooding and hurricane-force winds in the Carolinas and Mid-Atlantic states.
According to reports, Florence's track to the U.S. East Coast shifted slightly to the south overnight and the storm is now threatening to batter a wide swath of coastline as it makes landfall near Myrtle Beach.
"With the new track, you're just exposing more shoreline to worse conditions," said Evan Duffey, an AccuWeather meteorologist. "If Florence rides southward, as now forecast, it means its strongest side will rake the shore, threatening property from South Carolina to Virginia."
While Florence which is still 530 miles (855 kilometers) away from the coast, is expected to lose wind speed the closer it gets to land, it remains a formidable threat to the coastline from Georgetown, South Carolina, to Wilmington, North Carolina as peak winds could be between 100 and 120 miles per hour. While the storm will likely weaken further in the coming hours - and history is full of storms that lost power before striking land and are still counted as among the most infamous, Katrina, Ike and Sandy are just three - Bloomberg notes that they all stand as proof that ranking on the Saffir-Simpson windscale alone isn't a measure of power.
"People worry about the winds on the Simpson scale,'' Myers said. "But wind is on average the third cause of damage from a hurricane. First is flooding from heavy rain, then damage along the coast from the sea. They are focused on the wrong thing.''
Unlike Hurricane Hazel, which made landfall near the North Carolina-South Carolina border in 1954 and quickly moved through the region, Florence is coming straight on and will stick around for days, AccuWeather's Myers said. He said the storm is bigger than average, and pegs the potential costs at $30 billion.
In preparation for Florence, U.S. Environmental Protection Agency Acting Administrator Andrew Wheeler approved emergency fuel waiver requests on Tuesday as "extreme and unusual fuel supply circumstances exist in portions" of the Carolinas. The waiver will remain effective through Sept. 15 to help ensure a decent supply of gasoline.
According CBS, the coastal surge from Florence could leave the eastern tip of North Carolina under more than 9 feet of water in spots, projections showed.
As we reproted before, the Navy, Air Force and Army were moving ships and aircraft out of harm's way. Thousands of Marines and their families evacuated from Camp Lejeune, leaving the rest to dig in ahead of what could be a direct hit.
"This one really scares me," National Hurricane Center Director Ken Graham told CBS.
"This storm is going to knock out power days into weeks. It's going to destroy infrastructure. It's going to destroy homes," said Jeff Byard, an official at the Federal Emergency Management Agency.
Federal officials begged residents to put together emergency kits and have a plan on where to go.
Forecasters said parts of North Carolina could get 20 inches of rain, if not more, with as much as 10 inches elsewhere in the state and in Virginia, parts of Maryland and Washington, D.C. One computer model, the European simulation, predicted more than 45 inches in parts of North Carolina.
A year ago, people would have laughed off such a forecast, but the European model was accurate in predicting 60 inches for Hurricane Harvey in the Houston area, so "you start to wonder what these models know that we don't," University of Miami hurricane expert Brian McNoldy said.
Rain measured in feet is "looking likely," he said.
While more than 1 million are under mandatory evacuations in the Carolinas and Virginia, about 30 million across the Southeast will be affected if the forecast holds, CNN meteorologist Michael Guy said.
Latest developments
•The effects of the hurricane will be felt hundreds of miles away, including in Virginia, Tennessee, Kentucky, and Georgia.
By Wednesday morning, the storm was 575 miles southeast of Cape Fear, North Carolina. It had maximum sustained winds of 130 mph.
The NHC issued a hurricane warning from South Santee River, South Carolina, to Duck, North Carolina.
Florence's weakening is expected Thursday, but it's still forecast to be "an extremely dangerous major hurricane."
Life-threatening storm surges -- up to 13 feet -- are expected along the coasts. Up to 35 inches of rain could dump on the region through early next week over parts of the Carolinas and Mid-Atlantic states.
Florence's projected path includes half a dozen nuclear power plants, pits holding coal-ash and other industrial waste, and numerous hog farms that store animal waste in huge lagoons. Duke Energy spokesman Ryan Mosier said operators would begin shutting down nuclear plants at least two hours before hurricane-force winds arrive.
"Florence will approach the Carolina coast Thursday night into Friday with winds in excess of 100mph along with flooding rains. This system will approach the Brunswick Nuclear Plant as well as the Duke-Sutton Steam Plant," said Ed Vallee, a meteorologist at Vallee Wx Consulting.
"Dangerous wind gusts and flooding will be the largest threats to these operations with inland plants being susceptible to inland flooding," said Vallee.
He tweeted several weather models Tuesday morning that forecasts rainfall amounts 15-40" range in some regions along the coast.
One of those models is the ECMWF Total Precipitation, which shows the most torrential rain could be situated around the two nuclear power plants in Wilmington, North Carolina.
Bloomberg notes that Florence may cause upwards of $15 billion to $20 billion in covered losses from wind and coastal storm-surge, if the past is any guide, according to catastrophe modeler Risk Management Solutions (RMS).
Covered losses are based on benchmarking two similar hurricanes from decades past -- Hazel in 1954 and Hugo in 1989, and convert their damage into present-day dollars, according to Tom Sabbatelli, an event response manager at RMS. However, the figures do not include the potential cost of inland flooding, which Vallee believes could be the real danger at play.
With Florence expected to hit the US East Coast by the end of the week, it is still difficult to predict the exact path and kind of damage the storm might cause.
"There can be the potential for significant uncertainty in a forecast track for a storm like Florence that is so far offshore," Sabbatelli told Bloomberg. "Every event has its unique characteristics so we're using that as a broad-brush first pass right now," he said of the benchmarks.
NHC Director Ken Graham said that computer models showed Florence was forecast to stall over the Carolinas once it reaches shore.
"People living well inland should prepare to lose power and endure flooding and other hazards," Graham warned.
Next 5-Days Rain Forecast:
What are meteorologists saying?
"Uncertainty. HurricaneFlorence is now forecast to slow down. That could bring prolonged winds and rain along the coast. Over a foot of storm surge and potentially 40 inches of rain depending on where the storm tracks. Details coming up," tweeted Janice Dean, Senior Meteorologist at Fox News Channel.
European models are showing the hurricane could stall right off Wilmington, North Carolina on Friday as a major hurricane, said Ryan Maue, Meteorologist @weatherdotus.
"LATEST track on Hurricane Florence has a decided shift south. Will stall is it approaches the NC coast Friday and then drift slowly into SC as it weakens," said Cindy Fitzgibbon, Meteorologist at WCVB.
Evacuation
North Carolina's governor Roy Cooper issued what he called a first-of-its-kind mandatory evacuation order for all of North Carolina's fragile barrier islands. Typically, local governments in the state make the call on evacuations.
"We've seen nor'easters and we've seen hurricanes before," Cooper said, "but this one is different."
Despite all that, 65-year-old Liz Browning Fox plans to ride the storm out in the Outer Banks village of Buxton, North Carolina, despite a mandatory evacuation order. Her 88-year-old mother refused to evacuate and will stay with her.
"Everyone who is staying here is either a real old-timer, someone who doesn't know where would be better, or someone involved in emergency operations one way or another," said Fox.
* * *
Is this normal?