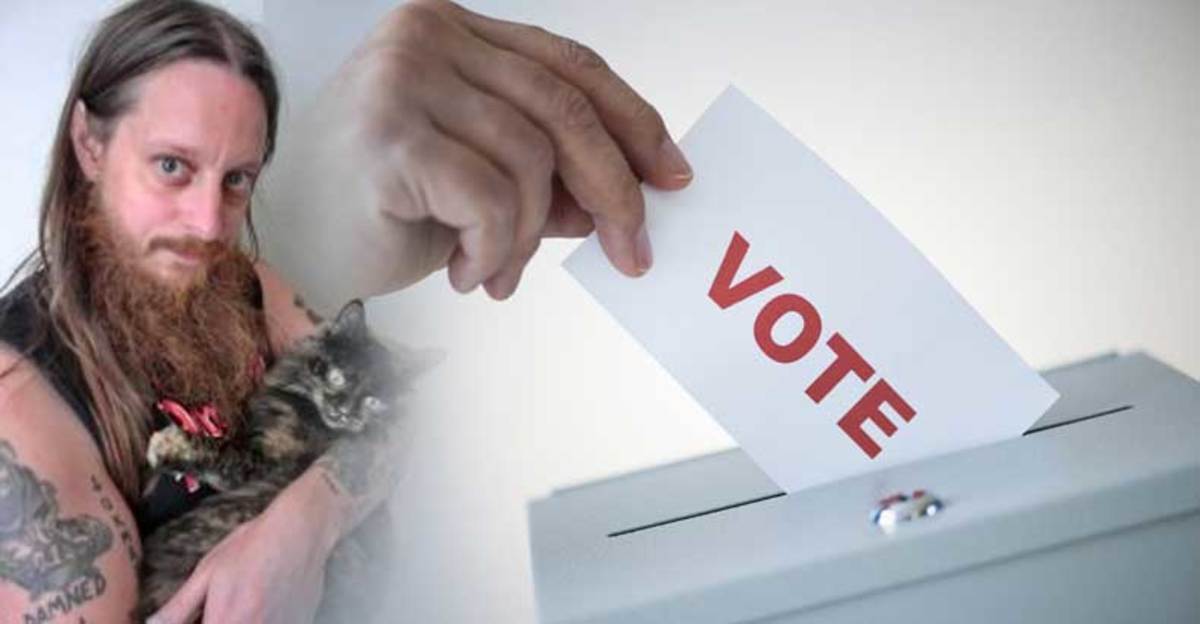 Kolbotn, Norway – Gylve "Fenriz" Nagell, a heavy metal musician with the band "Darkthrone" was recently elected to his town's council, against his will. Fenriz has no interest in politics, but in his area that doesn't matter — if you are nominated and elected, you have earned the position whether you like it or not.
When Fenriz was first nominated for the position, he put signs up for his campaign showing him holding a cat, with the words "Please Don't Vote For Me." Naturally, the campaign backfired and everyone loved the signs, and eventually did vote him into office.
Speaking in a recent interview with CLRVYNT, Fenriz said, "I got voted in as a politician — involuntarily, I might add. So, I've got some support, I guess. But Kolbotn is a tiny place, maybe 9,000 people."
Fenriz explained that he was obligated to participate in the election: "If you get voted in, you have to stay in that position for four years. And then you can pull out. But I'm used to these sort of long-term commitments. [Laughs] Basically, they called and asked if I wanted to be on the list [of backup representatives]. I said yeah, thinking I would be like 18th on the list and I wouldn't really have to do anything. They just need a list to be able to … well, it's hard to talk local politics in another language. My campaign was a picture of me holding my cat saying, "Please don't vote for me." But people just went nuts. After the election, the boss called me and told me I was a representative. I wasn't too pleased, and I'm not too pleased about it. It's boring. There's not a lot of money in that, either, I can tell you!"
When asked what his duties entailed, Fenriz said, "Basically, I have to step in when the usual people who go to the big meetings are sick or something. Then I have to go sit there and feel stupid among the straight people."
Sadly, it seems that Fenriz does not have the type of power to end prohibitions, lower taxes or reduce the size of government; his participation seems ceremonial at best. However, in a small town of just 9,000 it is possible that his unorthodox views might actually leave a mark on the area.