Menlo Park, CA – Something very peculiar has been taking place on Facebook's trending section since presidential candidate Hillary Clinton collapsed at a 9/11 memorial. Immediately after news of the medical emergency broke, the term Hillary Clinton was a top trending story on the social media site, with the trending section revealing that over 1 Million people were "talking about this."
But by the next morning something extremely odd had happened.
Although national broadcast television and radio media were plastered with non-stop coverage of the story, and it was being widely disseminated across Facebook and other social media outlets, the term Hillary Clinton was no longer trending on Facebook as a top story.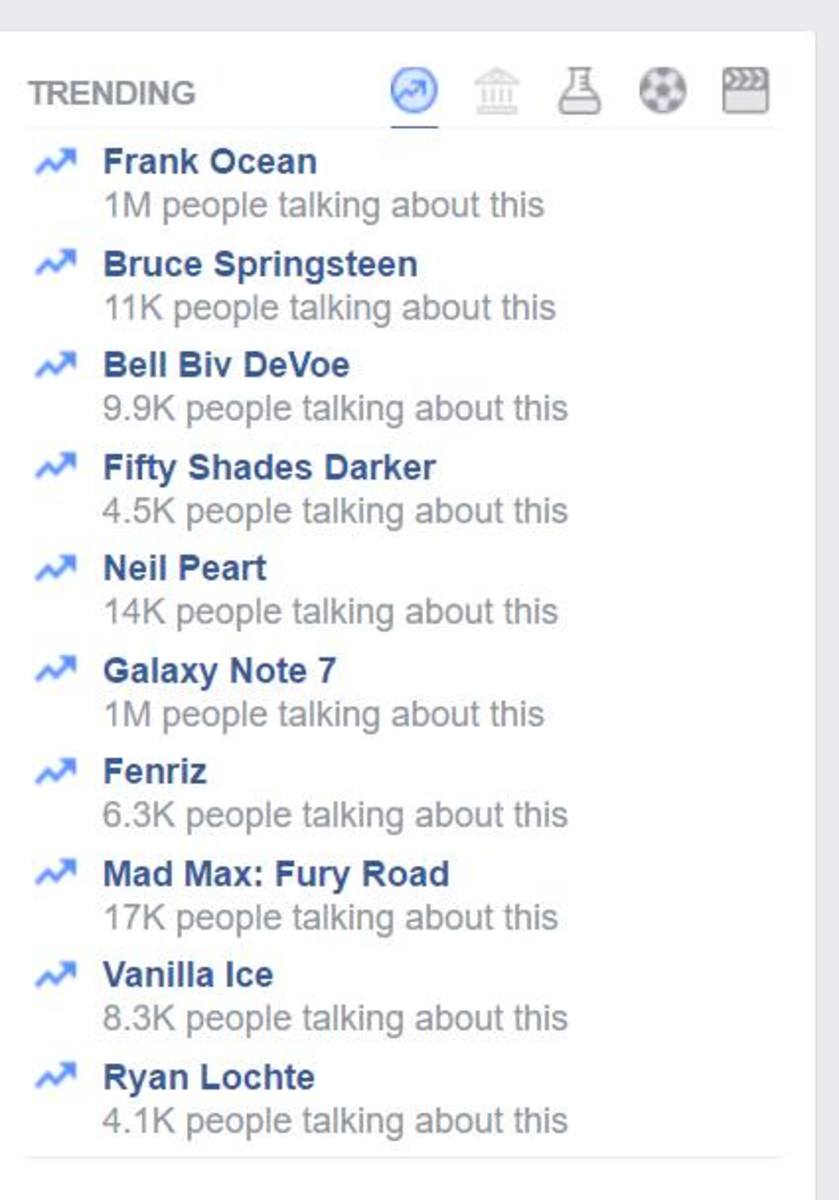 A cursory search of the term "Hillary Clinton collapse" on September 12 revealed that only 28,992 people were now "talking about this." Using the search term "Hillary Clinton faints" registered a meager 1,000 people.
Now some could say that perhaps these numbers are accurate; as how can anyone dispute what the almighty Facebook says is truth?
To give some perspective we searched Facebook for the name of one of the writers here at The Free Thought Project; Claire S Bernish — and the results were extremely telling.
The odds of these having one of our writers having virtually twice the number of people talking about her on Facebook, as compared to Hillary Clinton while in the midst of major national news story, strongly indicates some type of outside intervention by Facebook. This startling form of soft-censorship, employed by the social media giant to manipulate people's perceptions about political events, raises serious ethical questions.
In fact, at certain points, there has been nothing available trending in politics at all. It seems as if Facebook is not registering political posts in their trending section – as if politics don't exist — while at other times only showing one or two trending political items.
Both screenshots below were taken on September 13, 2016, of the trending politics section.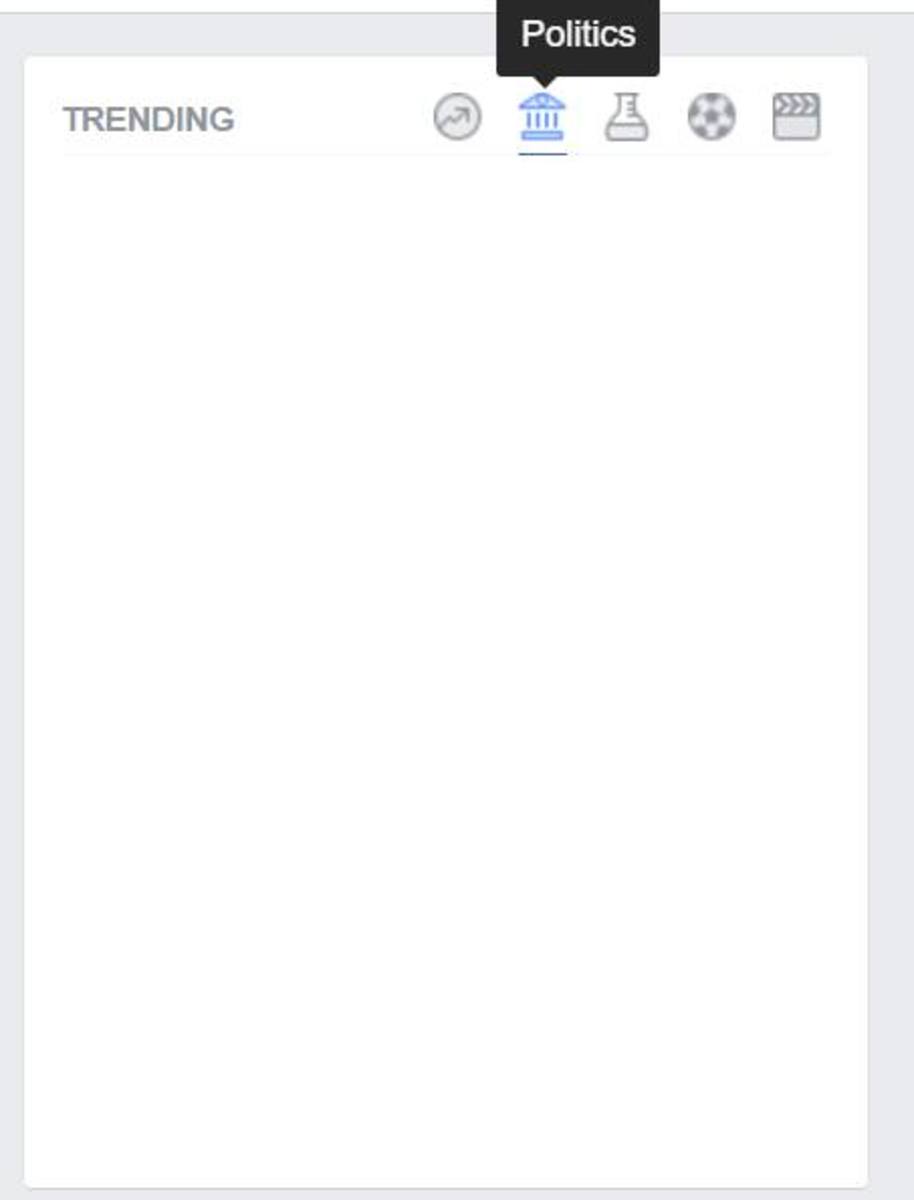 Note that Hillary Clinton is completely absent from the trending political stories — when they aren't blanked out altogether. In the screen shot below, the entire political category for trending stories was greyed out and entirely unclickable.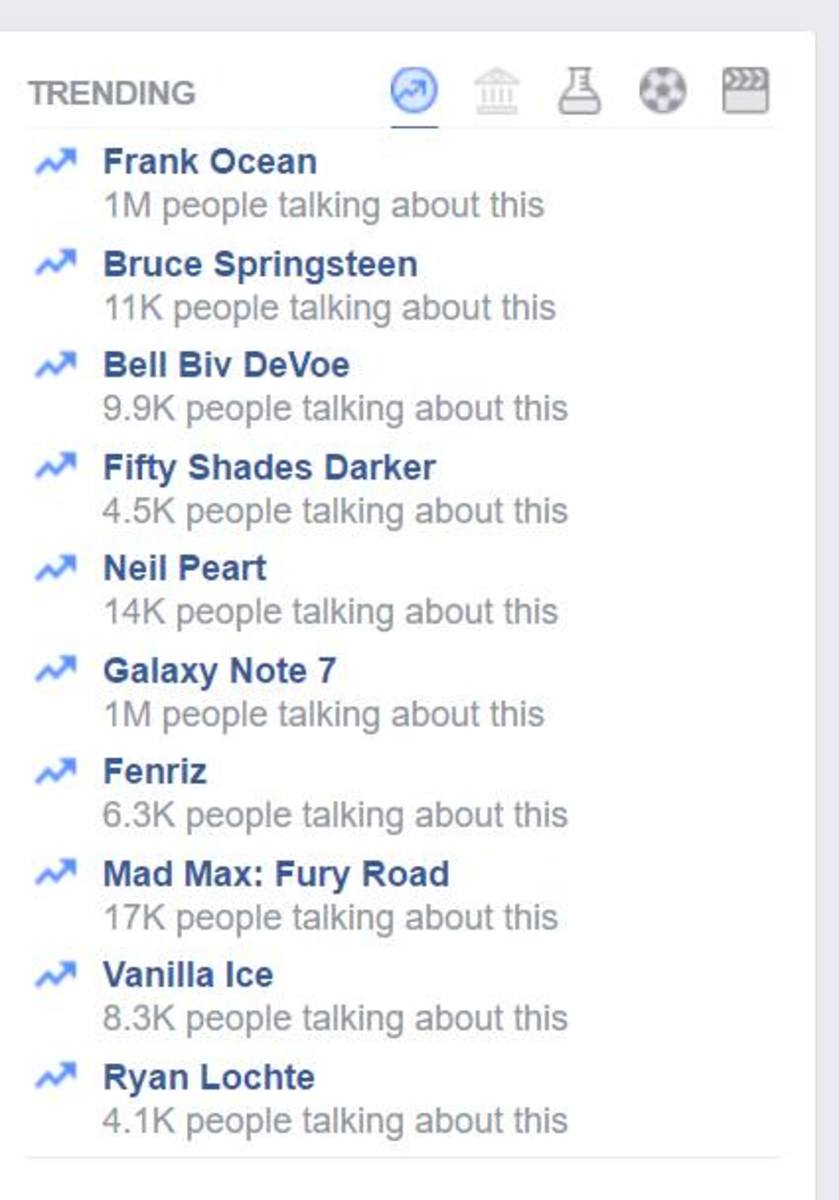 This recent censorship comes on the heels of Facebook being publicly humiliated after being exposed by the Prime Minister of Norway Erna Solberg for deleting the iconic Vietnam photo of "Napalm Girl" from a host of the social network's pages following its publication in the Aftenposten newspaper.
The blatant censorship outraged users, who proceeded to post the "Napalm Girl" photo on their pages, with those images also being deleted. On September 9, Aftenposten printed a public letter to Mark Zuckerberg, Facebook's CEO, urging the social network to allow the photo's publication.
Facebook eventually reversed its decision, acknowledging the historical significance of the image, and attempted to blame it on their recent algorithm changes – the seemingly common refrain from the company when caught doing something dubious.
"This debate is about more than this one picture, and more than just Facebook as a network," Solberg wrote in a Facebook post. "It is about the responsibilities large media institutions and platforms have to not pervert or distort reality."
Judging by the company's recent suppression of Hillary Clinton's collapse, it seems that Facebook is intentionally manipulating data in an effort to keep people ignorant as to what is transpiring politically.
It seems George Orwell's words have never been so important.
"So long as they (the Proles) continued to work and breed, their other activities were without importance…. Heavy physical work, the care of home and children, petty quarrels with neighbors, films, football, beer and above all, gambling filled up the horizon of their minds. To keep them in control was not difficult." — George Orwell

DASH cryptocurrency and The Free Thought Project have formed a partnership that will continue to spread the ideas of peace and freedom while simultaneously teaching people how to operate outside of the establishment systems of control like using cryptocurrency instead of dollars. Winning this battle is as simple as choosing to abstain from the violent corrupt old system and participating in the new and peaceful system that hands the power back to the people. DASH is this system.
DASH digital cash takes the control the banking elite has over money and gives it back to the people. It is the ultimate weapon in the battle against the money changers and information controllers.
If you'd like to start your own DASH wallet and be a part of this change and battle for peace and freedom, you can start right here. DASH is already accepted by vendors all across the world so you can begin using it immediately.