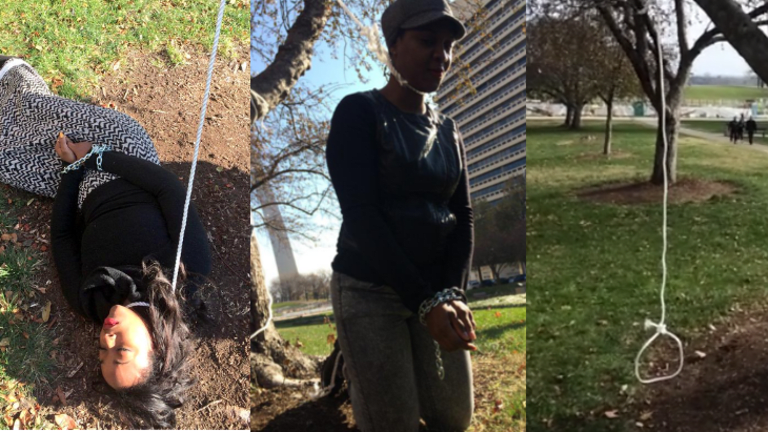 Demonstrators Stage Symbolic Lynching Outside Old Court House in St. Louis
St. Louis, MO-- On Friday afternoon three demonstrators set up outside the Old Courthouse in St. Louis to stage a symbolic lynching to spread awareness to the fact that a black man is killed in the United States every 28 hours, which they say is modern day lynching.
The protest took place on Dred Scott Way in St. Louis, which was renamed in May of 2007 on the 150th anniversary of the family's emancipation. The US Supreme Court decision in Dred Scott v Sanford stated that all people of African ancestory could never become US citizens, Dell Cameron pointed out. The old courthouse was not only the site of the Dred Scott ruling, but slaves were also frequently bought and sold at auction on the court house steps. Activists
You ask why? Because every 28hrs a police officer either kills or shoots a person of color. Modern day… https://t.co/Z8Hyw2Q8OC
— T-DUBB-O (@TDUBBOHMYGOD) November 21, 2014
" target="_blank">T-Dubb-O,
Every unarmed child that gets killed by a Police is a modern day lynch. Come down to the old courthouse @ 12 - noon to see this !
— brown sugar (@rikrik__) November 21, 2014
" target="_blank">Rika Tyler, and Rae (how they asked to be named), wanted to spark this conversation in anticipation of the Grand Jury decision in the case of Darren Wilson, the Ferguson Police officer who repeatedly shot the unarmed Mike Brown, and the epidemic of police killing people of color across the country at an alarming rate.

While police kill people of all backgrounds, races, and economic standings, white people being executed in the street is the exception not the rule, and they believe it is time to get uncomfortable and talk about this.
We spoke to T-Dubb-O on his motivation for todays demonstration-
Twitter has responded with a mix of outrage, shock, and inspiration. One thing is for sure though, they have certainly got people talking. Lets hope they have the right conversations.