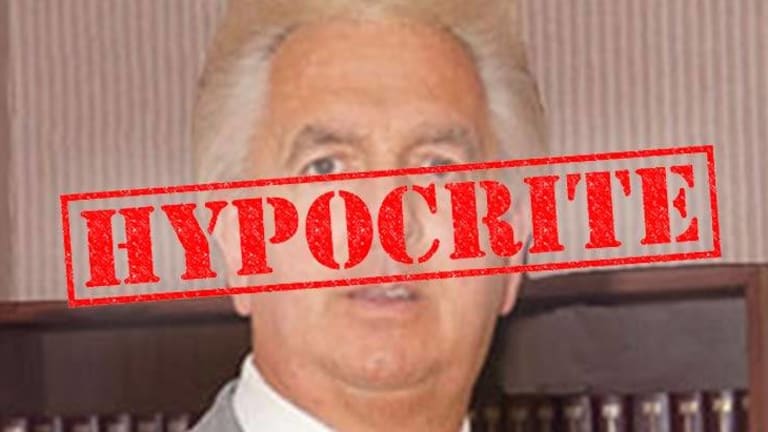 Ferguson Judge Who Threw People in Jail For Owing a Few Hundred Bucks, Owes $170K to the State
There are two types of "justice" systems in America; one for all those who profit from it, and everyone else.
Ferguson, Missouri - This week, Ferguson Judge Ronald J Brockmeyer, who was exposed for imprisoning poor people that couldn't pay fines, actually owes the state over $170,000 in taxes himself.
Brockmeyer was implicated in a recent Department of Justice report, for fixing traffic tickets and enforcing strict penalties for those who were unable to pay. Some Ferguson residents were jailed over fines as small as a few hundred dollars.
In the wake of the report, many local politicians are rushing to defend the judge, insisting that he be able to keep his job. One city councilman even warned the others that "switching judges could lead to loss of revenue".
"Judge Brockmeyer not being incarcerated is a perfect illustration of how we should go about collecting debt from people who owe it," Thomas Harvey, the director of Arch City Defenders, said in a statement. The Arch City Defenders are a non-profit organization that is representing a number of people who were jailed in Ferguson for being unable to pay fines.
In addition to jailing people for unpaid fines while also owing the state hundreds of thousands of dollars, the report also found that Brockmeyer canceled tickets that were written for family and friends.
"Even as Ferguson city officials maintain the harmful stereotype that black individuals lack personal responsibility – and continue to cite this lack of personal responsibility as the cause of the disparate impact of Ferguson's practices – white city officials condone a striking lack of personal responsibility among themselves and their friends," the justice department investigators said in their report last week.
A class action lawsuit is currently pending against the city, on behalf of plaintiffs who were jailed for being unable to pay fines.
"Once locked in the Ferguson jail, impoverished people owing debts to the city endure grotesque treatment. They are kept in overcrowded cells; they are denied toothbrushes, toothpaste, and soap; they are subjected to the constant stench of excrement and refuse in their congested cells [and] they are surrounded by walls smeared with mucus and blood," the lawsuit states.
This instance proves yet again that there are two types of "justice" systems in America; one for all those who profit from it, and everyone else.
John Vibes is an author, researcher and investigative journalist who takes a special interest in the counter culture and the drug war. In addition to his writing and activist work he is also the owner of a successful music promotion company. In 2013, he became one of the organizers of the Free Your Mind Conference, which features top caliber speakers and whistle-blowers from all over the world. You can contact him and stay connected to his work at his Facebook page. You can find his 65 chapter Book entitled "Alchemy of the Timeless Renaissance" at bookpatch.com.