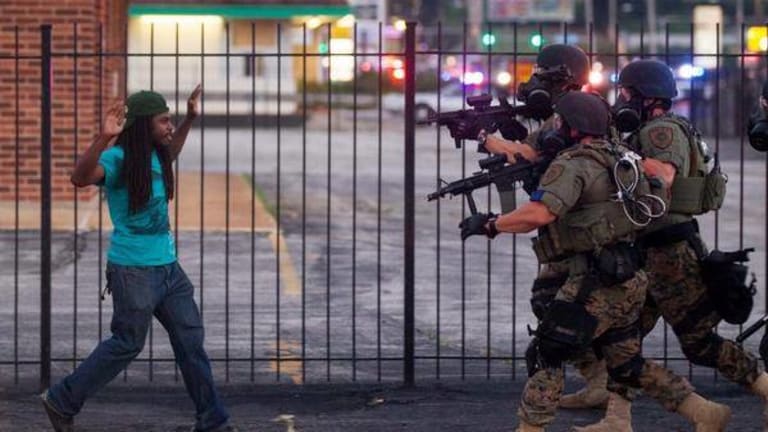 #Ferguson Live Updates
Protesters are continuing to fight the Police State after the murder of seventeen year old Mike Brown in Ferguson, Missouri.
Will be updating continuously as important info comes in...
10:11am-
Officer Darren Wilson Identified as Shooter in Ferguson Teen Killing
8:17pm- Thousands of protesters shut down times square in solidarity with #Ferguson. Hands up don't shoot. 5:08pm-  Marine Decries Military Police in Ferguson 4:05pm- New officer in charge of Ferguson investigation, Captain Ron Johnson, marching lead with protestors down the street.

3:51pm-

3:35pm-
Several thousand marching peacefully right now - reports saying largest crowd yet!

3:15pm-

2:59pm- Protestors about to march down Florissant

2:40pm- CAUGHT ON FILM: Watch MSM Journalists get arrested by SWAT yesterday in McDonalds

2:24pm-
2:15pm-
Media says protestors provoked the police to fire upon them. This video proves otherwise.
The 11 dumbest things people actually said about Ferguson: https://www.dailydot.com/opinion/11-worst-dumbest-responses-ferguson-michael-brown-shooting/
2:01pm-
Press conference not being received well.
1:47pm- Johnson guarantees rights of press will be preserved after Governor's press conference. State senator confronts Ferguson police chief at press conference: "Will I get tear-gassed again?" https://huff.to/1AgHN2h

1:37pm-
Yasmine Hafiz interviews pastor who was shot with a rubber bullet while praying and mediating at a Ferguson protest https://huff.to/1Ahv1kg 
1:33pm-
Missouri governor Jay Nixon failing to show any compassion or talk about accountability
Watch LIVE NOW- https://live.reuters.com/Event/US_Live_Blog/124074658
1:27pm -
Via @timcast- Press conference about to start in St. Louis #ferguson
https://instagram.com/p/rsQc4ZL5mh/
1:11pm -
14-year-old hacker has #Ferguson police officers' social security numbers, names, addresses https://www.washingtonpost.com/news/the-intersect/wp/2014/08/14/hackers-have-the-names-and-social-security-numbers-of-ferguson-police-but-should-they-share-them/
Jacob Crawford from We Cop Watch just flew into Ferguson and said he will keep us updated with whats going on on the ground
1:04pm -
The ACLU has filed a second lawsuit to protect those filming the police in Ferguson