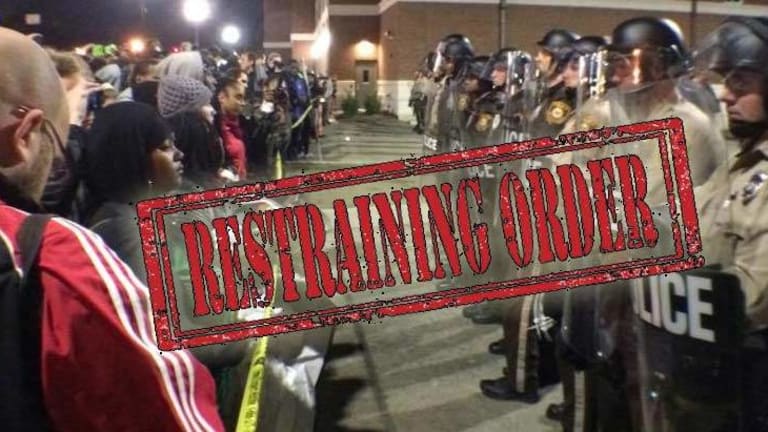 Ferguson Protesters File Mass Restrainer Order Against Mo. Police
Ferguson, Missouri - This week, lawyers representing protesters in Ferguson filed a restraining order against Missouri police, citing civil rights violations at previous demonstrations.
According to the court filing, Missouri police unnecessarily intimidated protesters, assaulted them, shot them with tear gas and pepper spray, and refused to identify themselves when asked. This behavior was documented on hundreds of recordings that have surfaced in the months since the killing of 18-year-old Michael Brown.
Lawyer Thomas B. Harvey is one of the attorneys who has filed the restraining order on the behalf of six individuals who say that police violated their rights during peaceful protests in Ferguson.
"We're not asking for crazy things here. Wear your ID. If you're going to make your announcement to disperse, give people the right, a place, a way that they can comply with that order, and if you're going to declare something an unlawful assembly, follow the statute," Harvey said.
One of the main concerns raised in the court documents is the indiscriminate violence and use of crowd control weapons that was displayed by police in the protests thus far.
"What they're doing is punishing people for being out protesting. It's having a chilling effect on their First and Fourth Amendment rights," Harvey said.
Nicole C. Lee, a Washington-based lawyer involved in the case, believes that the excessive force used on protesters is an intentional punishment that is inflicted on the crowds, simply for showing up and taking part in the demonstration.
"The purpose of the legal action is to bring to the attention of the courts the fact that this has been excessive punishment and has not been used in the proper instances. Instead, it's been used to punish and to harm peaceful demonstrators," Lee said.

Protester Alexis Templeton testified in court this week that police instigated the violence during the Ferguson protests, and indiscriminately shot teargas into the crowd, hitting dozens of innocent people. This situation was verified by staffers at the Free Thought Project who were livestreaming the event when they were with a large group of people that was tear gassed by police while being completely peaceful.
John Vibes is an author, researcher and investigative journalist who takes a special interest in the counter culture and the drug war. In addition to his writing and activist work he is also the owner of a successful music promotion company. In 2013, he became one of the organizers of the Free Your Mind Conference, which features top caliber speakers and whistle-blowers from all over the world. You can contact him and stay connected to his work at his Facebook page. You can find his 65 chapter Book entitled "Alchemy of the Timeless Renaissance" at bookpatch.com.