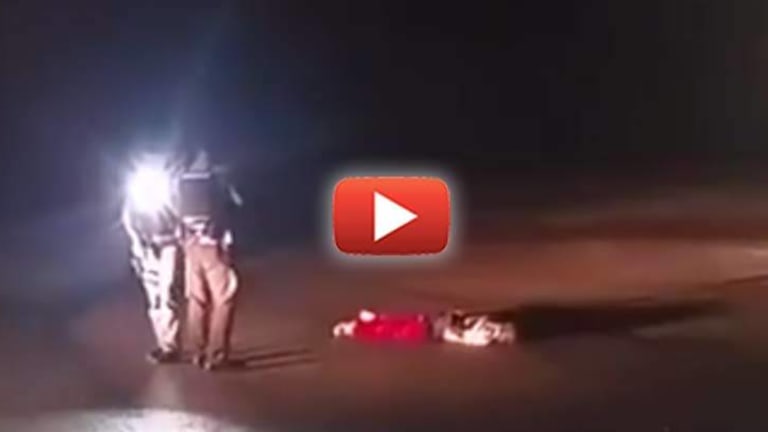 On the One-Year Anniversary of Mike Brown's Death, Ferguson Police Shoot Another Black Teen
A day of peaceful protests in Ferguson to recognize the 1-year anniversary of Mike Brown's death was marred by yet another teenager shot by police.
Ferguson, MO -- On the one-year anniversary of the killing of unarmed teenager Michael Brown by Officer Darren Wilson, all was peaceful until just after 11:00 pm.
As a large crowd of protesters gathered on the now famous, West Florissant Avenue, the peaceful day of marching was brought to a halt with a hail of gunfire. Police are saying that the gunfire erupted between two other groups while some on the ground claimed that it was the police who fired on protesters.
A video uploaded to Facebook early Monday morning shows a shooting victim lying face down in handcuffs. According to the St Louis Post-Dispatch, the victim is 18-year-old Tyrone Harris.
In the video, the person filming can be heard screaming for police to help Harris. That person is then arrested.
St Louis County Police Chief Jon Belmar told reporters in a pre-dawn press conference that after "an exchange of gunfire between two groups" the suspect, believed by police to be armed, left and encountered officers in an unmarked SUV.
Belmar said the suspect fired on police and was then shot. No police officers were hit in the alleged melee. Belmar also stated that none of the officers involved in the shooting were wearing body cameras.
Some sources are saying that police officers opened fire on protesters, but this is unconfirmed. However, video shows civilians running for cover as gunfire reigns out.
Earlier Sunday, the protesters released doves and stood silent for four-and-a-half minutes at the spot where Brown was killed to symbolize the number of hours that his body lay in the street unattended. Prior to the gunfire, hundreds of protesters marched without incident, despite a torrential downpour.