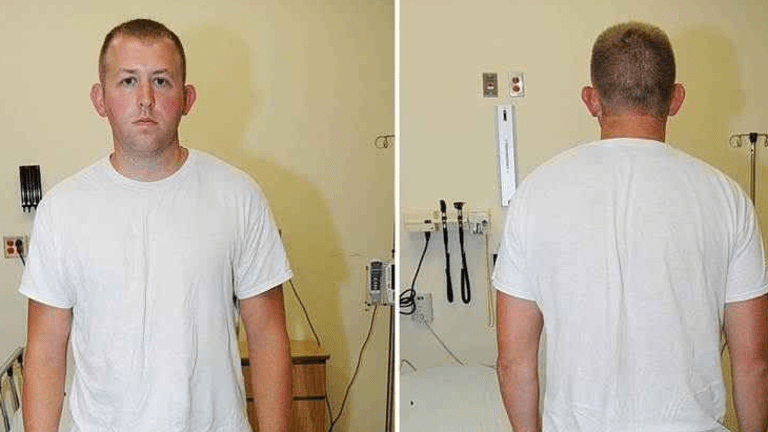 New Photos Taken On Day of Murder Show Darren Wilson Didn't Have A Scratch On Him
Ferguson, Missouri - Monday, along with the grand jury decision not to indict Darren Wilson, new evidence was released, which has never been seen by the public before now. Among this new evidence are photos of Darren Wilson taken on the night of the killing, which show that the police clearly lied about that portion of their story.
When the story initially broke, it was reported by the police that Darren Wilson was in a physical altercation with Michael Brown, and that he had visible marks indicating that he had been attacked. Since there was no proof to support this claim, many people remained skeptical, although many others who wish to defend the police have been stating this claim as if it was fact.
In the new pictures that were released after the grand jury verdict was announced, Darren Wilson can be seen without a scratch on him, and absolutely no indication that he was in any kind of physical struggle.
This is not the first piece of evidence to recently surface contradicting the police department's version of events. An in depth investigative report recently showed that Michael Brown was shot roughly 150 feet away from Darren Wilson's police car. At one of the first press conferences, police reported that Brown was shot just 34 feet away from the car, and that he was charging Wilson. According to the police, Wilson feared for his life and shot Brown in self defense.
However, with this new evidence, showing that Brown was shot 150 feet away from the car, and that Darren Wilson returned to the police station unharmed, it seems very hard to believe that Michael Brown posed any kind of threat to officer Wilson.
What is also disturbing, is that all of this evidence and more was available to the grand jury, but they still decided not to indict him.
John Vibes is an author, researcher and investigative journalist who takes a special interest in the counter culture and the drug war. In addition to his writing and activist work he is also the owner of a successful music promotion company. In 2013, he became one of the organizers of the Free Your Mind Conference, which features top caliber speakers and whistle-blowers from all over the world. You can contact him and stay connected to his work at his Facebook page. You can find his 65 chapter Book entitled "Alchemy of the Timeless Renaissance" at bookpatch.com.