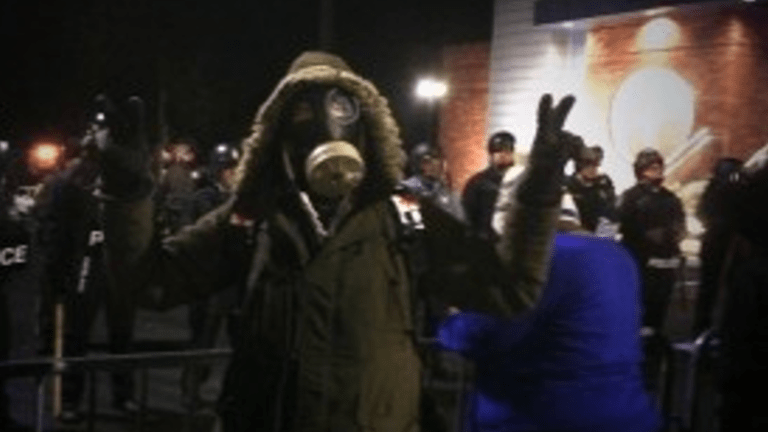 Heavy Police Force On Display in Ferguson As Community Awaits Grand Jury Announcement
"I did not kill in Vietnam like you killed Mike Brown!"
Ferguson, MO-- Tensions flared up once again outside the Ferguson Police Department on Wednesday evening as a frustrated community awaits the Grand Jury decision on whether or not to charge Darren Wilson who killed unarmed teenager Michael Brown on August 9.
We arrived on the scene around 9:30pm. Cops had reportedly already been out, but had retreated back inside the building. Around 35 people were protesting peacefully, with some occasional blocking of traffic (no cars were held up for more than a few minutes). Around 9:40, riot police emerged from the building and declared an unlawful assembly.
One of the most powerful voices of the evening came from 75 year old Walter Rice, a Vietnam veteran who has spent his life living in Ferguson. The elderly gentleman came to the station with a large bucket and spoon to drum on, and eventually became over come with emotion and confronted the line of police demanding that they stop terrorizing his city and go home.
"I did not kill in Vietnam like you killed Mike Brown!" Rice emotionally proclaimed.
Only around half of the officers were wearing any identification. As usual, they would not respond to any questions or identify themselves.
The first arrest came minutes after citizen journalist and activist, Bassem Masri, had approached the police line to question officers about their lack of identification. Masri was livestreaming as he was arrested, his phone was crushed by an officer during the incident. The arrest was reportedly over four outstanding traffic tickets in the city of St. Louis.
For the rest of the evening it was a game of cat and mouse as protestors would take the streets (there were rarely any cars going by, and none were held up for long) and the riot police storming out in what most rational people would call extreme over reaction, the majority of the time snatching people up before moving back.
In total there were five arrests, including local clergy, Pastor Rebecca Ragland, who was wearing a bright orange vest with clergy clearly written across the back.
If last night was any indication of how they intend to handle post announcement protests, it does not appear they have any desire to maintain peace and will be looking to agitate and find reasons for aggression.