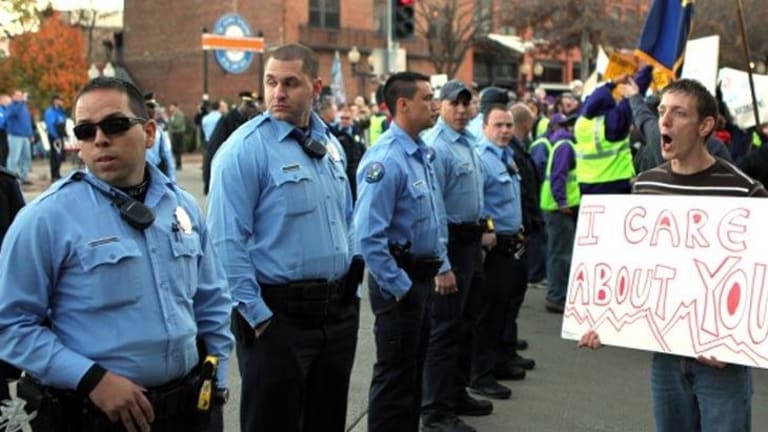 St Louis Police Threaten to Quit or Slowdown If Civilian Oversight Passes
The SLPD doesn't want oversight, so they're threatening a tantrum. However, if New York is any example, a work stoppage by police will only serve to save the citizens money and harassment.
St. Louis, MO-- A bill to create a seven-member civilian oversight board for the St. Louis Police Department is looking like a sure bet to pass next month. The majority of the Board of Aldermen and even Mayor Francis are attaching their names to it.
As the bill was being discussed on Thursday, Jeff Roorda, a spokesperson for the St. Louis Police Officer's Association, assaulted a woman while wearing an "I Am Darren Wilson" bracelet. His violent outburst may have stolen the headlines for the day, but there was also some glorious news to come from the union rep.
Roorda announced that St. Louis police officers will quit the department or do only the bare minimum on patrol if the city creates the proposed civilian oversight board.
"They'd answer their calls when they got them, but as far as interrupting criminal behavior on their own, why in the world would they do that when their employers aren't even supporting them?" Roorda said, he continued on to say that "nobody wants to be the next Darren Wilson."
Well, Jeff Roorda, nobody wants to be the next Mike Brown either.
Considering the fact that much of the brutality we see begins with officers stopping and harassing people for no reason, his "threat" would actually be a major win for the city.
Following the murders of two police officers in New York City, the NYPD staged a near work stoppage in political protest. Had the officers done this to rejoin humanity and take a stand against enforcing bad laws and harassing people for victimless crimes, they could have been heroes. Unfortunately, they are just cry babies who want to be able to maim and kill without anyone questioning their integrity.
During the slowdown, officers vowed to "arrest people only when necessary," admitting that the majority of arrests by police transpire simply for revenue generation. Arrests dropped by 90%, and citizens of the city saved 10 million dollars in parking fines per week. The greatest part of the entire ordeal was that the police proved that they can stop going out searching for people to harass, and cities will not crumble. There was no chaos, no mass destruction, in fact, by all accounts, the city seemed entirely peaceful and normal.
Citations for traffic violations fell by 94 percent, from 10,069 to 587, during that time frame.

Summonses for low-level offenses like public drinking and urination also plunged 94 percent — from 4,831 to 300.

Even parking violations are way down, dropping by 92 percent, from 14,699 to 1,241.

Drug arrests by cops assigned to the NYPD's Organized Crime Control Bureau — which are part of the overall number — dropped by 84 percent, from 382 to 63.
It is for this reason that everyone should support Roorda's tantrum and support their protest. In fact, police departments nationwide should join them in solidarity and only make arrests when "actually necessary."
When they protest, humanity wins.