Protesters are continuing to fight the Police State after the murder of seventeen year old Mike Brown in Ferguson, Missouri.
Will be updating continuously as important info comes in…
10:11am-
Officer Darren Wilson Identified as Shooter in Ferguson Teen Killing
Page from police report pic.twitter.com/xcz6nUKqY2

— Ryan J. Reilly (@ryanjreilly) August 15, 2014
8:17pm-
Thousands of protesters shut down times square in solidarity with #Ferguson.
Hands up don't shoot.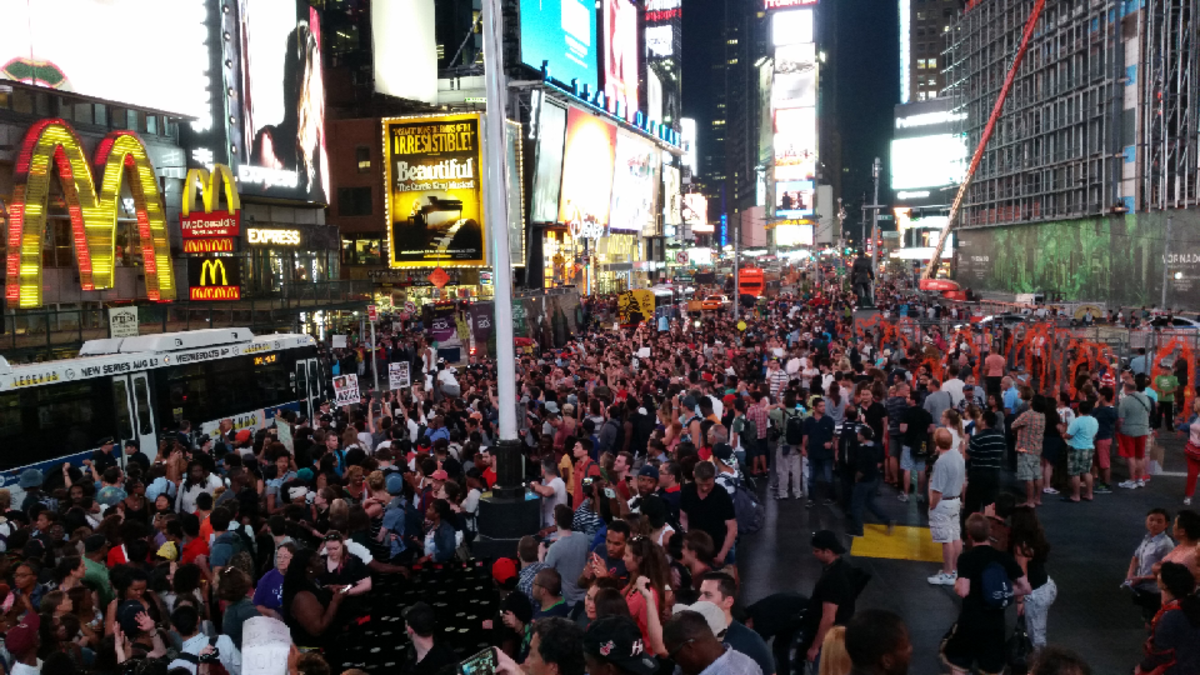 5:08pm- 
Marine Decries Military Police in Ferguson
4:05pm-
New officer in charge of Ferguson investigation, Captain Ron Johnson, marching lead with protestors down the street.
Highway patrol captain Ron Johnson is leading protesters on a march through Ferguson. A corner turned? pic.twitter.com/ewytjhz2uP

— Jon Swaine (@jonswaine) August 14, 2014
MO Highway Patrol captain Ron Johnson leading protesters through streets of Ferguson. Live: https://t.co/kNA5yQ5sz9 pic.twitter.com/m5uQkSs6mS

— Jon Passantino (@passantino) August 14, 2014
3:51pm-
Protesters in Solidarity with #Ferguson in Harlem #USA

They pledge to shut down 125th street#NYC pic.twitter.com/BcaYyl8ua8

— El Barrio Tours (@Elbarriotours) August 14, 2014
3:35pm-
Several thousand marching peacefully right now – reports saying largest crowd yet!

#Ferguson right now. Police chopper overhead pic.twitter.com/q0SD9glQh5

— Ryan Schuessler (@RyanSchuessler1) August 14, 2014
Ferguson right now pic.twitter.com/NZn9NBFoAg

— Wesley Lowery (@WesleyLowery) August 14, 2014
My last Vine last night. I was arrested before I could post. #ferguson https://t.co/hq5GCROPRc

— Antonio French (@AntonioFrench) August 14, 2014
3:15pm-
Ready to march for peace, love, & change #Ferguson pic.twitter.com/HgUBzCcBf4

— Tyson Manker (@tysonmanker) August 14, 2014
Group of police cars about 5 of them w/lights & sirens on headed north on W Florissant, protesters went that way 5 min earlier #Ferguson

— David Carson (@PDPJ) August 14, 2014
2:59pm-
Protestors about to march down Florissant
STL Police gathering near Soldiers Memorial ahead of march and vigil under the Arch tonight for #MikeBrown pic.twitter.com/WiQ7zudcAe

— Allison Blood (@AllisonBlood) August 14, 2014
Police Chief Sam Dotson says no SWAT gear, no military equipment tonight. pic.twitter.com/6HenbnkfSZ

— Allison Blood (@AllisonBlood) August 14, 2014
2:40pm-
CAUGHT ON FILM: Watch MSM Journalists get arrested by SWAT yesterday in McDonalds
https://twitter.com/lincolnjoaoluiz/status/500032418724990976
2:24pm-
Missouri State Sen. @MariaChappelleN tweets "F-ck you" to @GovJayNixon for his response to the situation in Ferguson: https://t.co/9nwYvynkoT

— Antonio French (@AntonioFrench) August 14, 2014
. @MariaChappelleN, who represents #Ferguson in the Missouri Senate, has been a constant figure on the ground: pic.twitter.com/5SjXE62wZN

— Jason Rosenbaum (@jrosenbaum) August 14, 2014
2:15pm-
Media says protestors provoked the police to fire upon them. This video proves otherwise.
The 11 dumbest things people actually said about Ferguson: https://www.dailydot.com/opinion/11-worst-dumbest-responses-ferguson-michael-brown-shooting/
2:01pm-
Press conference not being received well.
Nixon bumbling, incoherent, pointless in his belated press conference. #Ferguson

— Gregg Keller (@RGreggKeller) August 14, 2014
In this press conference, commander refers to state troopers in #Ferguson as "boots on the ground." #MikeBrown

— T.J. Holmes (@tjholmes) August 14, 2014
https://twitter.com/blameoliver/status/500024853546938370
1:47pm-
Johnson guarantees rights of press will be preserved after Governor's press conference.
State senator confronts Ferguson police chief at press conference: "Will I get tear-gassed again?" https://huff.to/1AgHN2h
https://twitter.com/tysonmanker/status/500019353866489856
1:37pm-
Yasmine Hafiz interviews pastor who was shot with a rubber bullet while praying and mediating at a Ferguson protest https://huff.to/1Ahv1kg 
1:33pm-
Missouri governor Jay Nixon failing to show any compassion or talk about accountability
Watch LIVE NOW- https://live.reuters.com/Event/US_Live_Blog/124074658
1:27pm –
Via @timcast- Press conference about to start in St. Louis #ferguson
https://instagram.com/p/rsQc4ZL5mh/
1:11pm –
14-year-old hacker has #Ferguson police officers' social security numbers, names, addresses https://www.washingtonpost.com/news/the-intersect/wp/2014/08/14/hackers-have-the-names-and-social-security-numbers-of-ferguson-police-but-should-they-share-them/
Jacob Crawford from We Cop Watch just flew into Ferguson and said he will keep us updated with whats going on on the ground
1:04pm –
https://twitter.com/moody/status/499995100936552448/
The ACLU has filed a second lawsuit to protect those filming the police in Ferguson
https://twitter.com/aclu_mo/status/499991167052677122/
DASH cryptocurrency and The Free Thought Project have formed a partnership that will continue to spread the ideas of peace and freedom while simultaneously teaching people how to operate outside of the establishment systems of control like using cryptocurrency instead of dollars. Winning this battle is as simple as choosing to abstain from the violent corrupt old system and participating in the new and peaceful system that hands the power back to the people. DASH is this system.
DASH digital cash takes the control the banking elite has over money and gives it back to the people. It is the ultimate weapon in the battle against the money changers and information controllers.
If you'd like to start your own DASH wallet and be a part of this change and battle for peace and freedom, you can start right here. DASH is already accepted by vendors all across the world so you can begin using it immediately.