The Weekend of Resistance, part of Ferguson October's four days of uprising for Michael Brown, wrapped up on Monday with a day of many demonstrations, direct actions, and arrests.
It was named "Moral Monday", and was organized as a day calling for mass uprising all over St. Louis.  Hundreds of activists traveled from around the country to participate in the resistance.
The civil disobedience began with a march from Wellspring Church to Ferguson Police Department lead by religious leaders, including scholar and activist, Dr. Cornel West.
As the leaders and activists marched through the rain and cold to the station they read out the names of those we have lost to police brutality nationwide.
Upon arriving at the station, the peaceful protestors were met by a line of 40-50 officers, who they marched right up to- demanding they repent for their sins of killing black youth.
Soon after, Rev. Osagyefo Sekou- organizer of the march, along with Dr. Cornel West crossed the police line.
"I didn't come here to give a speech, I came here to go to jail!"

Dr. West declared at an event on Sunday evening.
#Ferguson PD not interested in Cornel West's words. #FergusonOctober pic.twitter.com/IQwA2Q8TL4

— Robert Cohen (@kodacohen) October 13, 2014
Many more followed their lead, breaking through the police line in a beautiful act of defiance.
Ultimately 43 people were arrested at the station.
This was only the tip of the iceberg for the day's events.
Protesters were popping up everywhere, blocking streets, dropping banners, and shutting down traffic- including in front of the headquarters of Emerson Electric.
#mikebrown supporters sitting in middle of W. Florissant Rd. near Emerson Electric. #ferguson #fergusonoctober pic.twitter.com/7ihGtpnjfN

— Joel Currier (@joelcurrier) October 13, 2014
Later in the afternoon, another group of approximately 100 demonstrators entered City Hall to voice their demands, which include civilian review boards, independent investigations into all fatal police involved shootings and body cameras for all officers.  They have promised to return in two days if their demands are not met.  There was one arrest.
HUGE banner drops at STL City Hall – Mayor's Chief of Staff just came out to talk to #FergusonOctober protestors. pic.twitter.com/D2AcEubM3l

— MORE (@organizemo) October 13, 2014
Demonstrators also marched through Plaza Frontenac, an upscale shopping mall.
Youth occupy super fancy mall near Ferguson w #blacklivesmatter #HandsUpDontShoot chant #MoralMonday #FergusonOctober pic.twitter.com/IRJTfcq5PL

— Tania A. Unzueta (@_LaTania) October 13, 2014
Around 7pm, demonstrators gathered at a political fundraiser and blocked the doors, demanding those inside speak out on where they stand.  Approximately a dozen people were dragged away and arrested at this event.
#FergusonOctober outside a fundraiser for @clairecmc (Senator Claire Mccaskill) pic.twitter.com/gabwp7bLgV

— Anarchy Now! (@acsacollective) October 13, 2014
Banners were dropped at the Rams game, protestors marched through the stands as well as demonstrated outside.
"A" banner at the Rams game? Try LOTS of banners… #NoJusticeNoFootball #FergusonOctober pic.twitter.com/LUzkEiEIzV

— We Act Radio (@WeActRadio) October 14, 2014
The action also continued by the clock tower at St. Louis University, where an occupation was declared on Sunday evening.
Tents at #OccupySLU #slu #FergusonOctober pic.twitter.com/5MWC196Qof

— Umar Lee (@STLAbuBadu) October 14, 2014
4.5 minutes. Bodies down. Fists up. For Mike Brown. #FergusonOctober #MoralMonday pic.twitter.com/UuqZNk1qRm

— Brittany Packnett (@MsPackyetti) October 14, 2014
Not one, but three Walmart stores in the area were shut down, one after another, throughout the evening for John Crawford, the young man executed inside a Walmart for holding a toy gun.
The amount of arrests at these actions is still unclear.
"Y'all might want to call some more officers" https://t.co/bPfuQbCPtR

— Wesley Lowery (@WesleyLowery) October 14, 2014
Moral Monday. STOP KILLING US. #FergusonOctober pic.twitter.com/1VMBXr2izi

— BrownBlaze (@brownblaze) October 14, 2014
That's weak. RT @MsSTL79: RT @fergusonoctober STL Police just arrested an #SLU law professor at @walmart #fergusonoctober

— Dr. Cornel Fresh (@WyzeChef) October 14, 2014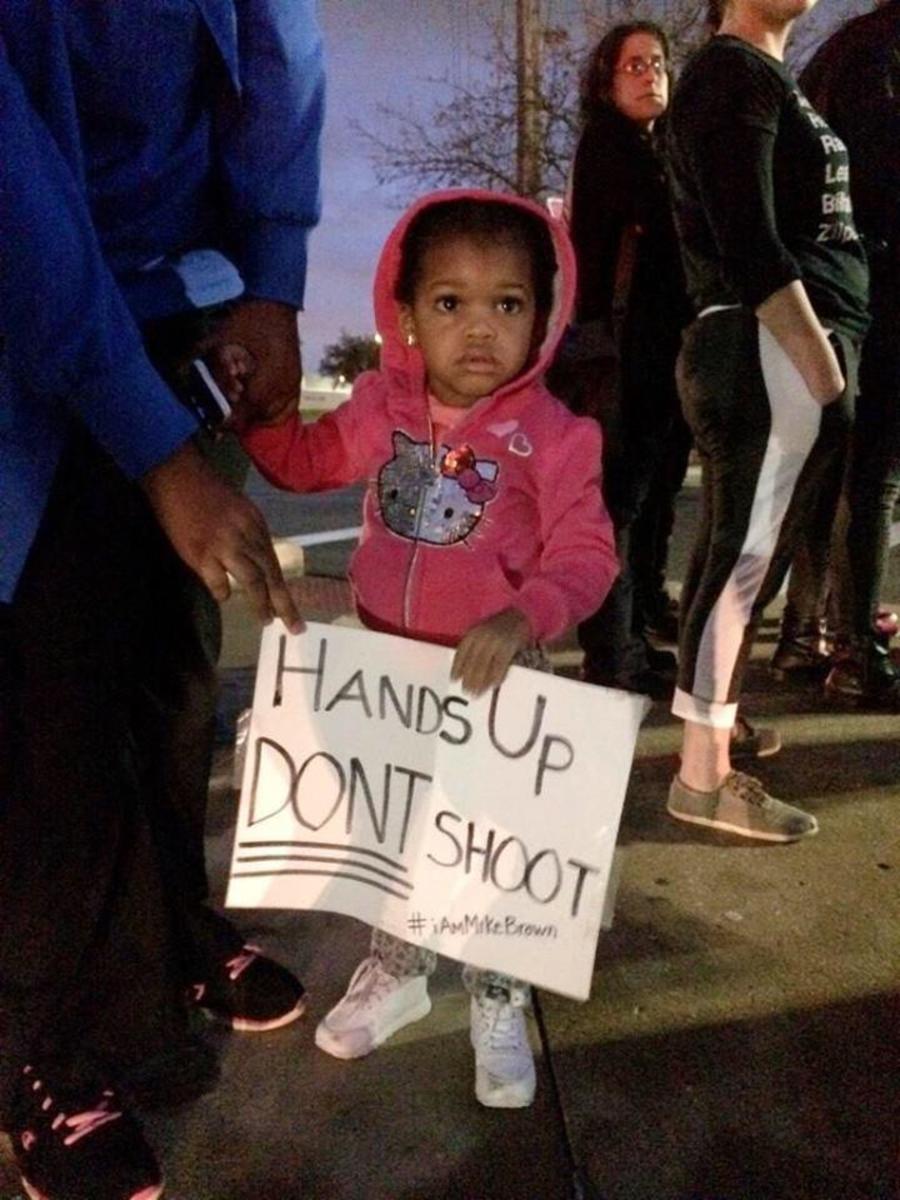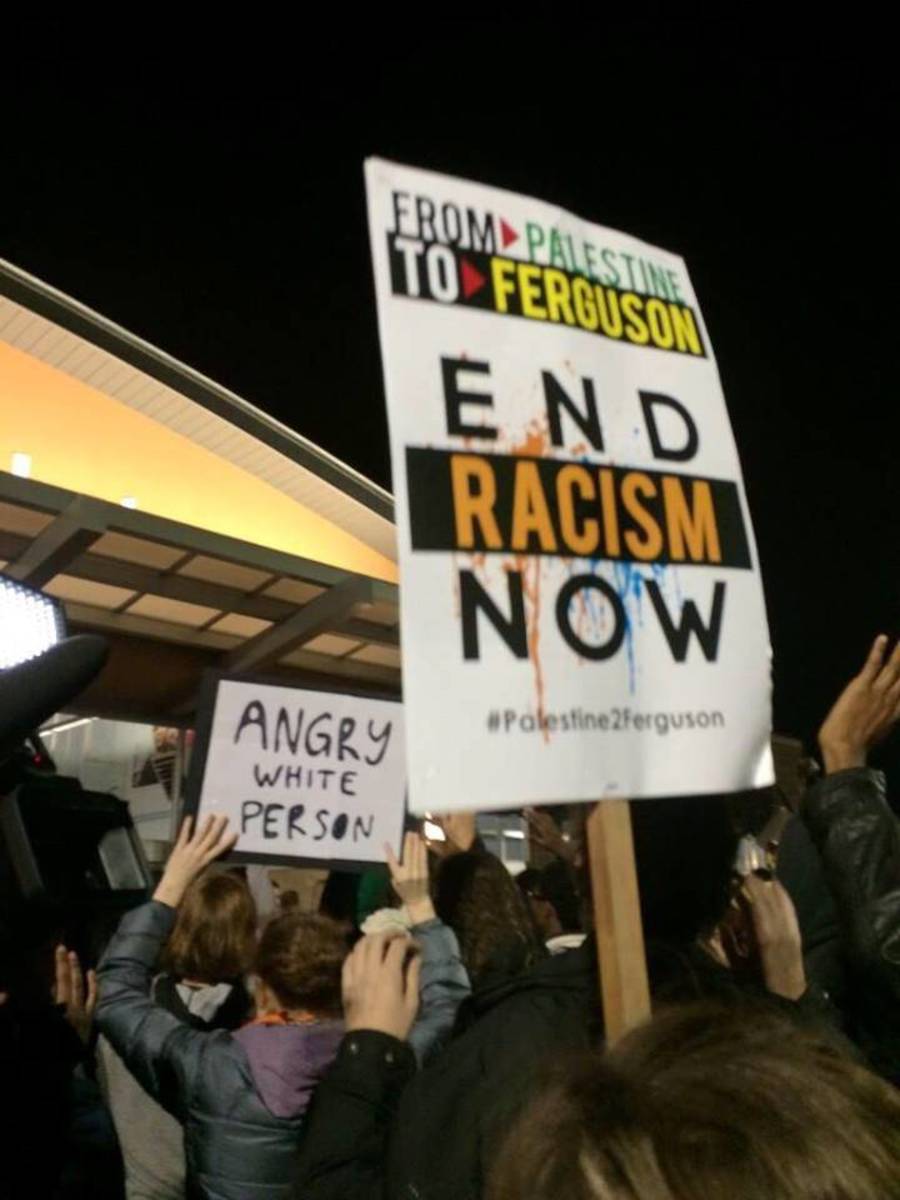 Each time the police snagged all the people willing to be arrested, demonstrators moved onto the next Walmart, keeping law enforcement scrambling and on their toes.  The goal seemed to be to run the officers ragged, and make good on their promises to shut this city down if they don't see justice.
After the third Walmart was shut down, activists gathered in a circle to decide the next location.  They decided on a QuikTrip and once again- shut it down.
Pigs approaching. #shutitdown https://t.co/YqjHUftew7

— Cassandra Fairbanks (@CassandraRules) October 14, 2014
There was a quick flashmob style protest, unlike the one at the QT by Shaw in which the thug officers pepper sprayed and tear gassed peaceful protestors and journalists on Friday night.
As soon as the cops arrived, a new location was decided and everyone hopped in cars in a caravan to once again, to stay a step ahead of the police and keep them busy. The next stop was the Hollywood Casino.
The protest beat the police to the location, and to say security seemed shocked would be a massive understatement.
We have taken the casino #FergusonOctober #shutitdown https://t.co/wiECRtZU48

— Cassandra Fairbanks (@CassandraRules) October 14, 2014
Almost as soon as police arrived the crew was back on the move.
This time however, the police seemed to be taking down license plate numbers and following us not only in cars, but with a helicopter as well. We began to be tipped off that they were giving out plate numbers over the scanner and the pack began to disperse.
Police now directing traffic at Hollywood Casino. Helicopter overhead. Police now following protestors. #MoralMonday

— deray mckesson (@deray) October 14, 2014
As we were driving we received word through social media that one of the people in the group had been pulled over, and when others from the pack pulled over to film the police, Officer Blake of the St. Louis County Police approached them and demanded they leave, while toting a rifle.
You can view the incident here:
An eye witness recounts the scene:
There may have been even more actions than the ones we mentioned here, it was impossible to keep up with what was happening.  This city has mastered the art of divide and conquer protesting, and the activists on the ground certainly live up to their "we shut sh%t down!" chants.
While most mainstream media is stating that there were 49 arrests, it is important to note that this number only reflects those who participated in the civil disobedience outside of the Ferguson Police Department and a handful of demonstrators who blocked traffic.
There were many more arrests throughout the other locations and the latest number being reported is 76 arrests.  The number may actually be much higher.