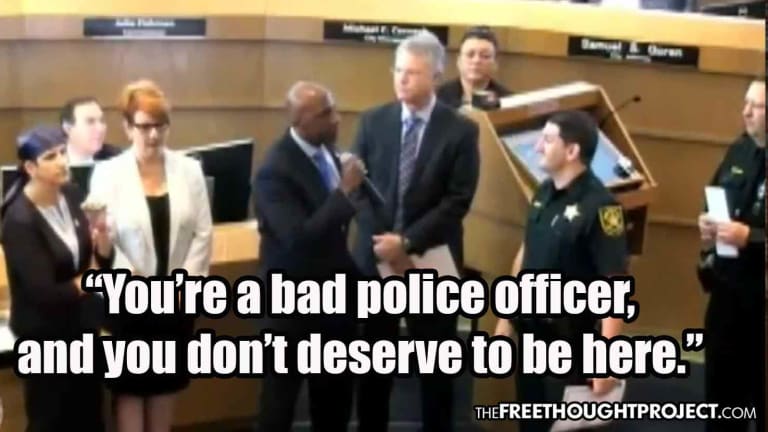 WATCH: City Commissioner Hijacks Cop's Award Ceremony to Call Him Out for Being Corrupt
A city commissioner in Florida took over a 'rogue' deputy's award ceremony to expose his corruption and lies.
Tamarac, FL — Here at the Free Thought Project we are constantly reporting on cops who receive awards from their department despite being criminal thugs and rapists. We have seen officers of the year exposed for rape, being in the cartel, and various other exploits that should've landed them in jail far before they ever earned an award for their "service." What we've never seen before, however, is government officials calling out those corrupt cops—during the award ceremony.
This week, a Tamarac Commissioner confronted a Broward Sheriff's Office deputy who was receiving a deputy of the month award. The confrontation was nothing short of epic.
BSO Deputy Joshua Gallardo was receiving a Deputy of the Month commendation at the city commission meeting on Wednesday, which is customary. All the other people in the room were touting the deputy as a superhero while the commissioner patiently waited his turn.
"Deputy Gallardo was able to take the guy into custody. This guy was driving down McNab Road with a murder warrant from another country, and Deputy Gallardo was able to figure out who he is, identify him and arrest him. For that, [he is the] April 2019 Deputy of the Month," a fellow deputy said.
Then, Commissioner Mike Gelin, a man who had his rights trampled by the deputy stepped in and took the microphone. According to Gelin, this deputy attacked and falsely arrested him because he was filming and then lied on the report. When Gelin was given the chance to expose it, he stepped right in and did so.
"It's good to see you again. You probably don't remember me, but you're the police officer who falsely arrested me four years ago," Gelin said to Gallardo. "You lied on the police report. I believe you are a rogue police officer. You're a bad police officer, and you don't deserve to be here."
Mic drop.
The room then falls into an awkward silence as Gelin walks out of the room.
"I hope that the commission of the city of Tamarac does not agree with Commissioner Gelin's statement on that," BSO Deputies Association President Jeff Bell said. "That cannot be the representation that the citizens of Tamarac expected from this commissioner, and it cannot be a behavior that's tolerated by the city commission to be deemed acceptable."
Apparently calling out cops for violating the rights of citizens is not tolerable behavior, according to Bell. We disagree, and the award ceremony was the best place to do it.
According to Gallardo's arrest report, Gelin was interfering with a crime scene. But Gelin disagrees.
As WSVN reports, Gallardo said he asked Gelin "to move back, that this a crime scene. He advised he was recording the incident, and that he did not have to move."
"I advised him he could continue to record, but that he would have to move back behind the bushes to the east side to provide space for when rescue comes," Gallardo said in the report. "He failed to comply with my commands to move from the area … While attempting to handcuff the subject, he pulled his hands away from me and put his phone in his pocket."
Gallardo said he had to arrest Gelin. However, prosecutors disagreed and the false charges were dropped. On Thursday, Gelin released a statement confirming this.
"I have no comment other than to say that I had a frank conversation with [Broward] Sheriff Tony, and we will move forward from this issue in a positive and constructive manner. I know I did not do anything wrong that day, yet I was arrested. When I shared the video with the State Attorney's Office to prove that I did nothing wrong, they declined to file charges against me."
Watch this most epic video below.