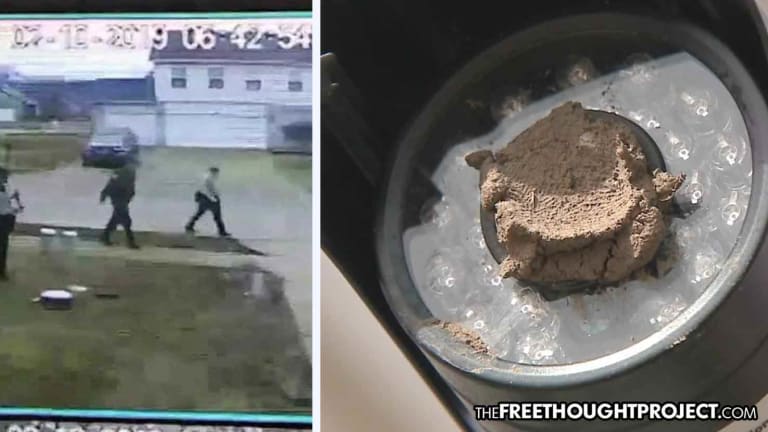 WATCH: Cops Cover Innocent Homeowner's Camera with Mud, to Hide Their Corruption
An innocent couple was shocked when one of their surveillance cameras went dark and found that it was the police who disabled it.
Imperial, MO — Multiple deputies with the Jefferson County Sheriff's Department are under investigation this week after they were seen on video trespassing in an innocent couple's yard and covering their surveillance camera with mud.
The couple who lives in the home had done nothing wrong, had committed no crime, and were not the subject of any investigation. Ashley Mathis, who lives in the home with her fiancé, Gary Schuetz, said she noticed something odd on Sunday night when looking at their surveillance system—one of the cameras was blacked out.
"I was getting ready for bed, we'd been gone all day. And I looked over at the monitor, because it sits on the desk in our bedroom and noticed that camera 1 is black," said Mathis.
Mathis and Schuetz then backed up the video to see if it captured anything prior to going dark. What they found was shocking.
As the video shows, the deputies appear from the left of the screen, walking down the sidewalk. When one of them spots the camera, he walks over to it, picks up some mud, steps up on some cinder blocks and smears mud over the lens to block the view.
Because they have no criminal record and have not committed any crimes, the couple had no idea why this would be happening to them. However, as TFTP has reported, being entirely innocent is no defense against corrupt police action.
"I want to know what they were here for," said Schuetz who said that police must have wanted to do something nefarious since they didn't want to be seen.
After watching the video, Mathis filed a formal complaint with the department over the actions of the officers.
"Why would the Jefferson County police officers have the need to come and cover my cameras, what was their intentions?" she said.
The sheriff then released a statement in regard to the video, noting that what he saw was definitely not part of the department policy.
"We began an internal affairs investigation immediately because an incident like this is something we take very seriously. This is not a standard practice and it appears to be an isolated incident."
After releasing the statement, the department claimed officers were attempting to serve a warrant and covered up the camera as not to be seen.
As KMOV reports, after interviewing all three deputies, the sheriff's department said the officers had gone to the house because they had an arrest warrant out of St. Louis County for an individual who was believed to be living in the home. No one was there at the time but sheriff's officials say one of the deputies decided to cover the lens of the security camera, hoping the individual wouldn't see them approach if they returned.
There story doesn't add up, however, as Mathis has lived in the home for over 10 years and has never had a warrant out. What's more, the deputies never returned to the home to serve this alleged warrant.
"This is uncalled for," said Schuetz.
The department is now supporting their officers who explained that smearing mud over the lens of an innocent couple's surveillance camera was a lapse in judgement that they have since learned from.
Just last year, TFTP reported on a similar incident in which an Indian River County man found out how tough it can be to get justice as a victim of stalking — because his stalkers were cops. This innocent man, who asked to only be referred to as Smokey had committed no crime, had harmed no one, yet he still became the victim of police stalking.
In August of 2017, multiple officers showed up at Smokey's home while he was at work. Having been burglarized the week prior, Smokey had just installed video cameras on his home which captured the most unscrupulous actions of Vero Beach Police Officers.
Smokey got a call from his neighbors to alert him to the fact that police were at his house, so he hurried home. When Smokey arrived home 45 minutes later, he noticed that his video camera on his front porch had been disabled.
When he went back to the video to see what had happened, Smokey realized that it was the cops who took out his camera. Just like the officers did in St. Louis, police left no note to say they had been there, no notice that they had tampered with his property, and made no mention of it to their superiors.