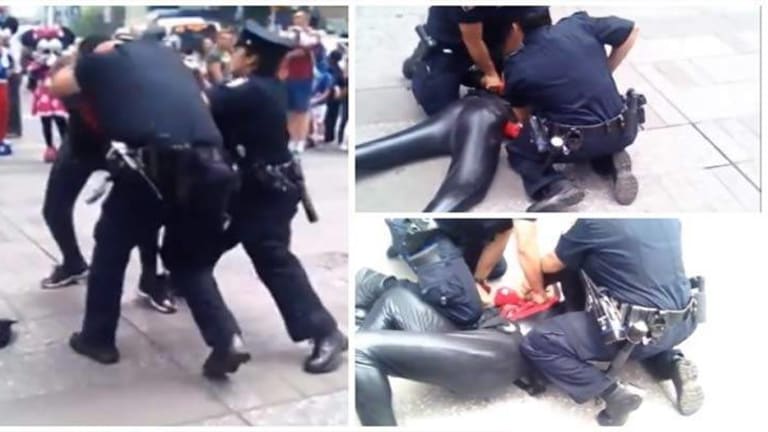 No Charges for "Spider-man" Whose Brawl with the NYPD was Caught on Video
Not only did this street performer avoid getting killed during his altercation with the NYPD, he also avoided all charges.
New York, New York - Last week, charges against a spider-man street performer who punched an NYPD cop were dropped after the defense argued that his right to a speedy trial was violated.
As we reported last year, a fight between New York police and a Times Square superhero was caught on video, but who is at fault was never determined. The man dressed as Spider-man was 25-year-old Junior Bishop, of Brooklyn. Bishop is one of the many people who make a living dressing up in costumes and taking pictures with tourists for tips in Times Square.
He was facing multiple felony charges including assault, resisting arrest, criminal mischief and disorderly conduct, but now he is a free man.
Bishop can be seen scuffling with police in the video that was taken during the flight, but there are varying accounts of what led up to the incident. Police say that the man became belligerent with them when asked for his ID, while other costume workers claim that they are regularly harassed by police while working in Times Square.
In the video, the police officer can be seen choking Bishop, and Bishop can be seen responding with multiple punches. At one point in the video, an officer can be heard yelling "stop resisting bitch!" as they tackled the costumed man to the ground.
Recently, politicians have been seeking to regulate costume workers. Tim Tompkins, president of the Times Square Alliance, made a blanket statement saying that the characters who worked in Times Square were all criminals. He called for placing restrictions on people who want to get involved in that kind of work.
John Vibes is an author, researcher and investigative journalist who takes a special interest in the counter culture and the drug war. In addition to his writing and activist work he is also the owner of a successful music promotion company. In 2013, he became one of the organizers of the Free Your Mind Conference, which features top caliber speakers and whistle-blowers from all over the world. You can contact him and stay connected to his work at his Facebook page. You can find his 65 chapter Book entitled "Alchemy of the Timeless Renaissance" at bookpatch.com.