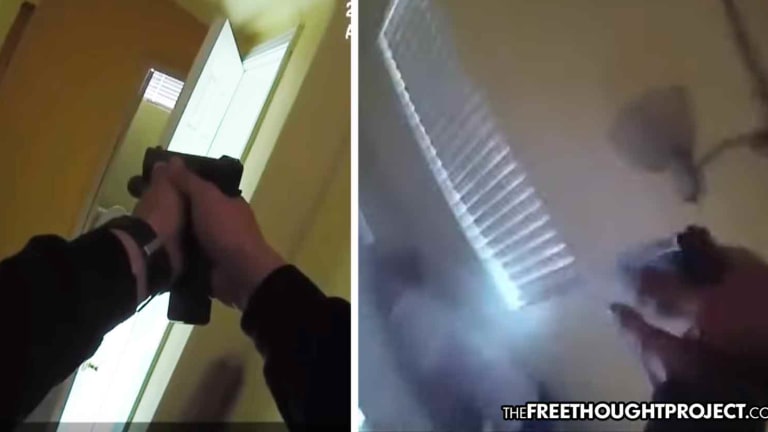 'Show Me Your Hands' BOOM! Cop Instantly Kills Unarmed Man Over Growing Weed in California
Body camera was released showing the moment an unarmed man was shot and killed by police with almost no warning whatsoever.
Chino, CA — Li Xi Wang, 49, was shot and killed by Chino police officers last month as he stood in his home, unarmed, hiding behind a door. Video released this week shows how unnecessary his death was as the officer shot him immediately. Not a single weapon was found inside the home to justify such a level of force. And, the entire raid was carried out over growing weed in a state with legal weed.
Despite marijuana being legal in the state of California, police are still raiding people for growing it. This is what happened on July 3, when police raided a home on the 6800 block of Rockrose street.
According to police, they were serving a search warrant over an alleged marijuana cultivation operation at the address. Wang and another woman were both in the home which had hundreds of pot plants inside. Although the raid happened last month, the footage was only quietly released over the weekend, nearly two months later.
As the footage shows, police announce themselves multiple times as a 53-year-old woman, later identified as Ai Yue Cai, walks out. When they ask the woman if anyone else is in the home, the woman shakes her head as if she doesn't understand them.
As officers clear the home, going from room to room, they eventually come upon Wang, who is hiding behind the door. The cops says, "Let me see your hands dude," and instantly fires off a round, shooting Wang in the head, killing him.
The officer's shot was so fast that it appeared to even scare him. "Oh sh*t! F**k!" the still unnamed officer screams out after essentially murdering an unarmed man for hiding behind a door.
After killing Wang, police then finished the search of the home where they found 1,500 marijuana plants and $35,000 in cash. They also found that the pair had tapped into the electrical grid illegally.
While it is certainly not okay to steal electricity, this should by no means be a death sentence. However, because police are still addicted to the drug war and are raiding people for growing marijuana in a state in which it is legal to grow marijuana in your home, that is what happened.
According to authorities, the shooting is now under investigation by the San Bernardino County Sheriff's Department.
Adding to the disturbing nature of this government sponsored killing is the fact that this cop is still on regular duty. According to Chino police Sgt. Nancy Franklin, the officer was placed on administrative leave for three days, and was allowed to return to duty afterwards.
The footage was only released because of a bill signed just days before by Gov. Gavin Newsom which set a tougher set of legal standards for deadly use-of-force by police officers and sheriff's deputies throughout California. Apparently, however, it is not tough enough to keep a killer cop off the streets for more than three days.
When police can raid a home because the owners are growing a plant and then kill one of the people in that home—who was unarmed and posed no threat—and return back to work just days later, we have a serious problem. This officer is clearly a danger to society. What if the person behind that door was an innocent visitor to the home? Or a scared child? Would this still be acceptable because these folks were suspected of growing a plant?
It is high time we rethink our priorities in this country. Kicking in doors and killing people for growing plants is not acceptable in the ostensible land of the free. The drug war needs to end now, and the video below is proof of why that is so.