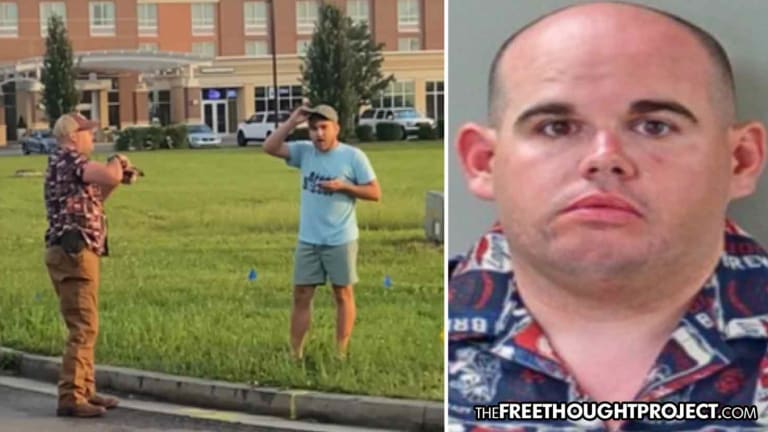 WATCH: Tyrant Cop Arrested for Holding Innocent Man at Gunpoint in Act of Road Rage
A road raging cop has been arrested after video showed him use his badge and gun to act out his road rage fantasy on an innocent motorist.
Decherd, TN — Road rage, in the land of the free, is an unfortunate reality. For some reason, humans fail to see each other as humans from behind the wheel and are extremely quick to violence over another person's driving. As TFTP reports on a regular basis, police officers are caught in fits of road rage all the time. When a police officer is involved, the situation becomes far more dangerous as they have authority, and they have a gun. All too often police officers will be caught road raging on innocent citizens and it is the citizen who suffers. In the following incident, however, thanks to a bystander with a cellphone, there is one less road raging cop patrolling the streets of Tennessee.
Officer Matthew Ward, with the Decherd Police Department, was a ticking time bomb. Ward had been on the job as a cop for less than three months when he was caught on video this month in a vulgar display of power. Unlike many other cops caught in fits of rage on video, however, Ward was arrested on Sunday June 13, 2021, for abusing his perceived authority.
Earlier this month, Ward — likely seething with authoritarian juices — accused an innocent motorist of "cutting him off." Instead of letting it roll off his back like 99% of people on the highways do, Ward decided he was going to dole out some street justice.
As the video below shows, Ward stopped the man he claimed cut him off before holding him at gunpoint, demanding he "get on the ground now!"
The man only stopped because Ward flashed his badge.
"He said I cut him off… I did not cut him off," Ward's victim can be heard saying in the video.
Although Ward was off-duty, this power-tripping road pirate decided he was going to play cop in order to fulfill his authoritarian wet dream — but his victim was not having it.
"Get on the ground now!" Ward yells.
"You're not on duty!" the man yelled back, refusing to get on the ground — a risky but pretty epic refusal.
"It doesn't matter. I am on duty 24-7! Get on the ground!" exclaimed the tyrant.
"He's put his gun in his holster but he's not even from this county. He's pulling his gun on this guy over road rage. He said he was tailgating the guy," the woman filming the video is heard telling a 911 dispatcher.
Luckily, that anonymous woman's cellphone video was enough to get Ward charged with a crime. After the video went viral, a warrant was issued for this road raging tyrant and he was placed on administrative leave. Before the department could fire him, however, Ward was allowed to quickly resign.
"Ward drew his Decherd-issued handgun and pointed it at Mr. Kovalchuk while ordering him to lay on the ground," Ward's arresting officer, Rutherford County Sheriff's Office Patrol Cpl. William Travis said.
Ward was subsequently arrested and booked into Rutherford County Adult Detention Center. He was released this week on a $5,000 bond.
As the Free Thought Project reports—on a regular basis—police officers are caught in fits of road rage like this one all the time.
In fact, earlier this year, TFTP reported on the case of Alexander Gonzales, 27, who was killed during an alleged road rage incident with a cop. Gonzales was killed just down the road from where Dickerson was held at gunpoint after an interaction with an off-duty cop that started on a highway. The officer claimed Gonzales cut him off and brandished a gun, so he followed the man and shot at him six times — as they drove down the road — hitting Gonzales and his female passenger. Luckily, the baby in the backseat was not killed.
The following week, another video of another cop in the exact same department also surfaced showing Austin police officer Thomas Tuminelli pull a gun on an innocent man after Tuminelli caused a crash while driving dangerously.