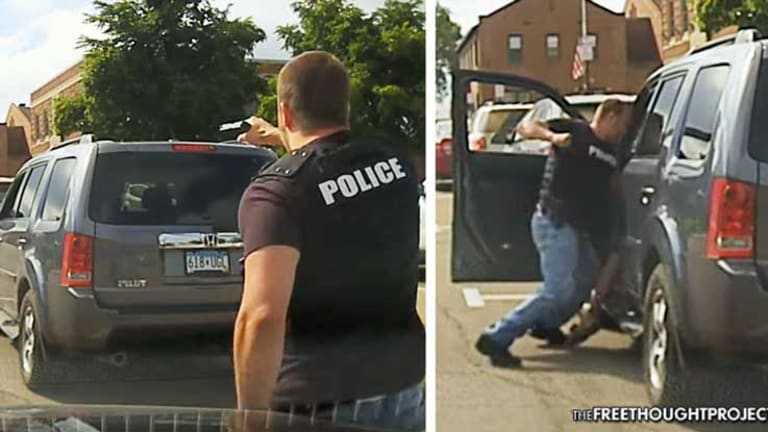 Taxpayers Shell Out $60k to Pay for Officer's Insane Road Rage Caught on Dashcam
A Minnesota cop was caught on dashcam savagely attacking an unarmed man in a fit of road rage and the only ones held accountable for the crime are the taxpayers.
St. Paul, MN — After dashcam video of a senselessly violent assault by a cop on a then 21-year-old Laotian American was released it quickly became the subject of an ACLU report and subsequent lawsuit. The video shows Buffalo Ridge Drug Task Force Agent Joe Joswiak stop Anthony Promvongsa in Worthington, Minnesota and immediately begin a violent attack. Now, after fighting for justice over two years, the taxpayers will be held accountable, not the officers.
Promvongsa has just reached a settlement with the police department and the drug task force and the taxpayers of Worthington will be hit with a $60,000 bill.
"I feel vindicated and relieved to put this horrendous incident behind me," Promvongsa said in a press release Wednesday. "While no amount of money can bring back a feeling of peace, this settlement shows what happened to me was wrong, and the police are making changes to ensure it never happens again."
In November of 2017, the American Civil Liberties Union of Minnesota filed an excessive force lawsuit against the Worthington Police Department, the Buffalo Ridge Drug Task Force and the City of Worthington along with a number of individual officers on behalf of their client, Anthony Promvongsa a local Worthington resident. Promvongsa was assaulted by Buffalo Ridge Drug Task Force Officer Joe Joswiak in Worthington in 2016.
The beating was captured on another officer's dashcam who is caught disabling the audio to cover up Joswiak's insanely violent fury.
According to police, Promvongsa was driving erratically for several city blocks sticking his head out of the window and yelling at Joswiak. Joswiak claims Promvongsa was swerving toward him repeatedly while making threatening remarks and unidentified hand signals.
None of this was captured on any of the dashcam footage involved in this case.
Joswiak claims he turned on his lights to make the stop and that Promvongsa refused to stop. However, from the dashcam, the young man appears to be driving quite safely and pulls over when he sees the actual patrol car with his lights on.
"Get the f**k out of the car, motherf**ker. Show me your hands," Joswiak screams as he immediately begins assaulting Promvongsa before he could even take off his seat belt. As he lays into the young man with knees, fists, and elbows — as if he's in some UFC fight — the officer on the other side of the car is seen inexplicably turning off the audio recording.
Now, this entire incident is a case of the cop's word against a 21-year-old who was beaten nearly to death on film.
One of the parties involved in this case is lying. However, only one of the parties, in this case, was captured on video violently attacking a barefoot young man half his size while another officer attempted to cover it up.
"I was left with physical injuries. The police ended up charging me with multiple offenses all because they thought I was tailgating them, and so I've been dealing with probation and fees. I lost my job. I'm scared to leave the house alone. Worthington has been my home since I was a child, but I don't feel safe here anymore," Promvongsa told the ACLU.
As the ACLU explains, the entire incident from when the vehicle was pulled over to when Promvongsa was under arrest and in the backseat of the vehicle handcuffed is less than two minutes. Promvongsa was not given proper time to obey the Officer Joswiak's orders before excessive force was used against him, nor did Promvongsa represent any threat to the officers that warranted the use of force at all, let alone the level of force the officers used.
"Agent Joswiak's use of force against Anthony Promvongsa is disturbing and completely unnecessary. We are calling for an investigation of Agent Joswiak's behavior and for him to be held accountable for his brutal attack on Anthony Promvongsa, up to and including termination and prosecution."
However, Agent Joswiak has not been disciplined at all for the violent attack caught on video.
Watch the videos below, does it look like a case of necessary force from a cop protecting society? Or, does it look like a case of road rage — backed by a gun and a badge? You decide.
Full video below:
"I want the system to change, because the system is broken here. Everyone sees it. Worthington has a problem with policing and it's only getting worse. Officers should not be above the law, and Officer Joswiak and Sgt. Gaul should be responsible for their actions. Our police need to be punished like anyone else and they need better training. That's why I am working with the ACLU of Minnesota to file a lawsuit against the officers and other responsible parties," Promvongsa wrote at the time.
Sadly, however, the officers were not punished and, as is the case most of the time, the taxpayers were held accountable instead.