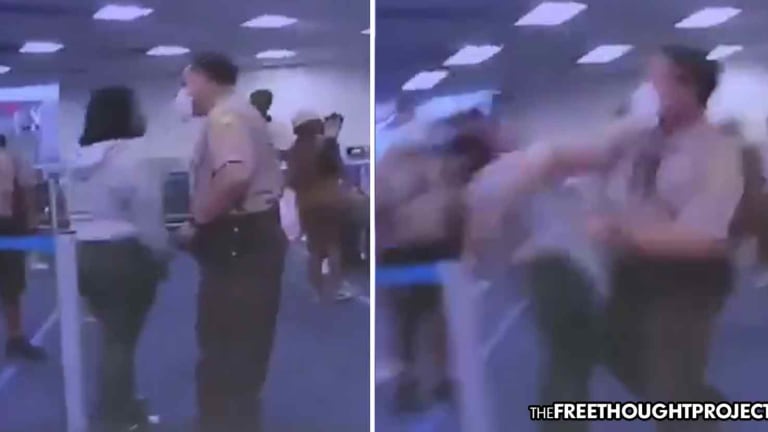 WATCH: Cop Hammers Woman in the Face for Taunting Him, Saying He's 'Acting Like You White'
A cop inside the Miami-Dade airport snapped when a woman began taunting him and unleashed a haymaker to her face, all of which was captured on video.
Miami, FL — Miami-Dade police officer Antonio Rodriquez was relieved of duty this week after he was seen on body camera footage waylaying a small woman in her face. The woman's crime? Taunting the officer, saying "you acting like you white."
The incident unfolded on Wednesday inside the Miami International Airport. The two were involved in a discussion before the woman becomes irate and begins taunting him.
"You acting like you white when you really Black...what you want to do?" the woman says.
The woman, who has no mask on, then gets in the officer's face, right before he delivers a haymaker to her head.
"She headbutted me," he says as the officers rush in to handcuff her.
The headbutt is not apparent in the video if it happened. It was also not apparent to the Miami-Dade Police Director Alfredo Ramirez, who immediately released a statement decrying the officer's actions. He also asked Miami-Dade State Attorney Katherine Fernandez Rundle to investigate the use of force — though that will likely not lead to any serious action against the police officer.
I am shocked and angered by a body cam video that i just saw involving one of our officers. I've immediately initiated an investigation and ordered that the involved officers be relieved of duty. Actions such as these undermine the hard work that we have invested in our community and causes my heart to break for our community and for the vast majority of our officers who dedicate their lives to serving our County. This will not stand, and I assure our community that any officer acting in this vain will be held to account.

I have also just spoken to our State Attorney @KathyFndzRundleand asked that her office immediately become involved in the investigation.
Mayo Carlos A. Gimenez also weighed in, calling the officer's actions "appalling" and an "excessive use of force."
This is appalling. It's excessive use of force and unnecessary. That's NOT what our @MiamiDadePD are trained to do. @MDPD_Director Ramirez has ordered the officer relieved of duty & investigation is underway. This is why I instituted body cameras & MDPD is reviewing all footage.
Naturally, the president of the Miami-Dade Police Benevolent Association Steadman Stahl, disagrees with the mayor and top cop's sentiment and blamed the woman for getting herself hit by the cop. Stahl said the officer used an "open-hand slap," sometimes called a "diversionary strike," to handle the woman. "Clearly she was the aggressor. She was being asked to leave. She's being belligerent and she pushes her face right into his face," said Stahl. What, if any, charges the unidentified woman faces are unclear. As you watch the video below, ask yourself if this cop was trying to "divert" this woman's attention or simply snapping and beating her. We think it is the latter.

Had the cop got in the woman's face instead, and she would have knocked him in the face, would Stahl still refer to her actions as "diversionary"? Coincidentally, TFTP just reported on an officer who did exactly that.
On Sunday, Lt. Michael DeLong walked up to Ruweyda Salim and got in her face, shoved her, and even began taunting her, calling her a "disrespectful little f**king c**t." He stayed in her face for several minutes, quite literally breathing down her neck all because Salim was filming ten officers take a mentally ill man into custody.
Had Salim threw a haymaker into DeLong's face, would Stahl call that "diversionary" as well? We think not.