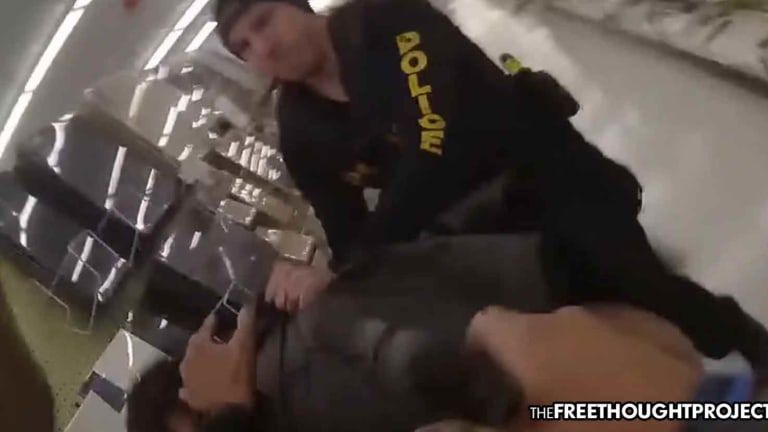 WATCH: Cop Nearly Kills Partner While Shooting Unarmed Man Holding a Phone
A fearful cop nearly shot his own partner while shooting at an unarmed man who presented no threat and was only holding what appeared to be a cellphone.
Lake Havasu City, AZ -- Earlier this month a trigger happy cop nearly killed his fellow officer while shooting an unarmed man who was wanted on warrants over a traffic stop. The body camera footage was just released this week highlighting the danger of the "feared for my life" mentality and the lack of restraint when using deadly force.
Though Lake Havasu City police wouldn't say on what charges 29-year-old Steven Douglas was wanted, according to court records, he was wanted on charges of Unlawful Flight From Pursuing Law Enforcement Vehicle. These charges, which were both filed on August 19, were filed alongside misdemeanor charges for Reckless Driving and Failure to Obey A Police Officer.
In other words, he fled from a traffic stop.
Douglas was not considered armed and dangerous at all, yet Sergeant Brian Jacobs, a 13-year veteran of LHCPD, approached Jacobs with his gun drawn when he was spotted at a local Hobby Lobby.
When Jacobs sees a gun pointed in his face, he takes off running and is stopped on the next aisle by another officer. Jacobs never attacked the other officer and was merely trying to run away but he could not.
Jacobs, as he still has his gun trained on Douglas, yells at the unarmed man to "drop it" several times. Though police admitted Douglas was unarmed, they wouldn't release details on the object in Douglas' hand, but it appeared to be a cellphone in the video, and he certainly dropped it.
After yelling "drop it" once more, Jacobs opened fire inside the store with his partner directly in his line of sight. Luckily for his partner, the bullet did not go through Douglas, who was struck in the abdomen.
After Jacobs shot him, Douglas falls to the ground in agony.
"I can't move," Douglas is heard saying after the shooting.
"I know you can't, 'cause I shot you! You f**king reached for a gun," Sergeant Jacobs said in response, attempting to justify his use of deadly force on an unarmed man.
"I don't have a gun," Douglas said.
Jacobs replies again, "I told you to drop it."
But there was nothing to drop and this officer almost killed two people because of his irrational fear of an unarmed man.
In the moments after the shot was fired, Jacobs' partner appears to be in shock. He is not saying a word, was not holding any weapon, and seems to be completely flabbergasted at Jacobs' actions.
At one point, he appears to attempt to console Douglas as he curls up in the fetal position writhing in pain.
According to police, Douglas was transported in critical condition to Havasu Regional Medical Center for emergency treatment of his injuries. After spending several days in the hospital, Douglas was then transported to the Havasu City jail where he immediately posted $5,000 bail and was released. The entire use of deadly force that could've killed two people was immediately rendered pointless.
According to Havasu News, both officers involved were placed on paid administrative leave after the shooting, and investigation into the incident was delegated to the Mohave County Sheriff's Office. The use of an outside law enforcement agency to perform such investigations is standard practice by the Lake Havasu City Police Department in preventing potential conflicts of interest, or the possible appearance of a conflict of interest in cases of armed force used by officers.
Police have refused to release any other details other than noting that the investigation is still underway.
Below is a video showing the danger presented by fearful cops and their tendency to escalate to deadly force. Douglas had no history of violence, was unarmed, and merely running, when he was shot. Now, instead of simply going to jail for his alleged crimes, Douglas will likely receive a massive settlement -- funded by the taxpayers of Arizona.