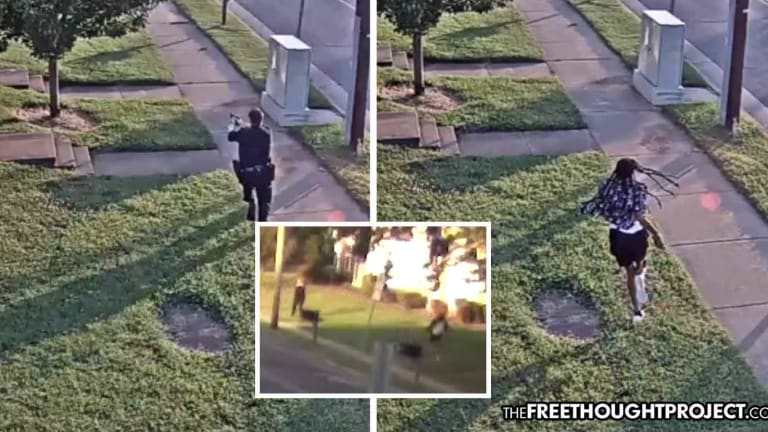 Cop Pleads Guilty After Publicly Executing Man on Video, Shooting Him in His Back as Fled
To avoid spending the rest of his life in prison, a killer cop took a plea deal and admitted to voluntary manslaughter instead of going to trial for murder.
Nashville, TN — A disturbing trend has been happening for years among police in America in which they are shooting people in the back as they run away. One of these victims to be publicly executed for running from police was 25-year-old Daniel Hambrick of Nashville. His execution by officer Andrew Delke was caught on a graphic video — and he officer was actually charged with murder.
Two years later, however, after the case died out of the headlines, we've learned that Delke's trial will not be taking place. He was given a plea deal in the case and will be pleading guilty to the lesser charge of voluntary manslaughter, instead of murder.
According to WTVF, the charges could carry a 3 to 6-year sentence and it's possible that Delke could be eligible for parole before his sentence would be completed. Legal experts are calling this a major win for Delke as murder charges would have put him away for a long time.
"Unequivocally, this is absolutely a victory for the defense," Legal expert, Nick Leonardo explained to WTVF. "He was facing life in prison, 51 years in jail, and the fact it's now come down to a sentence of 3 years, of which he is eligible for parole after service of 15 months, that's undoubtedly a victory for the defense any way you cut it."
As we reported at the time, Delke became the first officer in the entire Metropolitan Nashville Police Department's history to be charged for shooting someone while on duty.
Hambrick was shot and killed during a traffic stop in North Nashville on July 26, 2018.
According to court documents, Delke was pursuing a white Chevy Impala that day when he lost sight of it. While driving through the neighborhood, looking for the Impala, Delke "mistook a different white four door sedan for his target vehicle" in an apartment parking lot. When Delke pulled into the parking lot, Hambrick took off running — which is not a crime. Police say Delke saw Hambrick holding what was described as a "dark object" in his hand.
As the graphic video shows, never once does Hambrick attempt to harm officer Delke. In fact, he only looks back once before continuing to run.
When Hambrick rounds a corner, the camera angle shows Delke pursuing him and when we look closely at the video, it appears that there is a dark object in his hand.
As the two run past a tree, Delke opens fire on the fleeing man and he drops dead on the grass.
Prosecutors did not dispute the fact that Hambrick was holding a gun. However, they disputed Delke's attempt to claim self-defense by noting in the arrest warrant that Delke stopped running after Hambrick, took aim as Hambrick continued to run, and shot him in the back.
The video was so graphic that three Metro officers contacted WSMV to let them know that it does not show enough evidence to justify Delke killing Hambrick.
The three officers spoke on the condition of anonymity to WSMV and noted that the video does not show Hambrick demonstrating any threat to the officer or to people nearby.
Naturally, the police union expressed their anger with the release of the video, attacking it as "low resolution" from a "different block," noting that it "tells us what we already know."
"To release it without any narrative or context, causes confusion in the community and the potential for further division between law enforcement and the people we serve and invites people to draw their own conclusions without any facts," James Smallwood, a representative for the Fraternal Order of Police said.
The union is now signalling that they intend to fight these charges till the end with Delke's attorney saying that he will plead not guilty.
Joy Kimbrough, the family's attorney, says the graphic video speaks for itself and shows that Hambrick's death is nothing short of murder.
"The proof is out there. We've got the video," Kimbrough said. "If there's ever a case of premeditated first degree murder, this is it."
"I just want justice for my son. That's all I'm asking," Vickie Hambrick, Daniel's mother said. "And for all the black guys and young women, I want justice for them."
Below is this graphic footage showing just how deadly it can be to run away from police.
Below is the entire collection of footage showing the shooting from different angles.