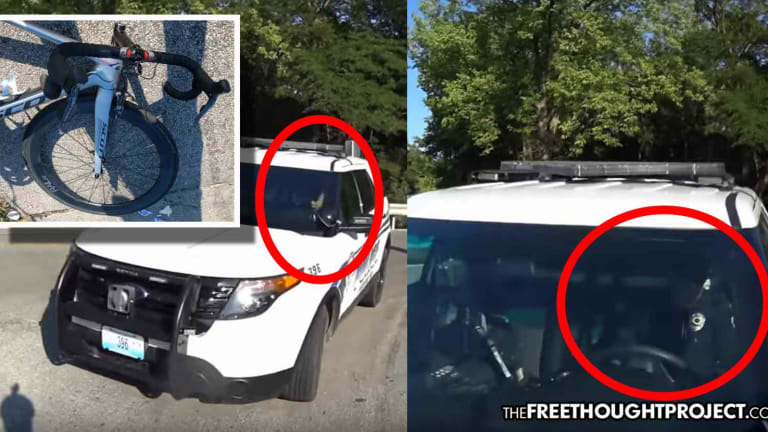 WATCH: Cop Looking at His Phone Plows Into Cyclist Sitting at a Stop Sign
Shocking video caught on a bicyclists helmet camera shows a police officer plow into him because he was distracted on his phone.
Peculiar, MO — A rather shocking video was uploaded to YouTube by a cyclist wearing a helmet camera who filmed a distracted police officer ram him head on as he waited at a stop sign. Officer Wallace with the Peculiar police department was looking down at his phone while turning left and never saw Joe Fas sitting there on his bicycle.
As Fas sat at the stop sign, waiting to turn, his helmet camera showed him looking right and then looking left. All of the sudden, officer Wallace, driving his police SUV, marked unit 396, turns left—into the wrong lane—and slams into Fas who couldn't get out of the way fast enough.
"Whoa! Whoa!" Fas screamed as officer Wallace looked down at his phone, clearly not paying attention to where he was going.
"You mother....motherf**ker, you were looking at your phone, officer," says Fas as he gets to his feet.
Wallace opens his door and immediately gives the excuse that he was "f**king looking at a text from another officer," as if this makes plowing over an innocent bicyclist acceptable.
"396," Fas says, recording to officer's unit number. He then looks down at his Scott bike which appears to be twisted and broken.
"Why were you texting?" Fas asks the officer as he approaches him.
"I wasn't texting, I was looking at my phone," replies Wallace.
"Either way," Fas retorts.
Wallace then does something police officers rarely do — he admitted he was in the wrong.
"I know, it was my bad," said Wallace.
"Why were you doing that in a turn?" asked Fas.
"I wasn't paying attention," Wallace replies.
The two then assess Fas' injuries and note the damage to the bicycle, saying, "the frame is cracked."
Fas explained to TFTP that Wallace made the decision to call in the Missouri state police to investigate as there would've been a conflict of interest if he filed his own report.
According to Fas, troopers Green and Fuce showed up and filed the report and he refused the trip to the ER because he said he wasn't that hurt. However, Fas says that the next day he was in much more pain.
As far as what happened to officer Wallace, Fas explained that he did not know. He did say that Wallace was given a breathalyzer by the state police as well as a urinalysis to see if he was under the influence of any drugs or alcohol.
Whether or not Wallace received a traffic citation of any kind is a mystery as Fas was not informed of the outcome.
In the state of Missouri, according to state law, "Text messaging and using a hand-held mobile device while operating a motor vehicle" is prohibited except as otherwise noted.
One of those exceptions is for "authorized emergency vehicles."
The Free Thought Project reached out the the Peculiar Police Department to inquire about the punishment, if any, that officer Wallace received or will receive. However, we have yet to hear back from them.
Officer Wallace certainly handled this incident better than the last story TFTP covered in which officers were seen plowing into a cyclist.
Heins Rodriguez, 26, was minding his own business as he rode his bicycle down 43rd Avenue in August of 2015, when an unmarked police cruiser came out of nowhere causing him to go flying off of his bike.
When the officers got out of the vehicle, instead of making sure this man was okay, they fabricated a story, assaulted and arrested him.
Luckily with Fas, this did not happen.