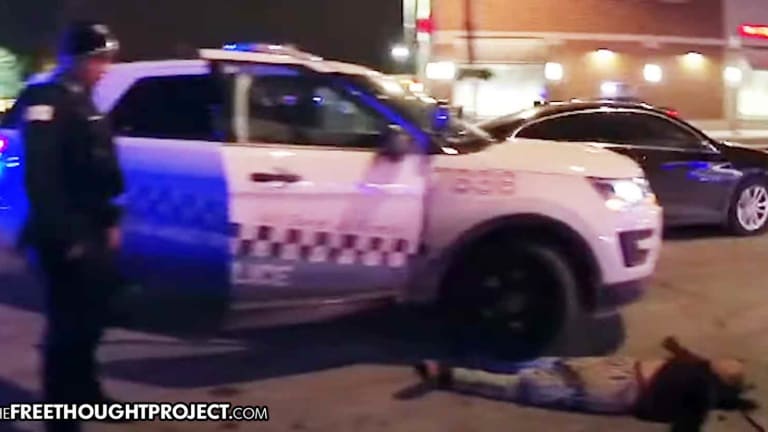 Horrifying Video Shows Cop Run Over Innocent Woman, Park SUV On Top of Her — No Charges
When a woman knocked on a cop's window, the cop put his car in drive, ran her over and then parked his cruiser on top of her for 9 minutes.
Chicago, IL — On the night of November 13, 2019, Martina Standley, 32, had committed no crime and was not suspected of committing a crime when she was run over by a Chicago police officer. After the incident, community activists fought for months to get the video released, but the city — who continuously promises more transparency —kept it secret. Finally, it has been released publicly.
"It's unfortunate under a new mayoral administration, under a new superintendent, we're still fighting for transparency," William Calloway, a community organizer, who fought the city for a year before a judge ordered the city to release the video, said.
That night, Standley walked up to the police cruiser and knocked on the window in an apparent attempt to ask the officer a question. Instead of rolling down his window and engaging with the citizen who pays his salary, the unidentified officer put his vehicle in drive and drove over Standley.
The officer knocked Standley to the ground, causing her to hit her head on the pavement, knocking her unconscious, and then rolled his SUV on top of her. Even after exiting the SUV and realizing he was parked on top of Standley, the officer did not back off of her. Instead, he left the vehicle parked on top of the innocent woman for at least 9 minutes as a pool of blood began forming underneath her head.
"We hit a pedestrian. ... I tried to put the car in reverse. F**k, lady. You OK?" the officer says.
"You OK? Can you breathe? Can you talk?" the officer asks as he pokes the unconscious woman in her stomach — her right leg pinned beneath the police SUV's tire.
"F**k, I did not mean to do that s**t," the officer says. "Definitely an accident," the officer tells a bystander who accuses him of hitting the woman.
When another officer arrives on the scene, the officer then deflects fault to Standley, claiming that it was her knocking on the window that caused him to run her over.
"She came banging on the window like 'Boom boom boom.' I thought I was in reverse. I tried to turn the wheel. It wasn't nothing like no running from nobody or nothing like that," the officer tells another officer.
Standly was lucky to survive but she was severely injured and has had to undergo surgery and physical therapy since the incident. She has been unable to return to her job.
"Martina Standley is lucky to be alive today because that officer used that vehicle as a weapon, and Martina did not do anything to provoke that type of response," said Andrew Stroth, Standley's attorney.
In a lawsuit filed days after the incident, Stroth claimed the officer at the wheel "committed willful and wanton conduct exhibiting an actual or deliberate intent to harm, or through a course of action which showed an utter indifference to or conscious disregard for the safety of another."
Adding insult to injury is the fact that despite severely injuring Standley by running her over and parking on top of her, the officer was never disciplined. Instead, he's been on full duty as Chicago's police oversight board "investigates" the incident.
The Civilian Office of Police Accountability is still investigating the incident "to determine if officers were engaged in misconduct and/or other administrative violations including inattentive to duties," spokesman Ephraim M. Eaddy said.
Rest assured, accident or not, had a regular citizen run over an innocent woman and then parked their vehicle on top of her, they would be sitting in a jail cell right now. However, because this man wears a badge, he is seemingly immune to any accountability. It will be the taxpayers of Chicago who are held to the fire instead. This is justice in the land of the free.