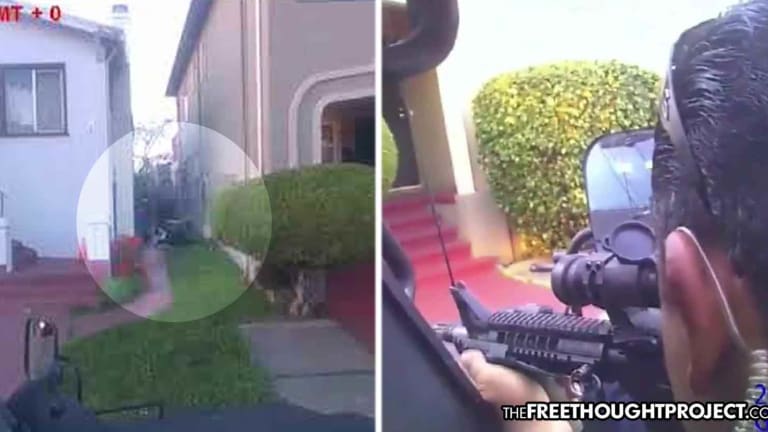 Cops to Be Fired After Executing Sleeping, Disoriented Homeless Man Like a Firing Squad
A civilian review board has recommended the firing of four cops after video showed them publicly execute a sleeping and disoriented homeless man.
Oakland, CA — More than a year after four cops publicly executed Joshua Pawlik, the Oakland Police Commission has recommended that the officers involved be fired. The commission cited the officers' use of a light which was shined into the sleeping man's face to deliberately confuse and blind him before they killed him as the defining moment in their decision.
Since officers Brandon Hraiz, William Berger and Craig Tanaka as well as Sgt. Francisco Negrete, all opened fire on Pawlik that day — killing him — they have continued to enjoy their paychecks and jobs with the Oakland police department. Now, however, that may all change.
According to KTVU, the commissioners, who comprise a civilian-led body to oversee the police department, wrote that termination was the recommended "appropriate discipline" for all the officers. In addition, the commission recommended a demotion for Lt. Alan Yu, who was found by Oakland police superiors as well as the department's federal monitor, to have "failed to properly perform his duties" as the incident commander that day.
Naturally, the police union disagrees and calls the move to fire four cops who executed a sleeping and disoriented man "politically motivated."
"The commission's decision is obviously born from a politically driven need to prosecute police officers regardless of the facts," Barry Donelan, president of the Oakland Police Officer's Association, said.
The decision to fire the officers is not final, however, as the law allows them to fight it. Now the union will step in and use their massive resources to discredit the commission and push for the officers to keep their jobs.
City spokeswoman Karen Boyd issued the following statement in regard to the decision.
"The findings of the Police Commission's Discipline Committee are the next step in the discipline process. Under State law, the officers will be afforded their due process rights, including the opportunity to attend a Skelly hearing prior to final imposition of discipline. The City of Oakland supports the due process rights of all employees."
"The end is far away," Police Commission Chair Regina Jackson acknowledged in an interview. "But we handled our responsibility thoroughly and in a timely manner."
The incident in question unfolded on March 11, 2018, as police responded to a call about an unconscious man lying between two homes in West Oakland. That man was Josh Pawlik and as he slept on the ground, he held a small .22 caliber pistol.
Pawlik never had a history of violence and his family and friends said he had the pistol for protection only.
Instead of simply walking up to Pawlik and taking the gun from him as he slept, police responded with a militarized unit consisting of a dozen cops and an armored vehicle called a Bearcat.
As the video shows, the officers mounted the Bearcat and got into shooting positions before shining a bright light into Pawlik's face and yelling at him to "wake up" and "drop the gun." Because he was clearly passed out, Pawlik didn't immediately begin following the officers' commands. Also, he was blinded and confused with the spotlight shining in his face and likely had no idea it was even cops talking to him.
As the video shows, Pawlik appears to try to get up but is having trouble, likely groggy from whatever caused him to pass out there in the first place. A few more seconds would pass as cops barked orders at him before four officers would open fire with their AR-15s.
Police got into position at 7:04 p.m., by 7:06 p.m., Pawlik was dead.
After they killed him, police claimed that Pawlik gave them no other option but to shoot. However, the video does not back this up.
"The committee does not find persuasive officer testimony that Mr. Pawlik lifted or moved or pointed the handgun in a threatening manner toward officers," the commissioners wrote. "The …video clearly shows that Mr. Pawlik did not lift, move or point the handgun in a threatening manner toward the officers."
What's more, the commissioners pointed out that the officers were waiting for their chance to kill him, referring to Berger's comment to Phillips of "If that gun moves....bag him."
According to East Bay Express, in a claim filed against the city in September, John Burris and Melissa Nold, attorneys for Kelly Pawlik, Joshua's mother, alleged that the police could have safely disarmed him because he was disoriented and not posing any danger to the officers.
"Nevertheless, an armored, military grade vehicle was sent to the scene and multiple officers pointed AR-15 assault rifles at the unconscious man behind a bullet proof vehicle. Mr. Pawlik finally began to slowly regain consciousness and made some slight movement as he acclimated himself to his surroundings, prompting the officers to unleash a barrage of gunfire."
For those who recall, just down the road from where Pawlik was executed, Willie McCoy, an aspiring 20-year-old rapper, was also executed as he slept. In February of this year, McCoy was found sleeping in a Taco Bell parking lot. He also chose to own a gun for protection. And for this, six cops opened fire on him, killing him instantly.