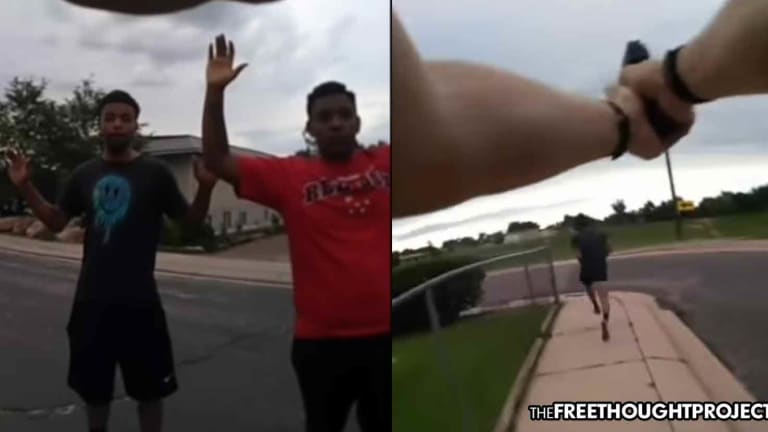 WATCH: Cops Kill Teen for Running Away and Rule it 'Justified'
The two officers who opened fire on a fleeing teenager — killing him — were ruled justified after an investigation, despite the graphic video evidence.
Colorado Springs, CO — Last September, angry protests erupted in Colorado Springs after two police officers were captured on surveillance footage chasing down 19-year-old De'Von Bailey, shooting him in the back, killing him. The video of the August 3, 2019 shooting was released a month later sparking protests and anger from the community who says the shooting was unnecessary and nothing short of murder. This week, there would likely be more protests — if the state was not locked down — as the officers involved were just deemed justified in the killing.
As ABC 7 reported, the Federal Bureau of Investigation investigated whether the shooting violated Bailey's constitutional rights and concluded that it did not. The U.S. Attorney's Office also reviewed the case and determined that "although undoubtedly devastating to his family, friends, and community," the shooting "did not result from any willful violation of Mr. Bailey's constitutional rights."
According to police, they were dispatched to the area around 6:45 p.m. on a Saturday over reports of a robbery. Police claim they detained two men, Bailey and another man, when Bailey allegedly reached for a weapon and police shot him. But the video shows Bailey running away when he was killed.
In the video, we see Bailey and the other suspect complying with the officers to put their hands up. Bailey then makes the deadly decision to run from police. Despite the fact that he was running away from them, two officers are seen shooting Bailey in the back as he ran. Eight shots were fired with three bullets fatally striking the teen.
After he was handcuffed and dying on the pavement, police searched Bailey and did find a gun buried deep in his shorts. It was so deep in his pocket that police had to cut his shorts off to retrieve it.
"He appears to be shot in his back as he is running away, wearing gym shorts and a T-shirt," John Burton, a 40-year lawyer and former board president of the National Police Accountability Project said. "And even if he is armed, that's not enough to justify a shooting generally, unless the weapon is being used or threatened to be used, which I don't see it (on the video). He is definitely not reaching in his waistband and about to shoot the officers."
Adam Bercovici, a former 30-year police officer in Los Angeles, disagreed, predicting this outcome last year, saying officers could be justified in shooting Bailey, even if he didn't have a gun. If he had committed an armed crime, "an officer could be justified in using force in stopping them from escaping into the community."
As the Gazette reports:
The U.S. Supreme Court ruled in Tennessee v. Garner in 1985 that an officer can use deadly force to prevent a suspect from escaping only if the officer believes the suspect poses a significant threat of death or severe physical injury to the officer or others.

Former police Officer John Bruzek, who later became a lawyer, said he would want to know the distance between the officers and Bailey and whether the police had other means of force, such as a Taser.

Bailey was shot near Adams Park, which is next to Adams Elementary School.

If the officers saw children in the park, said former policeman Bercovici, it could have affected their decision to shoot.

"You have to weigh the options," he said. "Your (area) background has to be good. It always has to be good."
A teenager running away in gym shorts can hardly be considered a threat. However, police figured out a way to justify this barbaric killing.
Adding to the suspicious nature of the shooting is the fact that police originally claimed officers only fired a single round. Witnesses, on the other hand, reported hearing at least seven shots as Bailey was gunned down from behind. The body camera footage would later reveal that it was 8 shots.
The footage confirms the eye-witness accounts.
One of the many witnesses to the shooting, Elizabeth Powell, told the Gazette that she saw a patrol car pass her by as she walked to a nearby park to check on her children. She said she saw the officers detain Bailey and then kill him while her kids were still playing at the park. Powell said the park, which was in the line of fire, was full of other children.
"They could have killed my kids. Instead they killed somebody else's," she said.
Mari Newman, the attorney for the Bailey family, said she was not surprised at the outcome and claimed the government was "embarrassed," so it released the news on a Friday afternoon as to get the least coverage possible.