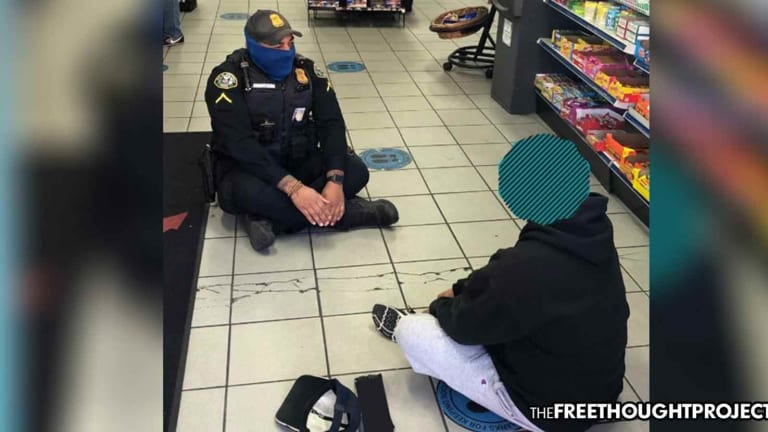 Instead of Killing Mentally Ill Man, Cops Sit Down, Solve Crisis With Compassion Not Force
Instead of using the escalation of force, two cops showed compassion and calmed a potentially violent situation down, resolving it without an arrest.
Hyattsville, MD — Two cops in Maryland are being praised in the local media after responding to a call about a belligerent mentally ill man in a convenience store. Instead of escalating force and beating, arresting, or killing the mentally ill man, the officers showed compassion and resolved the situation without even using handcuffs. They have now set the bar for other cops across the country.
As TFTP has frequently pointed out, even cops who voluntarily attend Crisis Intervention Training (CIT), have shown that they are quick to the trigger when dealing with the mentally ill.
The overwhelming majority of time spent by police during training is devoted to shooting their weapons. Very little time is set aside for training in de-escalation tactics, and most departments receive zero training in dealing with the mentally ill.
The list of unarmed and often completely innocent mentally ill people killed by police is immense. TFTP archives are full of tragic stories in which police were called to help someone in a crisis and end up murdering them. People are killed even when they aren't in a crisis and simply act differently like Elijah McClain, who was on his way home from buying groceries and was murdered by police because he was an introvert and wore a ski mask.
The Hyattsville police department is apparently attempting to change this paradigm and the reactions by Officers Edgar Andrickson-Franco and Mancini Gaskill while responding to a mentally ill man in a crisis, shows it may be working.
Saturday night, the department received a 911 call from an employee at a Sunco gas station in regard to an angry agitated man inside who refused to leave. We've reported on cases like this which often end up with the person in a crisis being beaten, arrested, of even killed. This time, however, it would end successfully — without violence or an arrest.
"When we first arrived, he appeared to be incoherent," Andrickson-Franco said to NBC 4 Washington. "He wasn't making much sense."
"We engaged in conversation with him and we didn't want to be too overbearing," Gaskill said.
Instead of simply grabbing the man and forcing him to the ground or violently engaging him, Andrickson-Franco sat on the floor and treated the man like a human being.
Even when the man became aggressive and verbally abusive, the officers refused to react and continued to show compassion.
"Me reacting the way he was reacting wasn't going to get us anywhere," Andrickson-Franco said. "If anything, it would have worsened the situation."
Sitting on the floor and engaging the man like a human being instead of a threat showed the man that the officers actually cared and wanted to help him. Imagine that.
"I let him know I was there to help him out," Andrickson-Franco said.
According to the officers, the man then handed them his cellphone so they could call a relative to come pick him up. And, just like that, the officers' compassion resolved a situation without force, arrests, or death.
"It feels really good to know that they were able to deescalate that situation," said Hyattsville police spokesperson Adrienne Augustus, a manager of the program.
"Not everyday situation you have to arrest somebody, right?" said. "That's not our job. Our job is to help."
According to the department, this reaction by the two officers was part of their new pilot program called Mental Health and Wellness Program. It teaches officers how to react with de-escalation techniques when dealing with mentally ill individuals in a crisis instead of yelling and force.
If this example can be repeated by other officers responding to similar situations, the program should be adopted by departments across the country.
In the meantime, however, as TFTP has reported, Denver, Colorado is doing this without cops and began the Support Team Assistance Response (STAR) program, which sends a mental health professional and a paramedic to some 911 calls instead of cops. When we first reported on the program in October, their results were fantastic. Now, it seems that departments who continue the old way are doing a disservice to the mentally ill.
According to their latest data, STAR has responded to more than 2,500 calls to 911 in which police would have normally been sent out. The STAR team — armed only with experience and compassion — has never once called police to back them up and no one was ever arrested. These two Maryland officers have now shown the country that cops are capable of this as well.