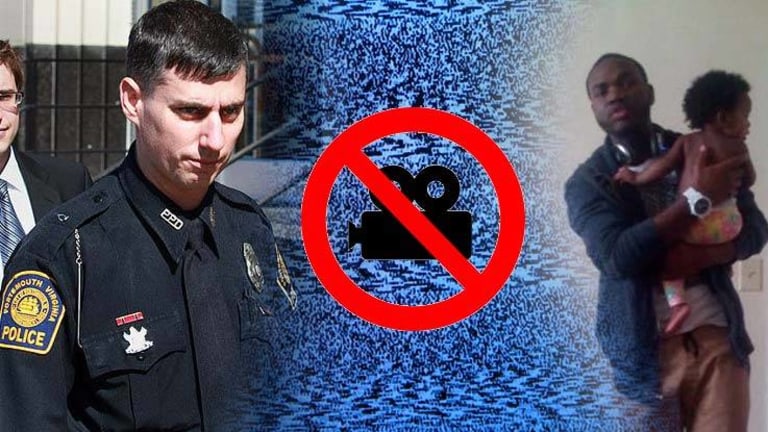 Cop "Lost" 15 Seconds of Video Showing the Moment He Killed His 2nd Unarmed Victim in 4 Years
After getting off Scot-free for killing an unarmed man in 2011, this cop has killed again. Conveniently, footage from this killing "disappeared."
Portsmouth, VA -- In the wake of numerous police killings in the past year where footage was not available of the murder, many people on both sides of the debate have suggested that body cameras are the solution, offering unbiased evidence of police encounters. However, as the body cameras are put into use, the police still have ultimate control over the footage, and in many cases when that footage will work against them, it tends to conveniently disappear.
This past April, 18-year-old William Chapman II was killed by Portsmouth police officer Stephen Rankin, as he attempted to flee a Wal-Mart after shoplifting. Rankin first discharged his taser on Chapman, and then ended up shooting him in the following scuffle.
The shooting occurred nearly four years after Rankin shot another unarmed man who he claimed was reaching towards his waist before charging at the officer. A grand jury cleared Rankin of the 2011 shooting even though he shot 26-year-old Kirill Denyakin 11 times, and no other weapon was recovered from the scene.
"The video was operational up until just before the shooting, and then it was not operational for about 15 seconds," Attorney Jon Babineau told Pilot Online.
The footage shows Rankin holding the taser and then cuts out. When the footage returns the incident was over, and the taser was laying on the ground.
Rankin shot Denyakin 11 times, according to records on file with the 4th U.S. Circuit Court of Appeals.
Rankin claims that Chapman stepped towards him ready to fight. However, this allegation has been disputed by witnesses, and even if it was true, it would not be a reason to shoot someone. Many of the witnesses even disagree about what happened, but none of them claim that Chapman hit, threatened or ran towards the officer at any time.
The city is attempting to keep the video under wraps and refuses to make it public, likely in an effort to protect the former officer from being judged before his trial.
Commonwealth's Attorney Stephanie Morales said that releasing the video would infringe upon Rankin's right to a fair trial.
"Ultimately, we, society, must all be concerned with ensuring that the defendant and the commonwealth and the victim get a fair trial – free from undue bias or prejudice. Sometimes the public's 'right or need to know' must be balanced with the interests of the administration of justice," She said.
The fact that such a pivotal moment of the footage is missing is extremely suspicious and highlights the limitations of police-worn body cameras.
While police-worn body cameras can bring extra evidence into cases on both sides, they are far from a fix for police brutality.
This situation gives us a glimpse into how police attempt to manipulate the body camera footage that gets seen by the general public. It is commonplace for officers to turn off their dash cams when they are guilty of a crime, and this incident is likely another example of the same type of censoring occurring with body cameras as well.
During a recent chase in Oklahoma, police could be heard whispering to each other to turn off their body cameras before one of the officers stomped on the suspect's neck.
John Vibes is an author and researcher who organizes a number of large events including the Free Your Mind Conference. He also has a publishing company where he offers a censorship free platform for both fiction and non-fiction writers. You can contact him and stay connected to his work at his Facebook page. You can purchase his books, or get your own book published at his website www.JohnVibes.com.