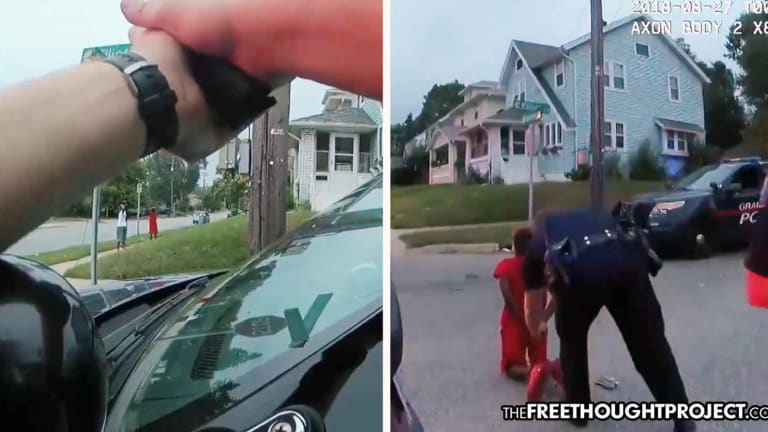 WATCH: Cops Mistake 11yo Twins for Criminals, Hold Them at Gunpoint, Handcuff Them
Two twin brothers were accused by police of fitting the description of criminals and were held at gunpoint, handcuffed and thrown into cruisers.
Grand Rapids, MI — The Grand Rapids Police Department released extremely disturbing body camera footage this week from a stop in which they mistook two 11-year-old boys for criminals. During the stop the children were held at gunpoint, forced to kneel on the ground, handcuffed, and thrown in the back of the police cruiser.
The stop, which happened on August 26, began as police were responding to a call of a male suspect walking with a handgun. When police arrived on scene, they immediately stopped the two 11-year-old twin brothers who they say fit the description of the male with a gun.
"They were devastated. They were scared. Guns, handcuffs, thinking they are going to jail, scared the police may shoot them," the boys' mother Juanita Ligon told Good Morning America.
Ligon says the boys were walking to Little Ceasars Pizza Sunday afternoon and were accompanied by a family friend, a 17-year-old. However, thanks to cops who didn't follow the description of the 911 caller, these boys would never make it for pizza.
As the children walked down the street, they quickly found themselves swarmed by cops who treated them as if they just robbed a store. As they aimed their guns at the innocent children, police began barking orders at the horrified boys.
"Drop down onto your knees! Hands on your head!" the officer says.
All three children were then handcuffed, searched, interrogated, and thrown in separate cruisers as cops scrambled to justify their stop.
"How old are you bud? How old are you bud?" the officer asks, to which the child replies through tears, "Eleven."
"The police told me they were looking for a suspect but didn't have a clear description from the caller but they were looking for a boy, age 13, who was believed to have a gun but they believed it was a BB gun," Ligon said.
Police would later admit that the officers clearly did not stop the kids based on the description of the criminals. The 911 caller gave a completely different description that these boys did not fit, including the fact that they were wearing jeans and that the males were the same height. This was clearly not the case with these children as the boys had on shorts and the 17-year-old towered over them. However, the chief is standing by his officers and defending their actions.
"When someone calls 911 and says, 'I see a young man with a handgun,' we're going. We acted on what information we had," Police Chief David Rahinsky said.
Sadly, the Grand Rapids police department has a history of holding small children at gunpoint and traumatizing them. As TFTP reported last year, an 11-year-old girl, Honestie Hodges was accused of "fitting the description" by police and she was handcuffed and dragged from her own home. In Hodges' case, police were looking for a 40-year-old white woman. 
The police department responded to the blunder by making a policy that would attempt to prevent such ridiculous cases of children being mistreated. But as the video below shows, they clearly missed the mark.
"How do we have a policy in honor of Honestie Hodges and you violate that policy and the new training by doing the same thing you did a few months ago with the same age kids?" Ligon asked.
"They wrote a policy to shut the community up. They're supposed to take better precaution, not use excessive force unless they feel in danger. No way they felt in danger by my boys because they're trained to seek out if a person is acting suspect."
Ligon's children and Hodges are not alone either. Before both of them, officers held a group of 5-11-year-old boys at gunpoint as they walked to play basketball. They were mistaken for criminals as well.
To the children of Grand Rapids, please be careful as it appears police are ready and willing to draw down on you.
Officers accused of racial profiling; chief defends actions as bodycam video released: GoodMorningAmerica.com Janai Norman has the story.

Posted by Good Morning America on Sunday, September 2, 2018