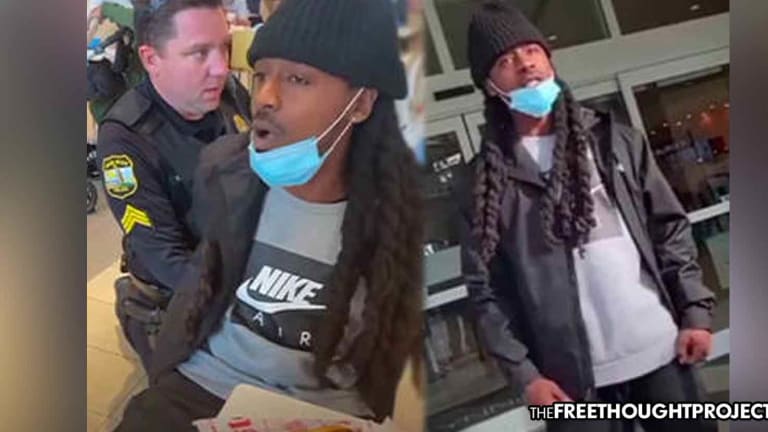 WATCH: Innocent Dad Goes Off on Cops After They Kidnap Him While He Eats With Family
While eating lunch with his wife and child, an innocent black father was placed in handcuffs and temporarily kidnapped. Naturally, he was upset.
Virginia Beach, VA — An investigation is underway this week after a viral video captured Virginia Beach police officers mistaking an innocent dad for a criminal and kidnapping him in front of his family. The unnamed man was humiliated in front of countless other mall patrons as he was dragged through the food court in handcuffs and out the front doors.
"If you don't want to get arrested or beaten by cops, don't do anything wrong," is one of the most oft repeated phrases by those who constantly apologize for the police state. It is also constantly proven wrong. The following case is one of many examples of this phrase being proven wrong.
In a video posted to Twitter on Sunday, an innocent black man is seen getting placed in handcuffs and temporarily kidnapped by police as he ate lunch with his family.
According to police, they were looking for a black man who drove a black truck and when they spotted this dad eating with his family, they claim he fit the description.
As the video shows, the officer moves immediately in to begin arresting the man despite he and his wife telling them that they do not own a black truck. The officer does not appear to question the man and instead moves to immediately place him in cuffs.
The entire time, his wife is telling the officer that they do not have a black truck and asks why her husband is being kidnapped.
Naturally, the dad was upset that he was being humiliated in front of everyone in the mall, so he expressed his anger with the officer.
"Why are you arresting me man?" the dad screams.
"Are you serious right now?" the handcuffed man asked in the video. He said this kind of treatment is why people are marching and why people say "Black Lives Matter."
Eventually, the dad is released and the officer apologizes as it appeared the actual person they were looking for was already in custody. Nevertheless, this dad had his rights violated and was kidnapped and presumed guilty by this cop because he had on a black jacket.
After the video went viral on Sunday, Virginia Beach Police Chief Paul Neudigate was forced to respond and said his department has launched an investigation.
"Certainly, anyone would be upset about being detained for something they didn't do" said Chief Neudigate. "While the video shows the officer stayed calm and respectful throughout the brief encounter, we must ensure the situation merits the response. We are gathering all the facts to evaluate the incident so we can address the concerns people have raised."
The Virginia Beach NAACP said they have been ignored by the department and are demanding answers:
The Virginia Beach NAACP strongly condemns the apparent racial bias on display in the video clip that has widely circulated on social media today. In the midst of a global pandemic, Virginia Beach police officers - without masks or personal protective equipment - mistakenly detained a Black man who was spending quality time with his family. As a Virginia Beach officer stated "you have the right to be upset," and indeed we are just that: quite upset.

Even more alarming, calls from the Virginia Beach NAACP to the Virginia Beach Police Chief remain unanswered as of Sunday evening. We are demanding a meeting with the Virginia Beach Police Chief within 48 hours. As the police department has not responded to our inquiries, the Virginia Beach NAACP has launched its own investigation into the incident.

The NAACP will not rest until every Black citizen in Virginia Beach can shop, dine, and travel without being racially profiled by our city's police officers.