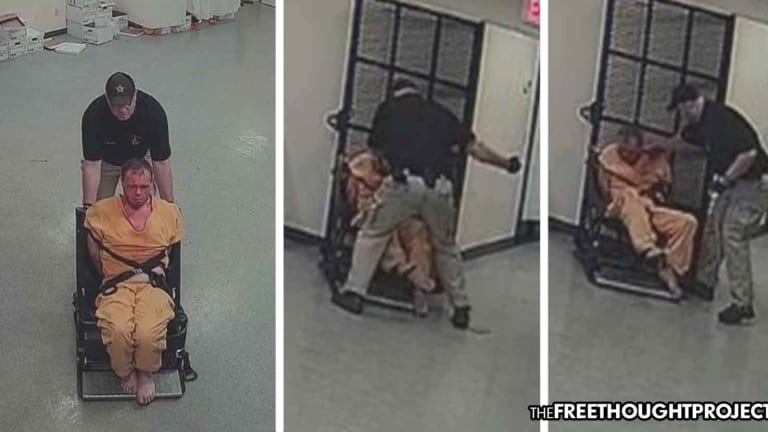 Shocking Video Shows Cop Torture Restrained Man, Punching and Pepper Spraying Him Repeatedly
A deputy is now under investigation by the FBI after he was seen on video savagely torturing a defenseless restrained man who posed no threat.
Waverly, OH — Some police officers in America are so prone to violence that they cannot resist the urge to bash in the faces of anyone who rubs them the wrong way. As the following video shows, even completely restrained and harmless individuals restrained in chairs are not safe from this tendency of cops snapping into violent rages.
A Pike County Sheriff's deputy was allowed to quietly resign earlier this month after being caught on video pepper spraying a man who was completely restrained in a restraint chair and then punching him multiple times in the face.
The incident took place on November 18 at the Pike County Sheriff's Office but the public is only just learning about it. The victim, Thomas Friend, 27, was taken to jail on charges of disorderly conduct. Once inside the jail, we found out quickly that Pike County Sheriff's Deputy Jeremy Mooney was the only one being disorderly.
For a misdemeanor offense of disorderly conduct, Friend was placed into a six-points restraint chair with his entire body completely restrained. He couldn't itch his nose if he wanted to, much less attempt to pose a threat to a deputy. Nevertheless, as the video shows, Mooney douses the man in the face with a hefty dose of pepper spray outside the jail
The subsequent chemical attack was so painful that Friend writhed in agony in the chair and tried to back up, causing the chair to fall over. As he is left on the ground, Mooney walks over to him once more, where he pepper sprays the restrained man once more.
The pepper spray was only the beginning of Friend's nightmare, however. After getting dragged back into the jail, Mooney — for unknown reasons — decided to start pummeling Friend's face with his fist.
He would unleash a fury of punches to the restrained man's face — making brutal contact at least 11 times.
During the attack, a sheriff's office supervisor, Sgt. William Stansberry, walks into the room and does nothing to stop his fellow officer from torturing the restrained man. This cop was witnessing a crime in progress and didn't so much as say, "hey, stop that."
"Talking with him, I think he realizes he should have said something or done something," said Interim Pike County Sheriff Jim Nelson.
No kidding.
Another deputy in the room actually did do something, however, and alerted his superiors that Mooney was torturing a restrained man. When Nelson found out about the incident, he put Mooney on paid vacation, which is reportedly required by his union contract.
According to Nelson, Friend was unruly in the transport van that morning, which made Mooney lose his temper. He stopped short of justifying the violent deputy's actions and said that he believes Mooney should face criminal charges.
"Anybody's that's in law enforcement, it's something you have to deal with. You have to have the right mindset," Nelson said. "Anybody's that's in this line of work, you know you're going to be treated like that at times. It's just the way it is."
When the investigation began into this violent cop, he quietly resigned to avoid any repercussions. This is a move made by so many criminal cops. Instead of facing the consequences of their internal investigation, they quietly resign and the investigation is dropped. These officers then become gypsy cops and are simply hired at the department down the road.
There is a chance that Mooney will actually face accountability, however. After the video was seen by the county prosecutor, he recommended the FBI step in to investigate.
"It was disturbing to watch," prosecutor Rob Junk said. "After reviewing it, reviewing the reports, I got a hold of the FBI. We made a copy of the case and the videos for them. I requested they review it for any possible federal criminal charges."
Going further, after it was determined that the supervisor failed to stop Mooney's attack on the restrained man, he was suspended for two weeks without pay and demoted from the rank of sergeant to corporal.
"This absolutely has to be criminally investigated by an outside agency. I am going to make sure that is absolutely done," said Junk.
"This is the first case of excessive force that I know of. I'm not sure if there's been others or not," said Nelson. "With all of the publicity that we get down here, I do feel it's just another black eye on Pike County and that's not how our department runs. I think it was just an isolated incident."
According to the report, Friend was injured in the attack and will likely sue the department. In a case of karma, however, Mooney was also injured. Because he punched the restrained man so many times and so hard, he actually broke his hand on Friend's face.
"If someone thinks this is OK, they don't need to be working as a law enforcement officer," Junk said. We agree.