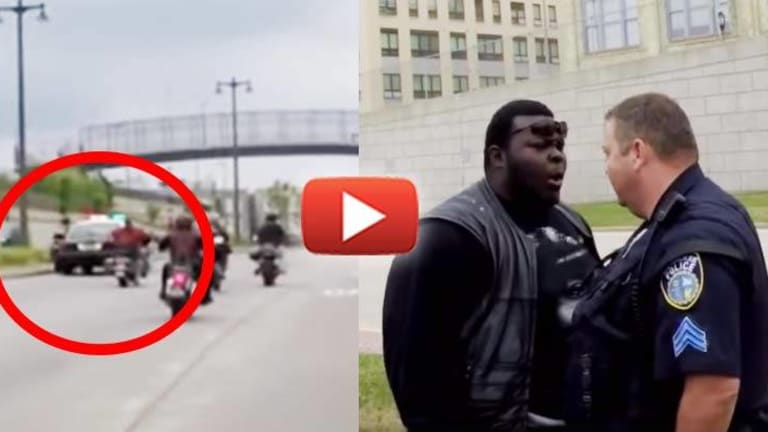 Dramatic Video Captures a Milwaukee Cop Run Down a Motorcyclist and the Tense Aftermath
A Milwaukee police officer was seen on video swerving erratically across multiple lanes of traffic just before smashing into a motorcycle.
Milwaukee, WI -- During a large gathering of motorcyclists in Milwaukee on Saturday, a police cruiser and a biker collided. The subsequent collision sent the motorcycle crashing into the roadside. The collision and the aftermath were both caught on camera.
The Milwaukee police department said they received reports about motorcyclists driving erratically and were responding to those calls. However, no one was reported injured, until after the police showed up.
The incident began after a police officer said he was trying to escort the bikers through downtown. To "escort" them, the officer began dangerously swerving from left to right and across multiple lanes of traffic.
Police say that the biker attempted to pass their officer and the officer accidentally collided with the biker while conducting his dangerous maneuvers. But those in the group say the officer intentionally ran down the biker.
"We was coming from downtown, and you got the police who wanted to escort us out of downtown," said Rio, one of the bikers."What the supervisor was doing, he was driving erratically across the freeway so he just, he swerved like this, trying to hit somebody. So as Cuffy was going past, he just turned and hit Cuffy off his bike."
After the collision, the bikers stopped and confronted the officer. The result was a heated exchange in which one of the bikers got in the face of the officer and started screaming.
After it looked like the situation was about to explode, remarkably, it did not escalate any further. The only one injured was a biker passenger who was taken to the hospital for unknown injuries.