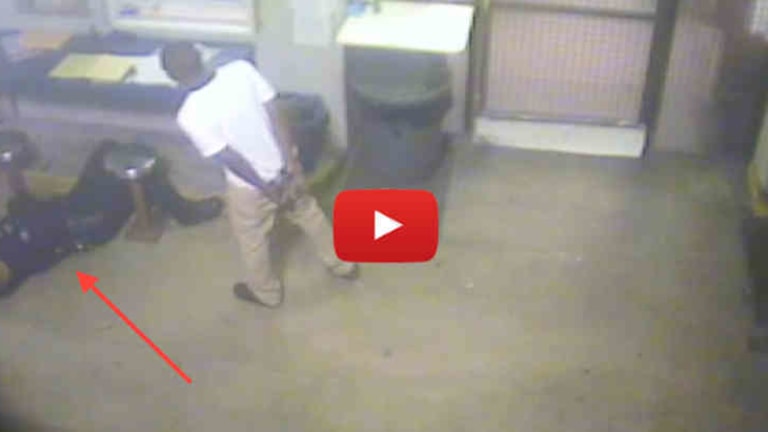 Florida Teen Honored for Saving the Life of a Police Officer Who Was Arresting Him
Fort Lauderdale, FL -- A Florida teen was honored by Fort Lauderdale police on Tuesday after his quick decision helped to save the life of a police officer who was arresting him.
Jamal Rutledge, 17, was handcuffed and sitting in the Fort Lauderdale police booking facility on Sept. 10, a few feet away from a desk where Officer Franklin Foulks was doing paperwork.
In a video released by the Fort Lauderdale Police Department, Foulks is seen processing Rutledge on charges of violation of probation for criminal mischief and burglary.
At the 37:50 mark in the video, Foulks begins to collapse off of his seat and rolls onto the floor.

Only a few seconds pass before Rutledge gets up to check on the officer and immediately determines him to be in distress.
The handcuffed Rutledge then began kicking the security fence and yelling for help in an effort to alert other officers in the area.
Within a few minutes, Rutledge's attempts to notify officers were received, three other officers arrived to find Foulks semiconscious, clenching his chest.
According to the Sun-Sentinel, Sgt. Todd Bunin called Fire Rescue and then began to remove Foulks' police gear and cut off his shirt, Greenlaw said.
Officers Robert Norvis and Raymond Ketchmark overheard Bunin's radio transmission and arrived to assist.
Norvis began performing CPR on Foulks while Ketchmark grabbed a nearby defibrillator to begin stimulating Foulks' heart.
Foulks was then taken to Broward Health Medical Center.
Broward Health medical staff noted that Rutledge's action and the quick response of officers were critical to Foulks' survival.
Rutledge, along with the three other officers involved in saving Foulks' life will be officially honored on Jan. 21 at a city commission meeting.
This story should serve as an example of why we shouldn't immediately jump to judge people. Just because a person hits some speed bumps in their life doesn't exclude them from being a well-meaning person at heart.