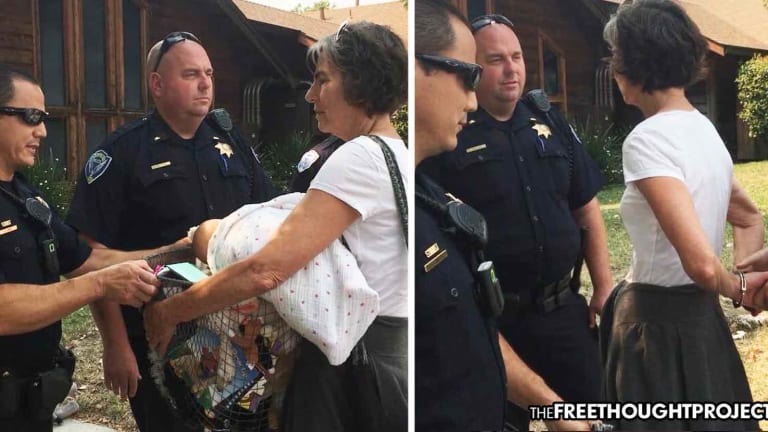 WATCH: Grandmother Arrested While Trying to Deliver Toys to Children
While attempting to deliver toys and books to children detained in an immigration shelter, a grandmother was arrested and brought to jail.
Fairfield, CA — A 66-year-old grandmother was arrested this week, along with a 27-year-old man as they tried to deliver toys to a shelter for migrant children.The toys were part of a campaign to comfort the children who have reportedly been separated from their parents while crossing the border, according to the group "Solidaridad con Niños."
The man and woman, identified as Elizabeth DeCou and Jesse Ingber were part of a caravan consisting of 35 volunteers that traveled to the Baptist Child and Family Services shelter Sunday to deliver toys and books to the children.
"Our group, consisting of mostly mothers and grandmothers and childcare providers, intended to deliver toys and books to the children, and also sing them lullabies in Spanish," S Hayley Steele, a member of Solidaridad con Niños said.
Steele explained that as the others sang, two members of the group, DeCou and Ingber continued to peacefully approach the facility with toys in their hands.
"Why won't you let us see these kids?" DeCou asked the uniformed man.
"Are you going to step back on the sidewalk or no?" the officer asked, to which DeCou replied, "no."
In response to DeCou's answer, the officer pulled the basket of toys from her hand, removed her purse and she was handcuffed and dragged away.
DeCou explained that they have been trying to contact the Baptist Child and Family Services (BCFS) to arrange a drop off of toys for the children. However, BCFS refused to return their calls, according to the group.
"In the days leading up to this incident, women from our group attempted to contact the facility to volunteer to visit the children and to coordinate the drop-off of the truckload of toys and books that had been collected for them," said Steele. "Our calls were unanswered, our voicemails unreturned."
The group then planned to simply drop the toys off at the facility, but that's when they were met by police.
"We have facilities nearby where children are being held, but we won't know if they've been recently separated from their parents," DeCou told Mercury News. "We don't know their ages. We don't know how long they've been held."
"We're not allowed any information as to the status of these children and if they're safe," said DeCou.
According to Fairfield police, DeCou was arrested for misdemeanor trespassing and she has a court date of July 30.
DeCou explained to Mercury News that her father escaped Nazi Germany at the age of 13 and became a refugee, just like these children.
"I'm so glad he's not alive today to see this," she said. "I'm so sorry to see what is happening to this country."
Sadly, many of the people who oppose refugees fleeing into the country as well as those who want to accept refugees into the country fail to realize why they are fleeing to America in the first place. US foreign policy is creating them.
In regard to the recent influx of families from Guatemala, Honduras, and El Salvador, America's war on drugs has helped fuel the creation of cartels and stoked much of this violence and horrific conditions.
US intervention in these countries has been going on since the 80s and it's fueled a crisis.
"Hundreds of thousands of people were displaced in the 1980s," Elizabeth Oglesby, an associate professor of Latin American studies at the University of Arizona told Vice News. "People were fleeing violence and massacres and political persecution that the United States was either funding directly or at the very minimum, covering up and excusing." Violence today in those countries, she said, is a directly legacy of US involvement.
Now, we are witnessing the reverberation of decades of meddling and it's surfacing in the form of caged children and the arrest of grandmothers trying to give them toys.
Following her release, DeCou said, "Why was I arrested for wanting to offer comfort to a child?"
After DeCou's arrest, other members of the group sang lullabies outside of the shelter.
"Not a single toy was delivered to the children," Steele explained. "But with hope, they heard us singing."
Grandmother Arrested while attempting to deliver toys to children

Today a sad moment in American history: a grandmother was arrested in Fairfield, CA while attempting to deliver toys and books to children who were separated from their parents at the border. These children are being held at the Baptist Child and Family Services Facility at 2301 Pennsylvania Ave, Fairfield, CA.Baptist Child and Family Services is a private NGO that has received over $500 million since 2015 from the United States government to incarcerate migrant children who have attempted to seek asylum at the US-Mexico border. These children, rather than being placed in foster homes or integrated with communities, have been held—many for years at a time—in these lock-down style facilities. At least a dozen of the children separated from their parents at the border were taken to this facility and are still there.The woman arrested in the video is Liz DeCou, grandmother of four. She was held until late into the night at Solano County Jail.Following her release, DeCou said, "Why was I arrested for wanting to offer comfort to a child?"

Posted by S Hayley Steele on Sunday, July 1, 2018