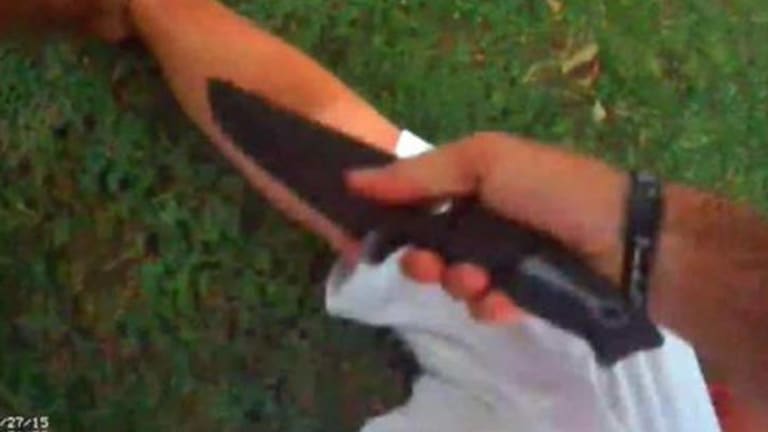 Instead of Gunning Him Down this Hero Peace Officer Saves Suicidal, Knife Wielding Man's Life
North Carolina Police Officer calmly disarms suicidal man, saving his life. He was so courageous that the recovered suicidal man, now thanks him for that fateful arrest.
Roanoke Rapids, NC -- If you're the type of person who frequents the Free Thought Project website, then you probably wouldn't suggest to someone having suicidal thoughts that he should call the police. However, some people, when they feel like they have nowhere else to turn, will do just that, as one troubled man in Roanoke Rapids recently did. The results were surprising -- but pleasantly so.
David Bundy, 39-year-old Roanoke Rapids resident, called 9-1-1, and said that he had been "hearing voices" and was feeling suicidal. An officer soon arrived at his home, where the man answered the door armed with a knife. The events were all caught on the officer's body cam. Officer Jamie Hardy first calmly talks to the troubled man, and then uses minimal force to subdue and disarm Mr. Bundy, who is then put into protective custody -- which, for once, was actually protective.
As a result, Bundy was able to take a step back from the brink, and now thanks and credits Hardy for saving his life. Not all people with suicidal thoughts are like David Bundy, and Lord knows not all police officers are like Jamie Hardy, but in this case—thanks to a body cam—we can see an ever rare video of a policeman acting like a true peace officer. More importantly, we see a man with a badge acting like a courageous but compassionate human being.
"Nobody wants to hurt anybody else...our job is, you know...protecting people," Officer Hardy stated.
David Bundy and family had an emotional reunion with Hardy. Bundy was expressing his gratitude while choking back tears saying, "He...he saved my life." Both of Bundy's parents were so emotional and grateful they couldn't get a word out as Bundy's mother managed to give her son's savior a tearful hug.
Roanoke Rapids Police Chief Charles Hasty told reporters
"It could have possibly been a deadly force situation, and those skills he used prevented that."
Nine-year veteran Hardy did everything right, according to Chief Hasty, despite the fact that he did not receive the department's special training.
In general, police are woefully ill-equipped to deal with the challenges presented by such situations. Police would best serve themselves, the public, and the mentally ill, if they would learn to use effective, nonviolent communication, and when the use of force is unavoidable, to use the least amount necessary. By doing exactly that, Officer Hardy not only saved the life of Mr. Bundy, but may indirectly save the lives of other mentally disturbed people in the future, if the video captured by his body cam can serve as an example to other officers in similar situations.
We at The Free Thought Project would like to thank Officer Jamie Hardy, not only for his compassion, courage, and grace in a potentially deadly situation, but for setting a stellar example for other police officers who may one day have the opportunity to save a life, rather than take one.