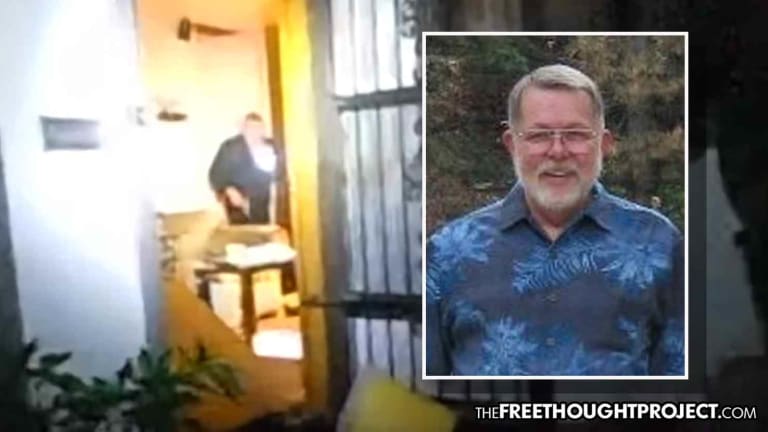 WATCH: Cop Kills Innocent Grandpa for Stopping a Home Invader Who was Biting His Grandson—No Charges
An innocent grandpa was gunned down in his own home by police after he'd just stopped a maniac who had broken in and was literally trying to eat his grandson.
Aurora, CO — Richard "Gary" Black Jr. had just successfully stopped every grandparent's worst nightmare—a maniac home invader attacking your small grandchild—when police arrived at his house and killed him. Now, months after this innocent grandfather was gunned down for defending himself against a maniac in his own home, the officer who killed him will not face charges.
Officer Drew Limbaugh shot and killed Black, 73, on July 30 after Black grabbed a pistol and successfully defended his grandson against Dajon Harper, who had broken into the Black residence and began attacking the 11-year-old child.
Chad Hayashi, the boy's father and Black's stepson said that he woke up that morning to a woman standing in his doorway.
"She starts saying to me, 'My son is on drugs and he has your baby,'" Hayashi said.
Hayashi ran to the bathroom where his son was screaming and found Harper attacking him.
"He's naked and wet and has my son in a choke-hold with his right arm and biting my son's left ear," Hayashi told ABC News. "My son was covered in blood. I jumped on him and got him to release eventually."
Hayashi said Harper then attacked Black who used his pistol to shoot the intruder in his bathroom.
"My dad exited the bathroom, went around the corner, and I immediately heard multiple shots, which I thought was my dad engaging these other people in the house," Hayashi said.
Those shots were not fired from Black's gun, however. They were fired from Limbaugh's gun at Black.
"There was a pause, and then I hear people start screaming, 'Police!' and I hear people enter the house. And my son starts screaming, 'I'm here with my dad. This crazy guy tried to attack me.'"
Police arrived at the residence at 1:30 a.m. and they encountered Black who was holding a gun and a flashlight. This interaction was captured on Limbaugh's body camera.
As the video shows, Black is looking around the home, holding a flashlight in one hand and a pistol in the other. Limbaugh yells at the 73-year-old to drop the gun, but it is clear that Black cannot hear him.
As Black continues looking around his home to make sure there were no other intruders, Limbaugh yells once more. Again, Black did not hear him. At no time did Black ever raise the pistol above his waist or point it in the direction of the officers.
Yet still, Limbaugh's fear took over and he needlessly fired three shots into the innocent grandpa. After Limbaugh killed him, the officer put the innocent grandpa in handcuffs.
"And as I turned the corner, my dad is face down … and he's handcuffed. And I reached down and — I don't remember if I touched his shoulder or his face — but he looked at me and I got pushed off by an officer out the door," Hayashi explained.
According to Black's family, Black had a severe hearing impairment due to the time he served in the Army.
Black was the recipient of a Purple Heart and a Bronze Star. He had survived being shot in Vietnam only to later be killed by the very government he fought to preserve.
An attorney for the Black family explained that he "died a hero by shooting and killing a naked intruder who was trying to kill his 11-year-old grandson."
Sadly, and in spite of the video evidence showing the shooting, officer Limbaugh will not be charged.
"Based on the evidence presented and the applicable Colorado law, there is no reasonable likelihood of success of proving any crimes beyond a reasonable doubt at trial," District Attorney Dave Young wrote in his decision letter. "Therefore, no criminal charges will be filed against the law enforcement officer involved in this incident."
Just 18 days before he'd kill this innocent Vietnam veteran for defending his home, Limbaugh killed another man. He was almost immediately cleared in that killing and put back on the street to kill again.
Citizens of Aurora be warned, a killer cop is in your town and because he was not held accountable, he may be allowed to kill again.