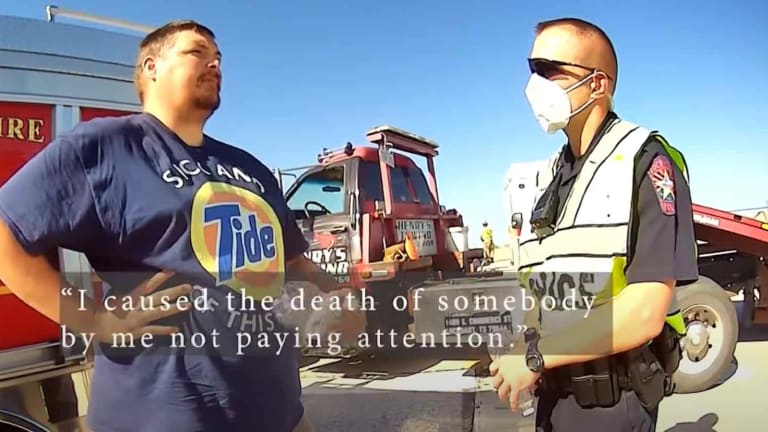 'I Caused the Death': Cop With Beer in Car, Admits He Killed Woman in Crash, NOT Arrested or Fired
A cop was on the phone, drinking and driving, admitted to killing a woman, and he was not arrested, much less even fired.
San Marcos, TX — In June of 2020, Sgt. Ryan Hartman was drinking and driving when we stopped "paying attention" and crashed into a car occupied by Jennifer Miller and her life partner, Pam Watts. The crash would put Watts in the hospital and her partner in the ground. It has been over a year since Hartman killed Miller and not only have police refused to arrest him, but he's back on duty.
This is not some case with no evidence or disputed facts. According to body camera footage that was released this week, Hartman admitted that his lack of attention caused Miller's death and police found an open Dos Equis beer in his truck.
"I caused the death of somebody buy me not paying attention," Hartman says according to the newly released video. According to a search warrant carried out on Hartman's phone after the crash, he was using his phone whilst drinking a beer.
Despite finding a beer can in his truck and admitting that he caused Miller's death, Hartman was not arrested that day — or any day after. Instead, he was put on paid vacation for five months while his office "investigated" the crash. Hartman received blue privilege from the start.
After the crash, Hartman refused a breathalyzer and police waited over eight hours to get a warrant for a blood draw. Since so much time had passed after the crash, Hartman still had alcohol in his system but his levels had fallen below the legal limit.
Highlighting the nature of Hartman's blue privilege was the fact that the neighboring department who responded to the crash, the Lockhart Police Department, recommended charges of negligent homicide. However, the investigation was turned over to Hartman's department, the San Marcos Police Department.
That investigation was subsequently passed to Bastrop County District Attorney Bryan Goertz, who chose not to send Hartman's case before a grand jury.
"I conducted my own review of the investigation of Mr. Hartmann for violation of Texas's misdemeanor offense of texting while driving and causing a fatality and concluded that no criminal prosecution could be sustained based upon the facts of this case. While the forensic analysis of his phone supported his admission that he was on the phone at the time of the crash (not illegal), there was NO evidence to suggest he was texting."
Goertz failed to mention the fact that he was drinking, however.
In November, Hartman went back to work. According to the University Star, he was reinstated to his job 180 days before the accident had passed. Under Texas law and union contract, officer discipline should be issued within 180 days of an incident's occurrence. More blue privilege.
Since that day, Watts and other advocates have been fighting for accountability and over the weekend, held a protest in front of the department demanding Hartman be arrested or at the very least fired for killing Miller.
"Law is law, right is right and wrong is wrong," Watts said. "It doesn't matter what your career path in life or who you are in life, the rules should be the same, and it should be equally applied to everybody, and we need to start getting that right in this country. I think we need to start with accountability, everybody needs to be personally accountable for their actions, doesn't matter who you are and he has not been held accountable."
Sadly for Watts, thanks to blue privilege, it appears that her life partner's killer will never be held accountable.