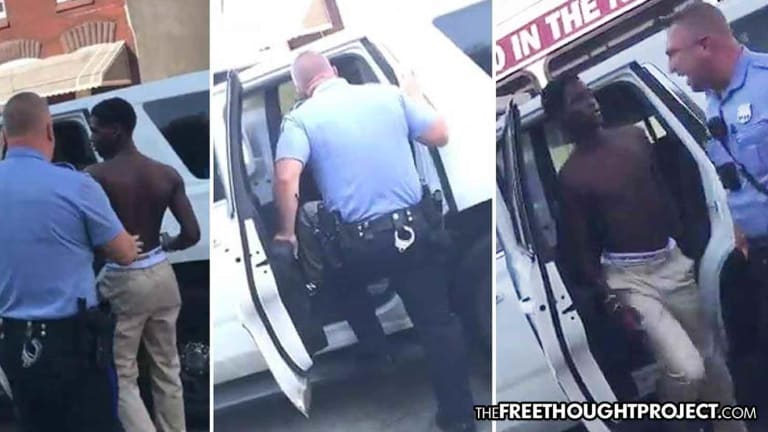 'I Was Scared for My Life': Innocent Teen Harassed, Kidnapped While Waiting for the Bus
An innocent high school student was waiting for the bus when he was surrounded by cops, temporarily kidnapped and humiliated for no reason at all.
Philadelphia, PA — In case after infuriating case, police are caught on video harassing, detaining, and even beating and killing people who have done nothing wrong, for the mere reason that they can. Being in the wrong place when a cop on a power trip passes by can often turn into a rights-violating nightmare for those involved. A 15-year-old high school kid happened to learn this the hard way after he was harassed and detained for no other reason other than he was a teenager waiting for a bus when a bully cop passed by.
The incident took place last week as Jahvon Beener, the high school student whose rights were stomped on by the officer, waited for a bus after school. According to Beener, he and several other friends had just gotten out of school last Thursday around 3 p.m. when they walked down to the SEPTA bus stop to make their way home.
That's when Beener says a white cop drove by in his cruiser, staring at them. The officer momentarily passed them up only to return with two more police units and three additional cops. Remember, Beener and his friends had committed no crime, had not been suspected of committing a crime and were doing nothing other than waiting for a bus when they found themselves surrounded by cops.
Beener spoke out in an interview this week with Phillymag.com to detail his experience. He and everyone else involved is calling this what it so obviously is, racial profiling.
As Phillymag reports, Beener, who had taken his shirt off while at the stop because it "was getting too hot outside," says things "got scary when more police cars came."
"The cop who had drove past us came back with more cops, and this time he singled me out and gripped me by the arm," Beener says. "I kept asking him why was he doing this. He squeezed hard on my arm as I tried to let go. He yelled at me to get inside his car, threw my legs in the back of the car, and slammed the door. I started shaking — I was scared for my life. I kept asking him what's wrong and that I didn't want any trouble. He kept yelling at me. I didn't understand what was going on."
One of Beener's friends, Asia Wilkerson, a 16-year-old student who filmed the interaction and uploaded it to a now viral Instagram post, said she "knew something was wrong the moment the cops kept telling us to back up."
"The cop started laughing and smiling like what he was doing was okay," Wilkerson says. "When he let Von out of the car, he told him to tell us why he stopped him and something very messed up."
While Beener was in the back of the car, he was shaking from being so frightened. Teens like Beener often times do not come out of situations like this unscathed. The officer could've claimed Beenr was resisting or threatened him and things could've devolved into violence quickly. So being frightened was entirely warranted. But the cop thought it was funny that Beener was scared.
"He told me to remember that I was shaking in a police car," Beener said after the officer had let him go. "Before I got out of the car, he had asked me why was I shaking and why had I taken my shirt off. I told him it was because it was hot outside and he acted like he didn't believe me. He let me out and I felt humiliated and hurt."
"Von didn't do anything wrong, and for them to just put him in a police car without telling him why didn't make any sense," Wilkerson says. "I pulled out my phone and filmed it because I wanted to make sure he was safe and for them to know that none of us were going to leave until he got out of that car alive."
When the teen's parents watched the video, they became infuriated.
"I want answers — I want to know why the cops racially profiled my son," says Frank Hudson, Beener's father. "When I saw the video online, I was devastated. My son didn't even want to tell me because he didn't want me to be upset. He's a good kid. This shouldn't have happened to him."
Showing just how over the top the treatment of this child was, when the Philadelphia police saw themselves tagged in the post, they encouraged the person who posted it to file a complaint.
"Hello. Please visit this link to file an Official Complaint Against Police. Please provide as much detail as possible on the form," the post read.
Hudson explained that he is exploring all his options before filing an official complaint.
"This isn't right, and for police officers to think they can just pick up innocent children in the street and traumatize them like this is unacceptable," Hudson adds. "My son should have never been treated like a second-class citizen in his own neighborhood. They didn't read him his rights, they didn't explain why he was stopped, and they didn't care to contact us. This is wrong and something needs to be done immediately."
Below is a video showing how life in the land of the free is more closely starting to resemble life in land of the tyrants.
https://www.instagram.com/tv/B2VPNMNHnKx/?utm_source=ig_embed