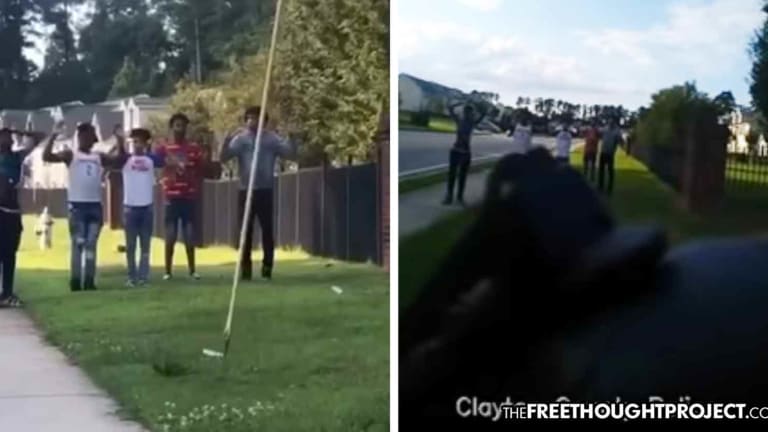 WATCH: Cops Hold Five Small Children at Gunpoint for Playing Outside
Five black children were held at gunpoint for several minutes by a police officer for doing nothing other than being kids.
Jonesboro, GA — In today's "see something, say something" society, 911 calls over non-crimes are a common thing. When it comes to black people, these calls move from common to outright offensive and often times lead to deprivation of rights, or worse. Five Georgia kids learned this the hard way this week when they were held at gunpoint for simply being kids.
A frightened store owner in Jonesboro called police on Monday and told them that five kids were in his parking lot — with a gun. After police responded to the scene, all hell broke loose.
When the officer arrived, all of the children, one reportedly just 10-years-old, were held at gunpoint for playing. The resultant interaction was captured on a bystander's cellphone video. It is nothing short of heart wrenching.
The woman filming is in tears asking why the cop is holding the children at gunpoint. His actions also garnered the attention of neighbors as well, who gathered around and begged the cop to put his gun away and not to shoot.
"I informed some of the bystanders they didn't have nothing to do with the situation. I kept looking back and forth at the crowd and kept my service weapon at the low ready," the officer stated in his report.
Nearly a dozen cops would show up to the scene as the kids held their hands in the air. They were searched and no gun was found.
Once they were no longer held at gunpoint, the kids would tell the officers that they were playing with a BB gun. They put the gun in the woods when they saw the officer pull up.
Surveillance footage from the store revealed that the kids were indeed playing with a toy gun. The way they were throwing it around, however, showed that it was clearly made out of plastic and was a toy. Had they thrown a real gun back and forth like they did in the video below, the physics would have been far different.
"They didn't deserve that. I don't feel safe, I don't feel safe," said Shanelle Williams at a press conference held Tuesday afternoon. "I feel more comfortable walking into a gang neighborhood than going to the cops. Changes need to be made today," added Williams who witnessed the incident.
"You fixing this when you want to is not acceptable," said another woman. "The problem with Clayton County is its use of force."
During that press conference on Tuesday, one of the children involved in the stop told reporters he though he was about to die.
"I thought I was going to die because I see all the black kids just dying, and to have myself in that, it was just crazy," said Kamari Moore at the press conference Tuesday.
One of the children's parents expressed her concern because police never contacted her after her children were held at gunpoint.
"I haven't had any police contact, nobody called me. I found out about the video this morning. My daughter all day way in Ohio sent me the video. She found out before I found out about this situation," Lashunda Jackson, the mother of one of the teens, said. "I was just wondering, like, why wouldn't the police contact the parents. They didn't contact any parents."
The incident garnered the attention of rapper T.I. as well.
"And I let him know that he should not allow them to trap him in fear," said the Atlanta native who also spoke about the lack of similar incidences in white communities. "If the police have such a narrative and such influence from this 911 call, why don't we ever see little white kids being held at gunpoint?," asked the rapper.
He's right. These BB guns are sold at stores throughout the country and are played with by kids of all races from coast to coast. However, most of the stories we see of police interactions for playing with BB guns are from black children.
"You're going to police our communities the same or you will suffer the consequences that's happening right now across this nation," a local father told CBS 46. 
Below are the videos: one from the bystander and one from the officer's body camera.
Clayton County: Eyewitnesses say 5 kids - one 10 YEARS OLD - were "shadow boxing" and playing near a convenience store and were stopped by police, weapon pulled, frisked and let go. Their crime: playing.

Posted by Shon Gables CBS46 on Tuesday, June 16, 2020