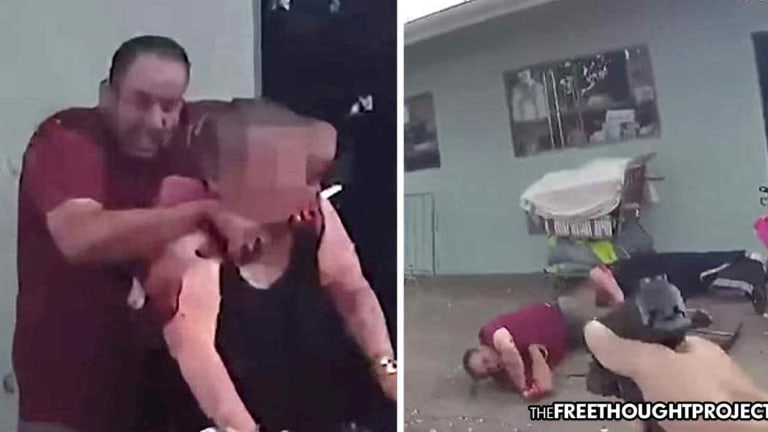 WATCH: Cops Respond to Hostage Situation By Opening Fire, Killing Innocent Hostage
Disturbing body camera footage shows police officer unleash a fury of bullets at an armed criminal and his hostage, killing both the criminal and the innocent woman.
Los Angeles, CA — Los Angeles police released graphic body camera footage this week, showing officers opening fire on a man armed with a knife who'd taken a 49-year-old woman hostage. In the shooting, police killed both the man with the knife, and the innocent hostage.
According to a 911 recording, officers were called to the scene on June 16, after a woman reported that a man had stabbed someone at her location. When officers arrived, they found Guillermo Perez, 32, who had just stabbed his ex-girlfriend with a knife.
When officers confronted Perez, he held a chair as a shield and a large knife. As officers yelled for Perez to drop the knife, he did not comply.
At this point, officers opened fire on Perez with bean bag rounds, according to LAPD chief Michel Moore. However, the chair shielded him from the blasts.
"He moved away from officers and grabbed an innocent bystander who was standing nearby. Perez began to cut the innocent bystander's throat with a knife. That's when three officers shot at Perez to stop his actions and prevent him from killing the hostage," the chief said.
When Perez grabbed the innocent bystander, 49-year-old Elizabeth Tollison, officers unleashed a torrent of gunfire. In total, officers fired 18 rounds, several of which struck Tollison, killing her.
As ABC 7 reports,
Moore said there's much more work to be done in the investigation before he is able to provide recommendations on the actions of the officers involved. The investigation will look into whether proper procedures were followed.

The chief said it's been 13 years since an officer's gunfire killed an innocent bystander or hostage.
"The life of the hostage is paramount and protecting that individual from the threat of the assailant, and in doing that, the balancing act that the officer has - is how to protect them by stopping the suspect's actions," Moore said. "This was a tense situation that unfolded very quickly. It's every officer's worst nightmare."
According to police, Perez had a violent past and was recently released from prison after being convicted of robbery, assault with a deadly weapon, and domestic violence.
Sadly, Tollison is the second hostage in only 6 weeks to be killed by LAPD officers. As TFTP reported last month, Melyda Corado, 27, was an assistant manager at a Trader Joe's grocery store and her life ended tragically when her workplace became the scene where a police chase ended and officers started to exchange gunfire with the suspect they had been pursuing.
The Los Angeles Police Department has been surprisingly open with the public, and Moore admitted last month that the bullets that struck and killed Corado were fired by LAPD officers.
"The source of that round, we've recovered it, and ballistically we believe it's from one of the two officers," Moore said. "The fatal bullet first hit (Corado's) arm, then entered her body."
The police chief attempted to defend the actions of the officers by claiming that they "had to make a split-second decision. I'm here to say that that is the worst, worst decision that any officer ever wishes to have to make."
In Corado's case, the assailant police were after, Gene Evin Atkins, 28, was unharmed in the shooting.