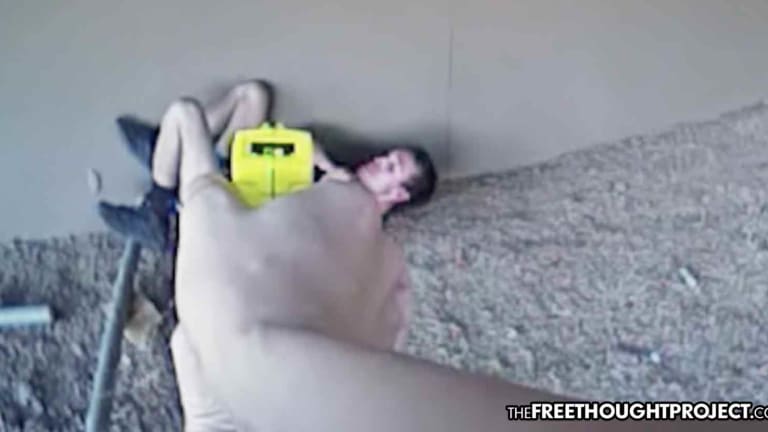 WATCH: Mentally Ill Man Calls 911 for Help, Cops Show Up and Kill Him
A mentally-ill man was shot and killed by cops after calling 911 for help and his parents are now seeking civil action against the police.
Phoenix, AZ — Just days after the Phoenix City Council voted to create a citizen review board to investigate officer-involved shootings and use of force incidents, one valley family is challenging a use of force incident which killed their son when he needed help. Jeannine Liberti's son Dylan, 24, was killed by Scottsdale police on July 2016.
It was Dylan who'd actually called 911 and hung up. His mom believes he was crying out for help. But instead of helping Dylan, Scottsdale police showed up, tasered him, backed the clearly mentally ill man into a corner, and then killed him in a hail of bullets.
In all fairness to the Scottsdale police, Dylan did not follow police officer commands, and eventually pulled a knife on the officers. However, his mother believes Scottsdale PD could have handled the situation differently rather than needlessly escalating the police contact into a use of deadly force incident. She told ABC15:
He was calling for help that day, and the outcome was just completely tragic...
The family has secured an attorney, David Abney, who told reporters:
If they would've just backed away a little bit, called some paramedics to come and check him out, make sure he's okay, and treated him like a human being, I don't think any of this would've happened...I think he would still be alive.
Backing away is called "disengaging" and officers are trained not to disengage. But just as in high-speed police pursuits, there is mounting pressure for police to deescalate and not use the federal use of force guidelines as impetus for killing people many of whom are mentally ill at the time police contact takes place.
Abney and Dylan's family filed an "act of excessive force" lawsuit claiming Scottsdale PD lacked "probable cause, to physically restrain, detain, and/or falsely imprison" Dylan on the day they took his life.
The case was dismissed by a U.S. District Court judge who ruled the police acted reasonably and within their own policies when they dispatched Dylan's life on earth. On Thursday, the family and their lawyer appealed to the 9th Circuit Court of Appeals whereby Abney reportedly planned to introduce oral arguments demonstrating officer-involved shootings in the Phoenix area were at one time in 2018 nearly twice as high as Los Angeles, as TFTP previously reported.
ABC15 interviewed retired Phoenix PD Commander Jeff Hynes who said times are changing. Not only does the public expect police to deal with the mentally ill in a way which is more humane, but they want full transparency as well. Sounding more like a police accountability advocate than a criminal justice professor, some might say, Hynes made some very rare comments coming from law enforcement professional. He told reporters:
Presenting these video footages to a live jury is an absolute thing that has to occur...The transparency of the profession, it's the only way that we build faith and the trust of the public so they see what we do, and when we mess up, they get to call it...When somebody has a mental illness, the community expects and demands that we deal with that person with more compassion.
It's unclear if Liberti will be successful in bringing her son's case to trial or whether or not the 9th Circuit will side with Scottsdale PD and the lower-court judge's findings. At any rate, we will bring you more information as this story develops.
That's right, America! A mentally-ill man can call police for help and end up dead for attempting to scare police away with a pocket knife. It's a dangerous job being a police officer but a bullet is not the only way to end threats to officer safety. Unfortunately, it's the first option for some trigger-happy cops who'd rather smoke someone than get them the mental healthcare they need. After all, they are most often given paid administrative leave (what some call a vacation) when they shoot someone in the line of duty.