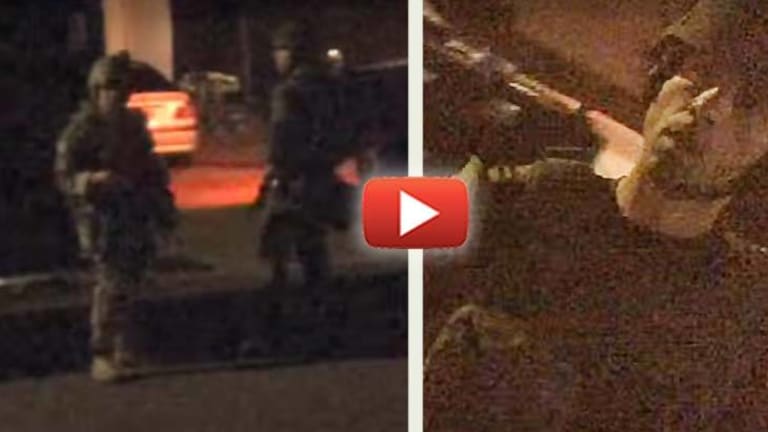 Cops Pay $7K to Man they Attacked for Filming - Days Later, Charge Him Again for Same Incident
All this man did was film a police raid from his own property, and the city is attempting to make his life a living hell.
Multnomah County, OR -- Fred Marlow IV, 28, recorded a raid that was taking place on his street early one morning last September and was subsequently assaulted and arrested by police on the scene. Marlow was recording from his own property at a very safe distance from the police officers and was not interfering with their operation in any way. However, police became aggressive with him when he refused to obey their commands to go inside.
Eventually, last month, the case against Marlow was thrown out, and he was paid $7,500 if he agreed to not file any future lawsuits for police brutality and wrongful arrest. However, shortly after the settlement, just days later, the Multnomah County District Attorney's Office decided to bring additional charges against him.
Marlow is now facing misdemeanor charges of interfering with police and resisting arrest and is scheduled to appear in court in February or March.
'"Can you tell me how this is possible? They paid me to settle, and then they are trying to charge me with a crime again? I don't get this justice system,"Marlow told The Oregonian.
According to Marlow's attorney, although he did settle with the city, the statute of limitations for his case is still open, meaning that it was still possible for the city to renew charges against him. However, the fact that he settled with them days before shows that they are using this legal loophole to avoid a lawsuit while still making Marlow's life as difficult as possible.
The video that Marlow took was extremely creepy and showed police in camouflage riot gear and massive tanks. The police were telling people to stay inside and "away from their windows" during the raid.
On his fundraising page, Marlow pointed out that the "officers are not marked and are wearing military camo and carrying what appears to be fully automatic weapons. Is this safe to be carrying out such an extreme military procedure with bombs and machine guns right next to an apartment filled with woman and children as well as in between two schools."
"This case from the beginning was totally bogus," Marlow's attorney Craig T. Johnson said.
"It's a great expense and it's really a frivolous case. ... I see the DA's office and the police talk about lack of money, and they're dealing with this case like it's a murder case," Johnson added.
Ultimately, although it is still legal to film police, the police also believe that they have the right to order people around, and arrest anyone who disobeys them. So if a police officer orders someone to stop filming, filming effectively becomes illegal, at least in their eyes.
Tom Cleary, the senior deputy district attorney has argued that it is "dangerous" for people to disobey the police.
"Taking a look at this behavior, it is concerning not only for Mr. Marlow's safety but for the safety of the community and the safety of the officers. I think that needs to be addressed. ... It is important when a situation is unfolding that citizens follow the directions of police," Cleary said.
Sadly, although Marlow recently received a settlement from the city, the money will now be spent on legal fees and to help with the expenses he has set up a fundraiser page.
Watch the video below and you decide if this warrants any charges against Marlow.
" width="790" height="444" frameborder="0" allowfullscreen="allowfullscreen">
John Vibes is an author and researcher who organizes a number of large events including the Free Your Mind Conference. He also has a publishing company where he offers a censorship free platform for both fiction and non-fiction writers. You can contact him and stay connected to his work at his Facebook page. You can purchase his books, or get your own book published at his website www.JohnVibes.com.