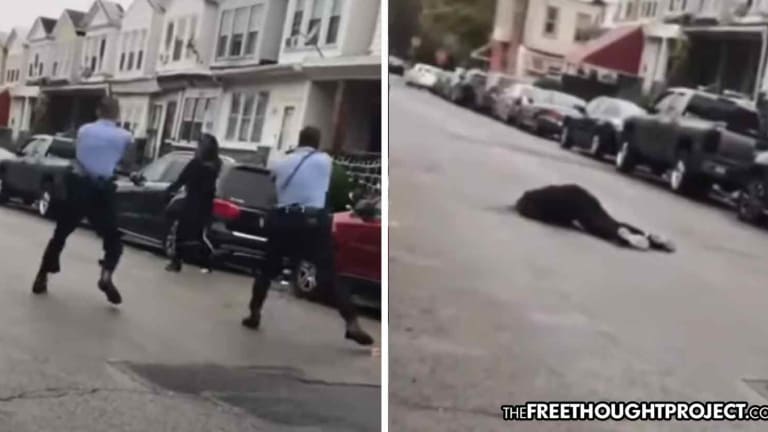 Mass Unrest, Cops Attacked After Video Shows Police Shoot Man 10 Times in Broad Daylight
After video was posted online of two Philly cops shooting and killing a man, mass unrest followed as cops were attacked by angry protesters.
Philadelphia, PA — Violent protests rocked the city of Philadelphia Monday night after video surfaced of two Philly cops fatally shooting Walter Wallace Jr. The chaos unfolded immediately after the shooting took place and eventually spread to the police station.
Riots and looting went largely unchecked by police, who were seen in several videos retreating from angry protesters attacking them over the killing of Wallace.
One officer was hospitalized and at least 30 others were injured after being struck by rocks, bricks, and other projectiles during the unrest. The unrest unfolded shortly after 4:00 p.m. Eastern when police said two officers responded to the 6100 block of Locust Street over a report of a man with a knife. Family members identified the victim as Walter Wallace Jr. The interaction was captured on a bystander's cell phone video and shows Wallace advancing toward officers, allegedly armed with a knife. Wallace ignored commands to stop and put down the weapon. He also pushed passed a woman, later identified as his mother, who appeared to be trying to hold him back. Both officers were well over 10 feet away from Wallace when they opened fire on the man. At least 10 gunshots can be heard before Wallace is seen collapsing to the ground. Police are immediately swarmed by angry residents and the situation appears to devolve into chaos before the video ends. Police spokesperson Sgt. Eric Gripp said one of the officers drove Wallace to a nearby hospital but it was too late, he had died from the bullet wounds. Questions immediately followed the shooting, like why police didn't first attempt to use a taser before relying on deadly force. The victim's father, Walter Wallace Sr. said police shot his son 10 times and never once attempted anything less lethal. "Why didn't they use a Taser?" the senior Wallace asked outside a family residence on the block. "His mother was trying to defuse the situation." The Philly Inquirer reported that one witness, Maurice Holloway, said he was on the street talking to his aunt when he saw police arrive. Wallace had a knife and was standing on the porch of his home, Holloway said, and officers immediately drew their guns. Wallace's mother chased after him as he walked down the steps of his porch, still holding the knife, according to Holloway. His mother tried to shield Wallace and tell police he was her son. "I'm yelling, 'Put down the gun, put down the gun,' and everyone is saying, 'Don't shoot him, he's gonna put it down, we know him,'" said Holloway, 35. "He turns and then you hear the shots," Holloway said. "They were too far from him; it was so many shots." Gripp said officers possibly fired more than a dozen shots and at least 13 evidence markers were placed on the scene after the shooting. Gripp says both officers have been placed on administrative leave and they have yet to be identified. For at least two hours after the shooing, multiple residents protested in the vicinity of where Wallace was killed before later dispersing. However, later that night, multiple protesters gathered at Malcolm X Park chanting "Black Lives Matter." They marched to the police station at 55th and Pine Streets as they chanted, "Say his name: Walter Wallace."

For several hours hundreds of protesters threw objects at officers and in one video, according to the Inquirer, a black truck was seen running over an officer.
Police Commissioner Danielle Outlaw said in a statement after the shooting, "I recognize that the video of the incident raises many questions. Residents have my assurance that those questions will be fully addressed by the investigation."
Fraternal Order of Police Lodge #5 President John McNesby asked everyone to "wait for the investigation to complete and not to meetly vilify the police department."
However, executive director of the ACLU of Pennsylvania, Reggie Shuford said Philadelphia "is overdue for a reckoning with the brazenly violent and abusive behavior in its police department. ... Video from the incident suggests that no one was in immediate danger when officers killed him." Shuford called for full transparency by city officials.
As TFTP has reported at length, there are at least a half-dozen ways for a police officer to stop a knife-wielding subject, rather than employing lethal force with a firearm. And, the fact is that many cops are able to do this.
As we previously reported, in Miami, two officers faced a similar situation in which a man armed with a knife was threatening them. Never did they pull their guns, however, and instead were able to disarm the man without killing him.