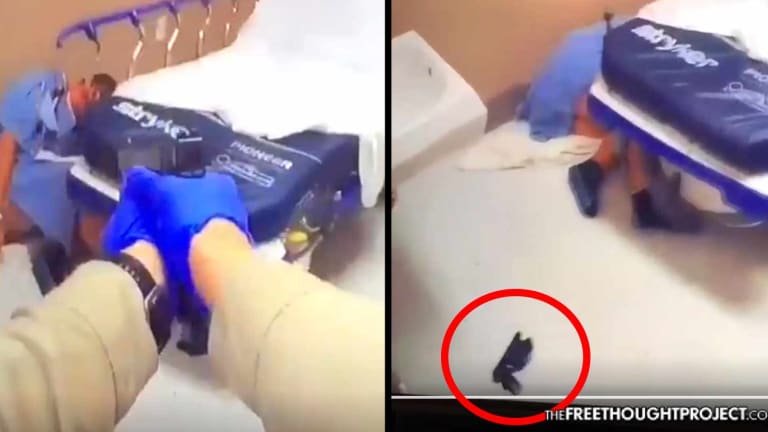 WATCH: Cops Leave Taser in Hospital Room with Mentally Ill Man, Kill Him When He Grabs It
After essentially handing a mentally ill man in the hospital a taser, a Las Vegas cop killed him. But video shows he may have dropped it first.
Las Vegas, NV — Disturbing body camera footage was released this week showing a Las Vegas Metropolitan Police Officer shooting and killing a man inside a hospital room.
The justification for killing the man was over the fact that moments before being shot, he pointed a taser at the officer. However, a controversy over the shooting has come up because, as the body camera footage shows, the taser appeared to be on the ground several feet away from the man before the officer shot.
The incident happened on September 24, when 31-year-old Cody O'Bryan, clearly in a mentally diminished state, called police and said he was suicidal and wanted to 'blast it out' with them. When police showed up, they found O'Bryan passed out on the ground near Charleston Boulevard and Palmhurst Drive. They also found that he had an outstanding warrant, so they placed him under arrest.
O'Bryan was so drunk during the arrest that instead of bringing him to jail, he was brought to the Las Vegas University Medical Center. This is where the story takes a turn for the worse.
While in the hospital room with O'Bryan, an officer brought in a tactical bag—with a taser in it. O'Bryan was then left in the room—alone—with the bag and was allowed to grab the taser out of it. Yes, a mentally ill man, who said he wanted to 'blast it out' with police and who said he was suicidal, was essentially handed a weapon by authorities.
O'Bryan then waited until at least two cops and a nurse are inside the room with him before he brandishes the taser he had hidden on his side. He then appeared to point it at officer Thomas Rybacki.
When Rybacki sees the taser, he backs out of the room momentarily before re-entering with his service weapon drawn. He then fires a single shot at O'Bryan, who then falls over and dies.
The point of controversy arrives at this moment. As Rybacki's body camera pans down, the taser is seen several feet from O'Bryan indicating that he could have tossed it before he was shot.
Yes, the officer was acting in self-defense. However, if the taser was on the ground before he fired, this self-defense becomes manslaughter.
Also, last we checked, tasers cannot fire through walls. Since everyone had gotten out of the room safely, the extremely fast escalation to deadly force was entirely unnecessary as no one was in danger because O'Bryan was chained to a hospital bed.
All that needed to happen was for the officer to start a short conversation with the man and ask him to drop the taser because it could get him killed. Time was on their side but they chose not to use it.
According to the Las Vegas Review-Journal, Rybacki, who's been with the department since 2014, was placed on administrative leave with pay as the incident remains under investigation.
On Thursday, Las Vegas Assistant Sheriff Todd Fasulo briefed media with additional details on the incident, according to Heavy.
"This incident began on September 24 with the report of a suicidal man," Fasulo said. "This is the first time we've had an OAS at a hospital and we recognize we have several areas of concern. Specifically, the introduction of a weapon into a hospital room and how the prisoner was secured in that room and left alone in that room for even a few seconds or minutes."
According to the Las Vegas Review-Journal, O'Bryan's death marked the 141st homicide in Clark County this year and the 17th officer-involved shooting investigated by Metro.
As you watch the video below, try to think about what officers could've done differently in this situation. Yes, they are required to make quick decisions, however, deadly force should always be used as a last resort—this time, it was the first one.