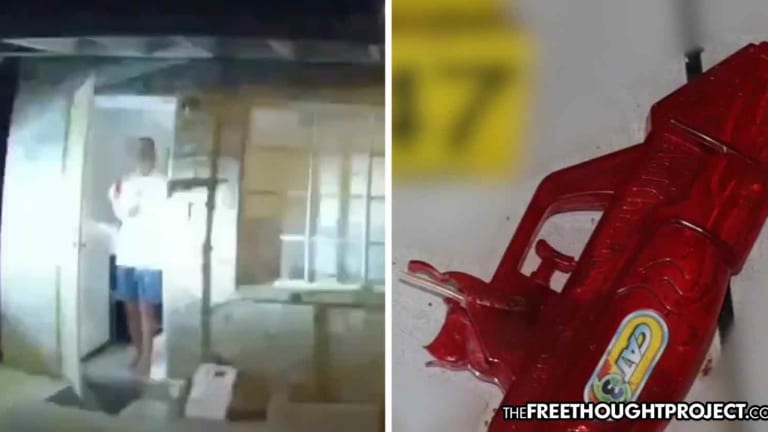 WATCH: Man Tries 'Suicide by Cop' With a Red Plastic Water Gun, Police Fulfill His Wishes
A man in a mental health crisis called police multiple times and eventually emerged from his home with a water gun, forcing officers to kill him.
Phoenix, AZ — Suicide by cop — in the land of the free — is an unfortunate, and oft-used option for those in mental distress. All too often, police officers respond to incidents in which mentally ill people need help, and then kill those people, so it makes it a rather easy option. As a case out Phoenix illustrates, it's not very difficult to fool cops into killing you, even when the only thing you have is a clear red plastic water gun.
Body camera footage was just released this week showing Phoenix police respond to a mentally ill man's multiple 911 calls and kill him on the last one. That man, 64-year-old Stanley Howard was holding an obvious water gun when officers opened fire on him.
No one here is claiming that pointing a gun — even when it is an obvious toy water gun — at officers, is a good idea. But it appears that Howard knew it would be enough to get cops to kill him. This highlights the mental health crisis currently gripping the nation as well as the ability of police to escalate to deadly force.
On July 8, Howard was clearly in the midst of a mental health crisis when he made a call to 911. The call recordings, which were released along with the body camera footage this week, paint a disturbing picture of Howard's last moments alive.
"Officer down! Officer down! Officer down!" Howard is heard yelling to the 911 operator on the edited and redacted recordings.
When police show up for the first time at Howard's home, he was irate and yelled at officers while denying he ever called them.
"Didn't you call us?" said an officer.
"No I did not," Howard replied.
"Are you sure?" an officer asked.
"No. I don't need you. You're a f**king idiot," Howard said.
Howard then banged on his window in an attempt to get them to leave. While banging on the window, he broke out one of the panes and reportedly cut his hand. After being told they were not wanted there, the officers left.
Howard would call 911 again, this time telling police that "the police were here, the window's broken and I am cut."
Moments later, police return and Howard again refuses their help.
By now, the officers know that Howard does not want their help and they could've simply let him calm down as he was not a threat. But that did not happen. Howard would call 911 at least 13 more times over the next 45 minutes and police returned for a third and final time.
During the last time, Howard makes the fatal mistake of lying to the officers telling them, "I have a gun."
He had no gun, but this was enough to put the officers on alert and when Howard emerged from his front door holding the clear red plastic water gun, police did not have time to wait and opened fire.
As Howard lie bleeding out in his doorway, officers were still worried that he was a threat, so they shot the dying man with several bean bag rounds for good measure. Next, they moved in to find that the "gun" he was holding was a toy water gun.
Howard would be transported to a nearby hospital where he was pronounced dead.
According to the Phoenix police department, the killing is now under investigation and will be reviewed by the Maricopa County Attorney's Office upon completion.
According to a statement by the Phoenix police, "there was one sergeant, and three officers involved in this shooting. All are assigned to the Cactus Park Precinct. The sergeant has been with the department for 15 years. Two of the officers have been with the department for two years, and one for four years."