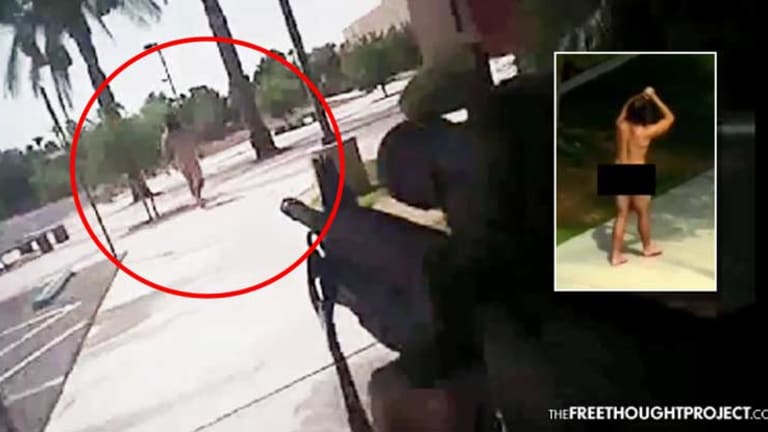 WATCH: Cops Shoot Naked Man in the Back, Sic Dog on Him
Graphic body camera footage was just released showing Las Vegas police shoot a naked unarmed man in the back as he ran toward a gun.
Las Vegas, NV -- A graphic body camera video was just released showing a Las Vegas Police Officer shoot a naked man in the back outside of a church last weekend. Police say they were left with no other options after their K9 attacked an officer instead of the naked man.
According to police, 25-year-old Jason David Funke was threatening to kill himself in front of Life Springs Christian Church last Saturday. Funke was armed, however, according to police, he complied with officer commands to drop his gun, raise his hands, and walk toward police.
As he was complying, Funke did as he was instructed and walked toward a group of officers -- naked with his hands up. When Funke got within ten feet of the officers, instead of walking up to the clearly unarmed and surrendering man, police attempted to sic the K9 on him.
Instead of immediately going after Funke, however, the dog bit the officer's belt which appeared to startle Funke, causing him to turn and run instead of getting on the ground like officers were demanding.
At this point, officer Mark Hatten fired one round with a rifle into the back of Funke, dropping him immediately. Funke was over 20 feet from the gun.
Metropolitan Police Department Assistant Sheriff Todd Fasulo explained to the Las Vegas Review-Journal that dogs go through intense training around loud noises, but the animals can be unpredictable. In this case, the dog was distracted by the officer, who was closer than Funke, Fasulo said.
Why a dog was used on a naked, surrendering, unarmed man is unclear. Had officers simply walked up to Funke and either thrown him to the ground, placed him in cuffs, or even ran over to the gun to pick it up, the shooting could've possibly been prevented.
From the time Funke dropped the gun and surrendered, to the time the officer shot him was over 90 seconds. Police had a minute and a half to move in and take down the unarmed naked man. However, that didn't happen and the use of deadly force was deployed.
According to the Journal, Funke was taken to Sunrise Hospital and Medical Center with survivable injuries, Fasulo said. He is in custody and faces gross misdemeanor charges of possession of a dangerous weapon at a school or child-care property and indecent exposure, Fasulo said.
Fasulo said Funke has no criminal history and has faced issues with depression and suicidal thoughts in the past.
Funke's condition is still currently unknown. However, because there was a gun involved -- this incident will undoubtedly be ruled justified -- even if he dies.
Per department policy, Hatten is on paid administrative leave pending an investigation.
Last year, Las Vegas police were only involved in six shootings. This year, they are on track to triple that record, as Funke was number 16.
According to the Journal, this is the second such incident in which Hatten has killed or nearly killed another person. In 2010, Hatten was involved in the foot chase of an unarmed man, Anthony Jones.
According to police, when Hatten and another officer caught up to Jones, he resisted. The resisting led to Hatten deploying his taser. However, this was no normal taser deployment. Hatten sent 50,000 volts into Jones for over a minute and a half, deploying his taser 10 times while his partner deployed his twice for about 10 seconds.
Jones was rendered unconscious and stopped breathing after the officers placed him in handcuffs. He was pronounced dead shortly after at Valley Hosptial Medical Center.
The coroner's report claimed Jones died from cocaine and ethanol intoxication, but they also noted other factors contributed to his death, including "police restraining procedures."
Shortly afterward, Metro banned multiple officers from using Tasers on someone at the same time and limited their use to three, five-second cycles.