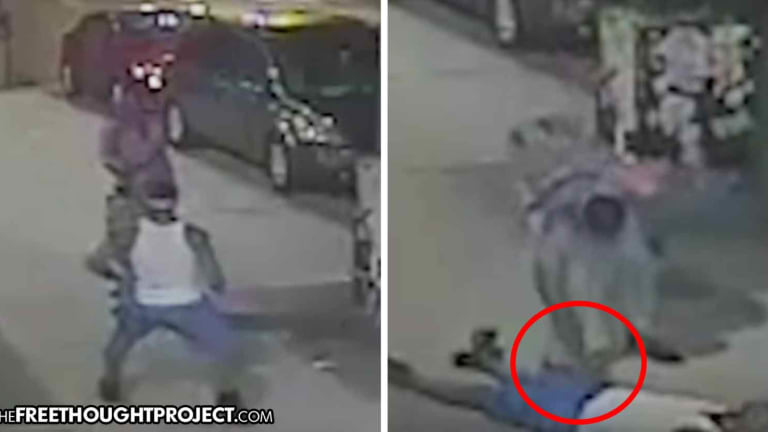 WATCH: Cop Walks Up to Unarmed Man, Shoots Him in the Face then Plants a Weapon on Him
A cop tried to claim an unarmed man tried to rob him but video shows the cop shoot the victim in the face and then plant a weapon on him.
New York, NY — A police sergeant in New York was caught on video this week confronting an unarmed 21-year-old man and shooting him at point blank range right in the face and then planting a weapon on him. Sgt. Ritchard Blake claims the victim, Thayvone Santana was trying to rob him, but video and family members say otherwise.
According to police, Blake claimed that Santana was attempting to rob him, so he had no choice but to shoot him in the face. However, police later admitted that Santana and Blake knew each other and may have been in a dispute over a girl.
As the video shows, Blake and Santana appear to be having a verbal dispute on the sidewalk. At no time does Santana ever try to attack, pull a weapon, or otherwise physically assault Blake.
However, as the video shows, Blake then pulls a gun from his waistband and fires off three rounds into Santana's face.
After Blake shoots the otherwise entirely innocent man, he is then seen on the video bending over his victim and placing what a appears to be a shiny object next to him. This was likely done in an attempt to justify the shooting and frame his victim for robbery.
There was only one problem with planting the evidence, however—the surveillance camera. Once Blake seemed to realize he was on surveillance video, he then picked the object up and put it in his back pocket.
After he was seen on video shooting an unarmed man in the face and planting evidence, Blake was not arrested. Not only was he not arrested but he was not even taken off the force.
In response to the shooting, the NYPD released the following statement:
"This remains an open and fluid investigation, and the NYPD is coordinating closely with the Kings County District Attorney's office. Video of the incident has been recovered and is under review. The video captures actions that raise serious questions, and require further investigation. Recovered video is being shared with the Kings County DA. The member of service involved in this incident remains on modified duty."
"There are certain things that we saw in this investigation that we have questions that we want answered at this point, until we answer that we felt it was best to place him on modified duty," said NYPD Chief of Department Terence Monahan, according to WABC.
On Friday, Santana's mother met with the Brooklyn District Attorney and demanded the cop be fired and charged immediately.
New York City Sergeants Benevolent Association President Ed Mullins said in a statement to WABC that Blake is "entitled to due process," and he is certainly correct. However, had Blake been an ordinary citizen, he would have most assuredly been arrested.
"It is crucial for the integrity of the law enforcement community, as well as the Sergeants Benevolent Association, that all of the facts are obtained and thoroughly investigated," Mullins said. "As the nuances of this unique case are reported, it is also important that the good work that police officers of all ranks do every day not be diminished in any way."
Santana's family said the two men knew each other and had been in a dispute over a woman for weeks. This video below appears to show that dispute finally come to a head.
If you'd like to peacefully voice your concern over the NYPD's lack of response to their officer shooting an unarmed man on video, you can do so at their Facebook page here.