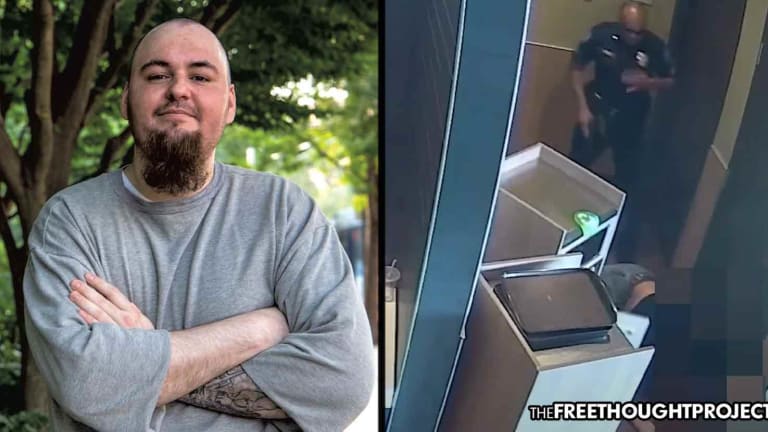 WATCH: Cop Shoots, Kills Unarmed Man in McDonald's Bathroom, Then Lets Him Bleed Out on Floor
An unarmed man was gunned down by police in a McDonald's bathroom holding only his cellphone and left to bleed out on the floor.
Rutland City, VT — What started as a misdemeanor traffic violation ended with an unarmed man being killed by police, spending the last minutes of his life bleeding out on the floor of a McDonald's restaurant. Jonathan Mansilla, 33, would be killed by Rutland City police, unarmed, in a McDonald's bathroom, holding only his cellphone.
The incident unfolded on August 25, 2021 and police have since ruled it justified — because the officer "reasonably believed that he was in imminent danger of being killed or suffering great bodily harm" — in spite of the fact that Mansilla was not armed and did not hurt the officer.
According to police, before dying in a McDonald's, Mansilla was involved in a hit and run that day. He had run into a man in a store parking lot and fled the scene. Less than an hour later, the person hit by Mansilla spotted his car and called the Rutland County Sheriff's Department.
A deputy then pulled Mansilla over, who stopped briefly before leading police on a chase. Police would later back off the chase to avoid a dangerous crash and Mansilla would finally come to a stop after rear-ending a UPS truck.
After rear-ending the UPS truck, Mansilla ran into a nearby McDonald's and hid inside a stall in the bathroom. Rutland police Cpl. Christopher Rose was nearby and followed Mansilla inside the McDonald's and into the bathroom. Seconds later, Rose shot Mansilla twice in the chest, killing him.
In an interview, Rose told investigators that Mansilla "charged" at him and thought he had a weapon. But there was no weapon. What's more, Mansilla's family claimed that he was non-violent and was merely trying to get away — not charging — when he was killed.
As Sevendays Vermont reports, the official explanation doesn't make sense to the dead man's 29-year-old nephew, David Heria. His uncle "Lefty" had anxiety and was listed on his Vermont death certificate as disabled. "I think he was just panicking," Heria, who lives in Miami, said of Mansilla's evasive behavior on August 25. He doubts the officer's account that Mansilla charged him. "My uncle's not a fighter," he said.
Until now, because Rutland police don't wear body cameras, the family had to take the word of police. However, local paper, VTDigger obtained surveillance footage from inside the McDonald's that day and it shows what happened.
It looks like Mansilla was actually scared, hiding in the bathroom when the officer went inside and, as he had no where else to go, Mansilla's only option was out of the door — the door that was blocked by a cop with a gun.
The video also shows that after Rose put two bullets in Mansilla's chest, the officer didn't render aid for several minutes which may have saved his life. As the VTDigger reports:
The sheriff department's "Duty of Care" policy mandates, in part, that any person in an officer's care who "sustains an injury, becomes unconscious, displays a further altered mental status, or states that s/he is injured," must be provided "appropriate medical attention." And that "officers will provide care commensurate with their training and experience."
The department seems unconcerned with the release of this new video and it will likely not change the ruling which justified Mansilla's death. It will, however, show the world what happened and will undoubtedly aid Mansilla's family in winning a hefty settlement.