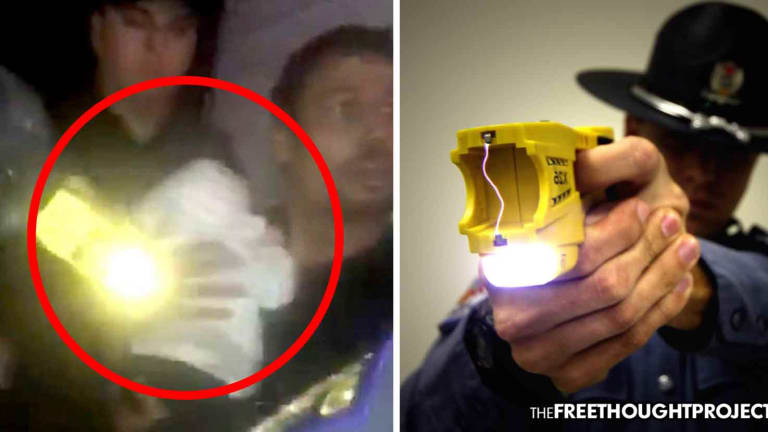 Cop Suspended After Shocking Video Shows Him Taser a Dad Holding 2-Month Old Baby
A police officer has been suspended after a graphic and shocking video showed him him deploy a taser on a man only inches away from the baby he was holding.
Inkster, MI — A Westland City police officer has been suspended this week after he was caught on cell phone video surrounding a man with several other officers — as the man was holding his two-month old baby — and taser him.
The video, uploaded to Facebook by Kelvin Williams, shows Westland City police officers assault and arrest a man as he held his baby son.
The victim, Ray Brown, 33, was shot with a stun gun multiple times and arrested on charges of resisting arrest and child neglect for holding the baby while cops tasered him.
An internal investigation by Westland Police concluded that "the arrest of Brown was appropriate and was in line with the laws and ordinances of the City of Westland," Police Chief Jeff Jedrusik said in a statement released Wednesday. "I have also determined that due to Brown's non-compliance the use of a department issued taser on him would have also been appropriate. However I feel that the use of the taser at that time, while he was holding the child, was a questionable decision. We are all thankful that the child was not injured."
The department also refused to identify the officer who deployed the taser.
Nicole Skidmore, 28, is the child's mother and she says police were out of line.
"I think they were way out of line," Skidmore said. "They could have handled the situation differently because my son was in his arms. They didn't care about my son."
According to Skidmore, the entire incident happened over a Crock-Pot.
"So we start barbecuing for the kids. Later on that night, her [former friend's] mom pulls up on my grass and says, 'I'm here for a Crock-Pot,'" Skidmore said.
She said her ex-friend then showed up demanding the Crock-Pot as well.
According to Skidmore, Brown became upset at how they simply came onto their property and began demanding things, so an argument broke out. It was entirely verbal and at no time did it get physical.
"So, they start arguing back and forth and she ended up calling the police," Skidmore said. "The police came over here trying to tell him that he [Brown] destroyed somebody's property or that he was being disorderly."
"We were just barbecuing, and we saw the cops come up," Williams told WXYZ. "They came up and asked us who was fighting. We were like, 'You got the wrong house.'"
As the video shows, several officers claim there was damaged property somewhere, but could not explain where it was. When Brown questions why police are there, the situation gets out of control as the cops threaten to arrest him for disorderly conduct.
Officer Scaglione with the Westland city police begins accusing Brown of being drunk in public. He then threatens to take the man to jail for it. However, Brown tells the officer that he doesn't even drink.
At this point, the officer tells Renée Henry, a neighbor who was holding Brown's baby, to bring the baby inside, and again, Brown questions why the officer is ordering them around. Instead of bringing his baby inside, the man holds his own son and tries to comfort him while telling police that he can have his son outside and there is nothing they can do about it.
"So, he took the baby out of my arms to hold him 'cause he kept crying. He wouldn't stop crying for me, so I gave him to his dad," Henry said. "Next you know, the cop pushed me out of the way and had the Taser in his hands and tased him in the chest."
As the video below shows, without reason or provocation, the officers then swarm the man as one of them pulls out a taser. As the man holds the baby, the cop grabs Brown and presses the taser to his chest — right next to the baby — and deploys it. Brown collapses and luckily Skidmore grabs the baby before he falls to the ground. According to Williams, police then proceeded to handcuff and beat up the father.
"I had to catch the baby," Skidmore told the news station. "I was in the street talking with the cops. I had to come over. The taser is on this side of him, and the baby is over here. As soon as they start tasing him the baby flew out of his hands and I had to grab him, or he would have fell."
The police then explain to the neighbors that they tasered, beat, and arrested Brown because he "kept interrupting" the officer and was "yelling."
Although Brown may have been at fault for having the ex-friend's Crock-Pot, he was not arrested for stealing it or damaging property. According to police, we was arrested on charges stemming from his interaction with them and they claim he had another outstanding warrant.
"If there's warrants, you know, again, you come out and place the person under arrests and go on about your day," Kenneth Reid with the Coalition Against Police Brutality told WWJ's Sandra McNeill. "But when you come in with the wild, cowboy-style type action, you know, it doesn't do anything for community relations, I can say that."